Games
Published July 2, 2020
Piecing Together Marvel Puzzle Quest: Killmonger (Erik Stevens)
He wants to rule Wakanda his own way.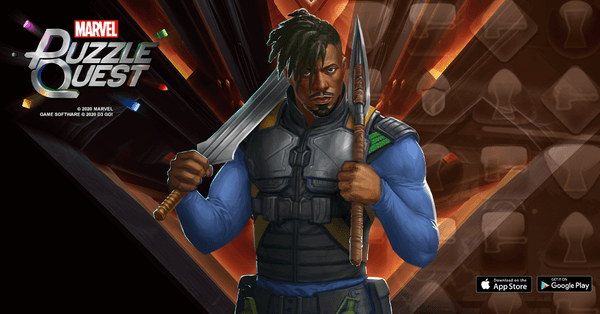 Erik Stevens grew up in America, orphaned after the death of his father, Prince N'Jobu of Wakanda. After graduating from MIT and the United States Naval Academy, Erik was eventually recruited as a government black-ops mercenary, where he earned the name "Killmonger" for his ferocity in battle. 
Killmonger vows to one day return to Wakanda to overthrow King T'Challa, and rule the country his own way and now he's the latest character to land in Marvel Puzzle Quest!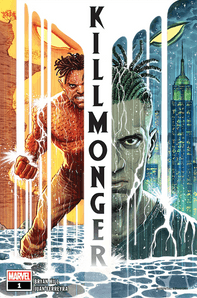 The 5-Star Rarity (Epic) character, with an affiliation Villains, has a tool kit that includes Repatriation, Extreme Prejudice, and Decisive Strike.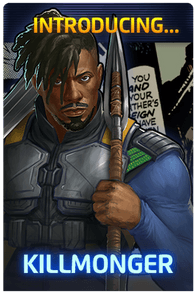 Using Repatriation, a passive black power, Killmonger takes back what rightfully belongs to his people. When the enemy makes a Match-5, Killmonger locks the generated Critical tile. At the start of your turn, all Critical tiles become unlocked.
Extreme Prejudice, a high-cost red power, Killmonger aims for the enemy's weak point and does not hold back. Deals 2077 damage and creates a Critical tile.
Killmonger watches the enemy, then makes a power play, with Decisive Strike, a high-cost purple power. Deals 3207 damage, plus 408 damage for every Decisive Strike Trap tile on the board, disarming those Traps.
Store offerings for Killmonger include Introducing… Killmonger running July 2 through July 9; Unstable Iso-8 running July 2 through July 7; Honor Among Thieves running July 6 through July 10; For Victory running July 2 through July 6; and Right to Rule running July 5 through July 8.
Additionally, a Special Limited Vault and Special Legendary Store for Killmonger runs between July 9 and July 14!
Pick up Marvel Puzzle Quest here. Stay tuned to Marvel.com for Marvel Games news and interviews and follow Marvel Games on Twitter for more!
The Hype Box
Can't-miss news and updates from across the Marvel Universe!