Games
Published January 9, 2018
Piecing Together 'Marvel Puzzle Quest': Kraven
The Hunter is here to play the game!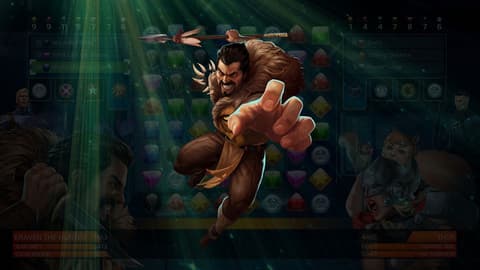 From the wilds of Africa to the concrete jungle of New York City, Kraven will go to any lengths to get his ultimate trophy. Now Kraven stalks through "Marvel Puzzle Quest," keen hunter's mind and devious traps at the ready, prepared to take down any foe. We talked to D3 Go! Senior Producer Josh Austin about Sergei Kravinoff's introduction and what makes him unique amongst the game's ever-growing roster.
Marvel.com: Kraven is gonna have a great time hunting spiders in "Marvel Puzzle Quest" – he has so many options! What does Kraven bring to the "MPQ" table that he just needed to be in the game?
Josh Austin: Players like a bit of variety and often request Super Villains in "Puzzle Quest" so this was our chance to bring a new baddy into the game! Kraven the Hunter (Sergie Kravinoff) is a 4-Star character that was designed to utilize what makes him a unique foe for not only Spider-Man but also Squirrel Girl!
Marvel.com: First and foremost Sergei Kravinoff is a big game hunter, but his definition of big game could mean super heroes or lions depending on the day. How did the team integrate his hunter roots into his playstyle?
Josh Austin: The team really tried to focus on his most memorable traits, including rage when his ego takes a hit, studying his prey's strengths to use against them, and his ingenious use of traps to bring his targets down.
Marvel.com: Ok give us the skinny on all his abilities? How will Kraven be taking it to his opponents?
Josh Austin: Kraven's first ability is called Wounded Pride and costs 10 Black AP. For this ability, Kraven creates a Black Countdown tile that destroys AP in the enemy and ally teams' strongest colors and deals damage for each point of AP destroyed.
Kraven's second ability, Think like the Enemy, is a Purple Passive. At the beginning of the turn, if there are at least three enemy special tiles on the board, Kraven reduces their strength and deals damage.
The consummate hunter's last ability, Most Dangerous game, costs 10 Blue AP. Kraven places trap tiles on the board that steal AP of a random color from the enemy team each turn. If the tile is matched away, a few basic tiles will convert to the team's strongest color and Kraven will deal damage to a targeted enemy.
Marvel.com: It seems like Kraven's main strength is in strategically destroying the enemy's AP, while also making enemy matches really unfavorable, is that fair to say?
Josh Austin: Right! Kraven was designed to stalk, weaken, and destroy the enemy by slowly building up ways to remove their AP and dealing damage in the process.
Marvel.com: I'm already thinking about teaming him up with Peggy Carter and using Legendary Presence, in combination with Kraven's Most Dangerous Game to make it super difficult for the opponent to use any powers. Who does he work well with?
Josh Austin: Peggy's a great teammate to have at his side! Kraven also works great with characters that create enemy Special tiles, say Carnage for example, because Kraven will reduce their strength and deal damage to the enemy.
Marvel.com: And is there a specific cover build you have been using?
Josh Austin: For me I'm a fan of 3/5/5 to have less in the power that destroys my AP, it's pretty tough if you have enough AP in it and can add the both teams AP destroyed to the attack. I like the idea of using someone that creates enemy tiles and utilizing them against the enemy, especially if they are creating strike tiles as well.
Marvel.com: When do we get to take Kraven on the hunt?
Josh Austin: Kraven is available starting on Thursday, January 11 and will be playable/earnable in the S.H.I.E.L.D. Training event that starts that same day, which rewards tokens to Hearts of Darkness that has a Kraven cover and more.
Kraven's debut event is Hearts of Darkness that also starts on January 11 and he will be available as placement rewards. The Kraven & Friends Vault opens January 14 and features Kraven along with many different rewards in an 80 item Vault. Special Kraven Damage Power Ups can be earned in Hearts of Darkness, S.H.I.E.L.D. Training, and a Webbed Wonder event. The Webbed Wonder event starts on January 15 with Kraven as a progression reward along with token rewards for the Kraven & Friends Vault. Finally, Kraven's featured tournament is called Constant Kraven which starts on January 14 and he will be a progression reward and will also reward tokens for the Kraven & Friends Vault.
Help Kraven track his prey here and stay tuned to Marvel.com for more "Marvel Puzzle Quest" news and interviews.
The Hype Box
Can't-miss news and updates from across the Marvel Universe!