Games
Published November 19, 2020
Piecing Together Marvel Puzzle Quest: Magneto (Age of Apocalypse)
His world was doomed from the start!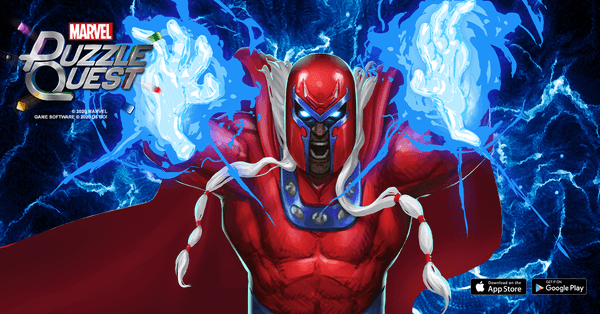 In a world where Professor Xavier was killed and Apocalypse reigned supreme, Erik Lensherr was left to pick up the pieces. Magneto fought for a peaceful future with his rebel force of X-Men by his side, only to learn that his world was doomed from the start. Now, he's the latest character to land in Marvel Puzzle Quest!
The 5-Star Rarity character with affiliation Heroes, X-Men, Mutants has a toolkit that includes Polar Coordination, Eternal Induction, and Magnetic Inhibitor.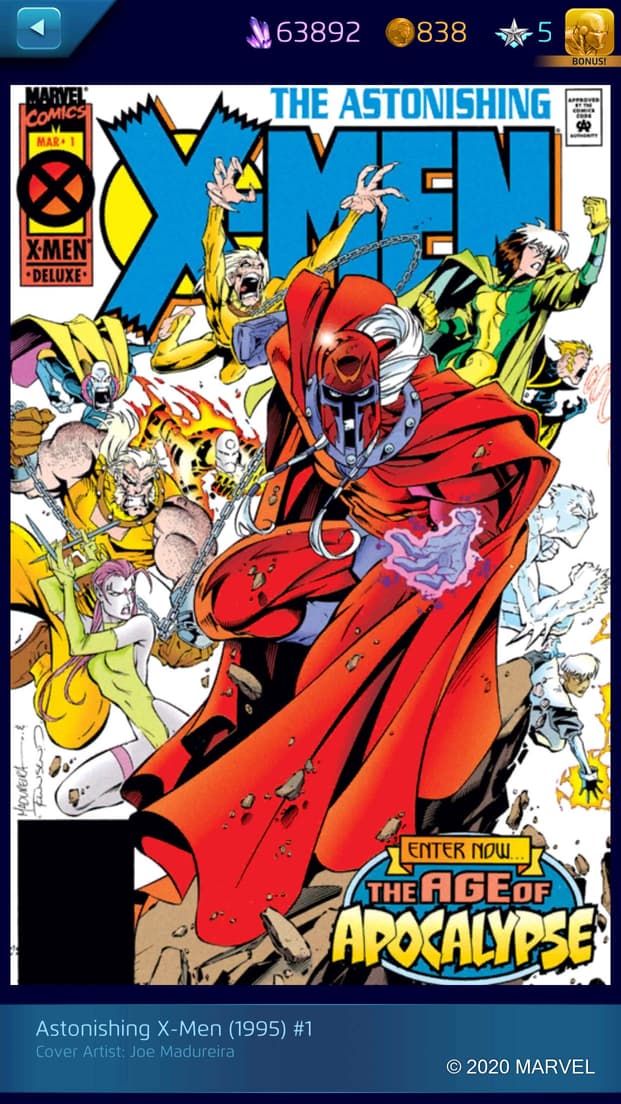 Magneto surveys the battlefield, planning the perfect moment to strike with Polar Coordination, a high-cost blue power. Magneto converts 3 Basic Green tiles to Yellow and goes Airborne for 2 turns. For every 3 Yellow AP Magneto has when he returns from being Airborne, deal a blow of 1148 damage to the enemy (up to 8 times).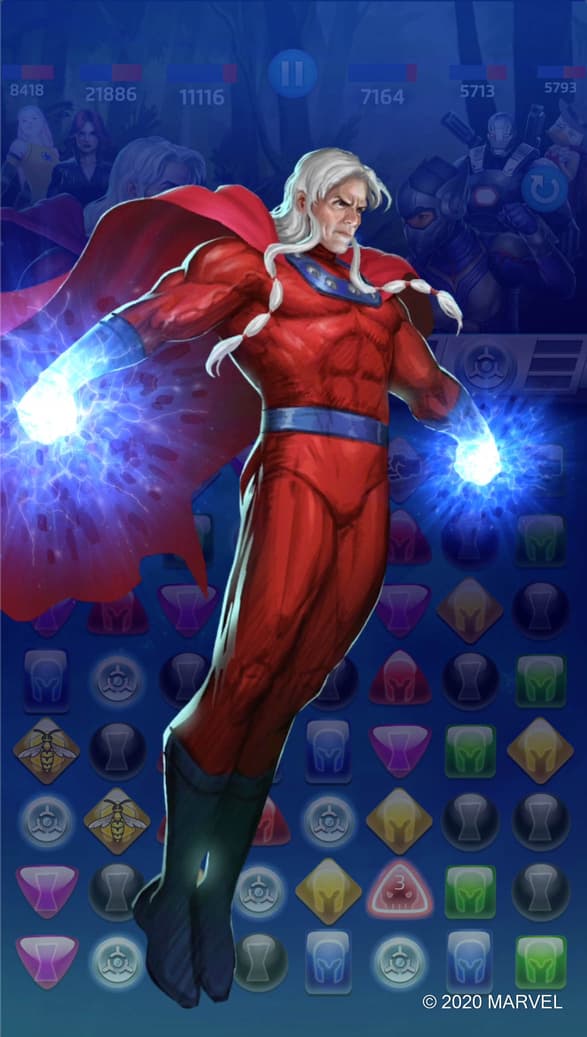 Once in the X-Men, always in the X-Men. With Eternal Induction, a mid-cost yellow power, Magneto protects his people in the face of danger. Convert 2 basic Strike, Attack, or Protect tiles of a chosen color into strength 69 Protect tiles. If a friendly Strike, Attack, or Protect tile would be converted, instead improve it by 38.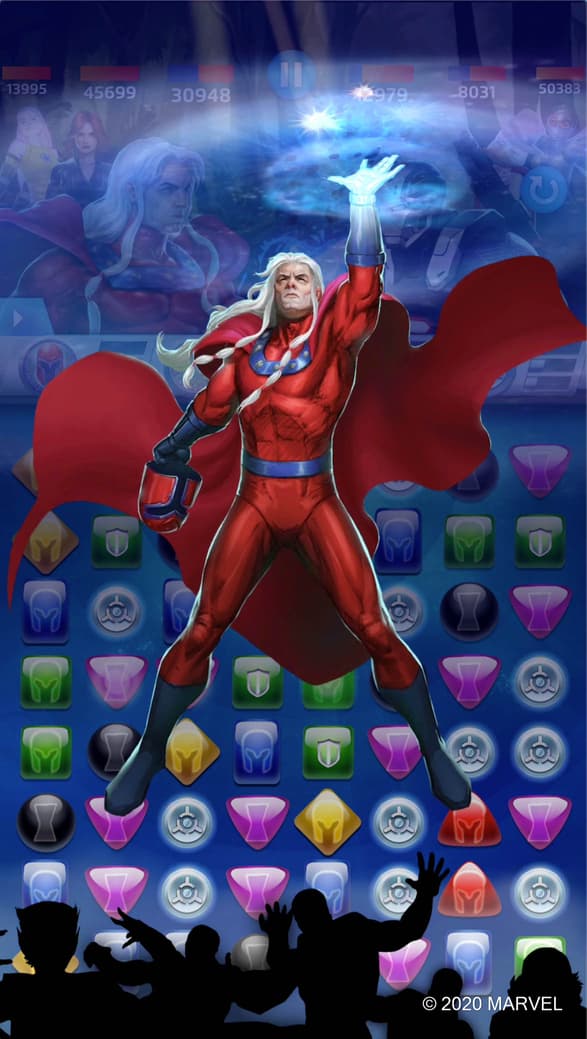 Magneto manipulates the iron in his enemy's blood, weakening their position with Magnetic Inhibitor, a high-cost red power.. Magneto creates 2 strength 38 Black Strike tiles. Then create 2 Purple 2-turn Repeater tiles that convert 1 enemy Strike, Attack, or Protect tiles to a friendly Strike tile and deal 153 damage.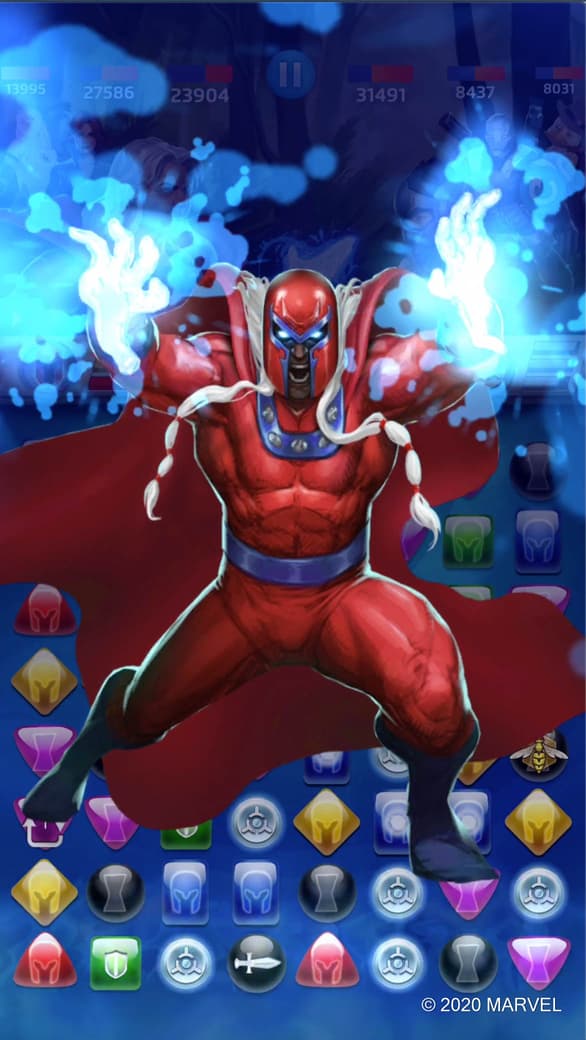 Pick up Magneto during the Release Cover Store Dauntless Magneto where the chance to get Magneto (Age of Apocalypse). Increased chances in 10x and 40x pulls. There's also the Special Limited Vault for Magneto, Erik Lensherr running November 26 through November 30, and the Special Legendary Store Light & Shadow running November 26 through November 30. 
Pick up Marvel Puzzle Quest here. Stay tuned to Marvel.com for Marvel Games news and interviews and follow Marvel Games on Twitter for more!
The Hype Box
Can't-miss news and updates from across the Marvel Universe!