Games
Published July 26, 2017
Piecing Together Marvel Puzzle Quest: Mockingbird
Mockingbird infiltrates the smash game!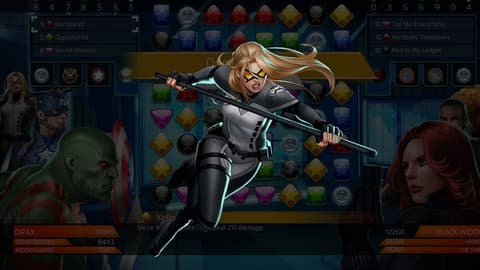 Mockingbird joins the long list of "Marvel Puzzle Quest" heroines ready and raring to take a bite out of crime. Armed with her battle staves and a badass attitude, she'll fit right in. We chatted with D3 Go! Producer Josh Austin about Bobbi Morse and what she brings to the "MPQ" U.
Marvel.com: Mockingbird is a really cool choice for "MPQ." How'd she make the cut?
Josh Austin: We receive various character requests from our players and we are very excited to introduce the highly requested Mockingbird to "Marvel Puzzle Quest." Mockingbird (Bobbi Morse) was just in the right time and right place to make it into the 4-Star roster!
Marvel.com: When a character doesn't have the most high profile of histories, like Bobbi here, what does the team do to nail down their abilities?
Josh Austin: There are a lot of rabid Marvel fans in the design team, they share a multitude of interesting variations of characters and we choose one to focus on. Then we work closely with Marvel until we find the one that fits "Marvel Puzzle Quest" the best. Sometimes it's down to the color scheme and what will make the character pop more, or just the way the character in a particular area fits in with the other "MPQ" characters. A lot goes into choosing the right version for the game, from AP color, abilities and how they can add to the current roster (ex: do they stand alone, get supported or help support other players), and how they look.
Marvel.com: And since we are talking about abilities, what can Mockingbird do in game?
Josh Austin: Mockingbird's first ability is called Bombshell and it costs 9 Red AP. This ability has a chance to do some great damage with a risk to it. Mockingbird sets up a bomb and walks away without looking back. This creates a Fortified Red Countdown tile. If the Countdown tile expires while another one exists it can do a lot of damage to the enemy, however if there aren't two of them on the board when one goes off it does less damage and even damages Mockingbird.
Bobbi's second power is called Opportunist and is a PASSIVE Yellow ability. For this ability, Mockingbird deflects attacks with her battle staves to provide tactical openings for her team. What this means game-wise is if the enemy matches four or more of an AP color and the player has some AP in that color (including Team-Up) then it fires off a random friendly power at no cost! If not, the team gains AP in the color that was matched.
Mockingbird's final power is called Secret Mission and it costs 8 Purple AP. For this ability, Mockingbird destroys some of the enemy's strongest color and also generates AP in the player's team's strongest color. Also there is a PASSIVE with this ability that triggers if the player has some AP in the team's strongest color, giving friendly matches more damage.
Marvel.com: She feels a little like Agent Coulson, capable of big damage while also manipulating the team's AP. What makes her different than the chief S.H.I.E.L.D. agent?
Josh Austin: The big differentiator is the Opportunist power, which triggers a random free power from any hero on the players team when the enemy matches 4 or more tiles and the player has AP in that color (depending on level of ability). This makes Mockingbird sort of a cross between Agent Coulson and Doctor Strange (3 or 5-Star) since a power is used automatically based on an action done by the opponent.
Marvel.com: Who are we teaming her up with? I actually like how insidious she would be with Loki (God of Mischief). Any four match nets you either a free power or AP from Mockingbird, and stolen AP from Loki. You'd be rolling in AP!
Josh Austin: Since she's a support character, there are a lot of characters she could be teamed up with. Anyone that has an active power as their strongest color would be useful, 5-star characters to do additional match damage, and any characters that create Strike tiles. She is seriously fun to use with any character because she's so versatile and she's great against characters that are prone to making cascades.
Marvel.com: And when do we get to try her out for ourselves?
Josh Austin: Mockingbird will be live July 27 and will have her debut in Simulator which starts July 27 and ends July 31. She's going to be in placement rewards for this event. Her featured event is Meet Rocket & Groot which starts August 3 and ends August 8. Bobbi will also be in her very own Versus Tournament that starts August 3 and runs until August 7. She will be featured and available at the best odds for the event.
Beat down baddies with Mockingbird (Bobbi Morse) here and stay tuned to Marvel.com for more news and interviews.
The Hype Box
Can't-miss news and updates from across the Marvel Universe!