Games
Published July 8, 2019
Piecing Together Marvel Puzzle Quest: Mysterio (Quentin Beck)
Enigmatic and captivating, Mysterio is the newest 4-Star to enter the hit mobile game!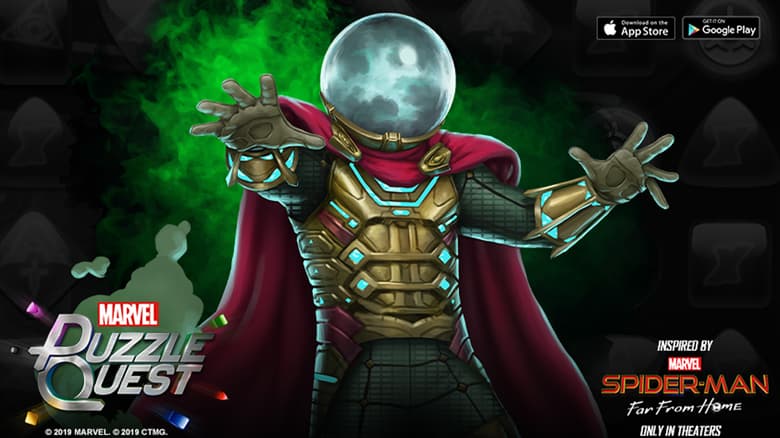 Out of the mist and onto your mobile device, he is the one and only Mysterio!
Hailing from another dimension, Quentin Beck has arrived to save the day! This powerful mage uses his mystical arsenal to keep citizens safe and monsters at bay. Check out the brand new 4-star Mysterio, and find out how you can recruit him onto your roster in Marvel Puzzle Quest, available now.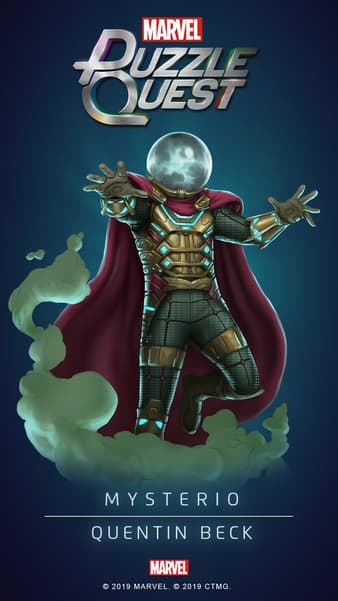 The 4-Star Rarity who meddles with the art of deception has a tool kit that includes From Thin Air, For My Next Trick, and The Pledge.
On the horizon, rolling in on a tide of fog, you spot him! With the wind ever at his back and From Thin Air, a mid-cost Purple power, Mysterio fends off the specter of evil with ease. Turn Mysterio Invisible for 2 turns and create 2 Blue Trap tiles that deal 180 damage when matched or destroyed. If Mysterio is Invisible, these Trap tiles deal 271 damage.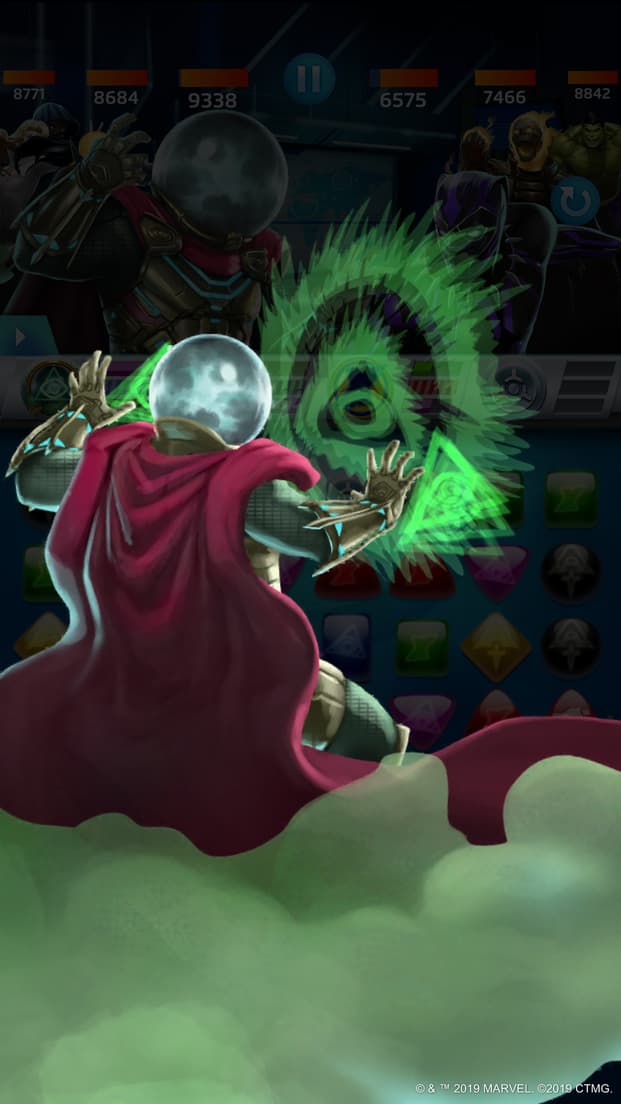 The magnificent Mysterio floods the room with dazzling mists, For My Next Trick, a passive Blue power, disorienting his enemies as he plans his next move. At the start of his turn, if Mysterio has 8 or more Blue AP, convert 5 Blue AP to Yellow and deal 90 damage to the highest level enemy. If Mysterio still has 5 or more Blue AP after converting this AP, stun this target for 1 turns.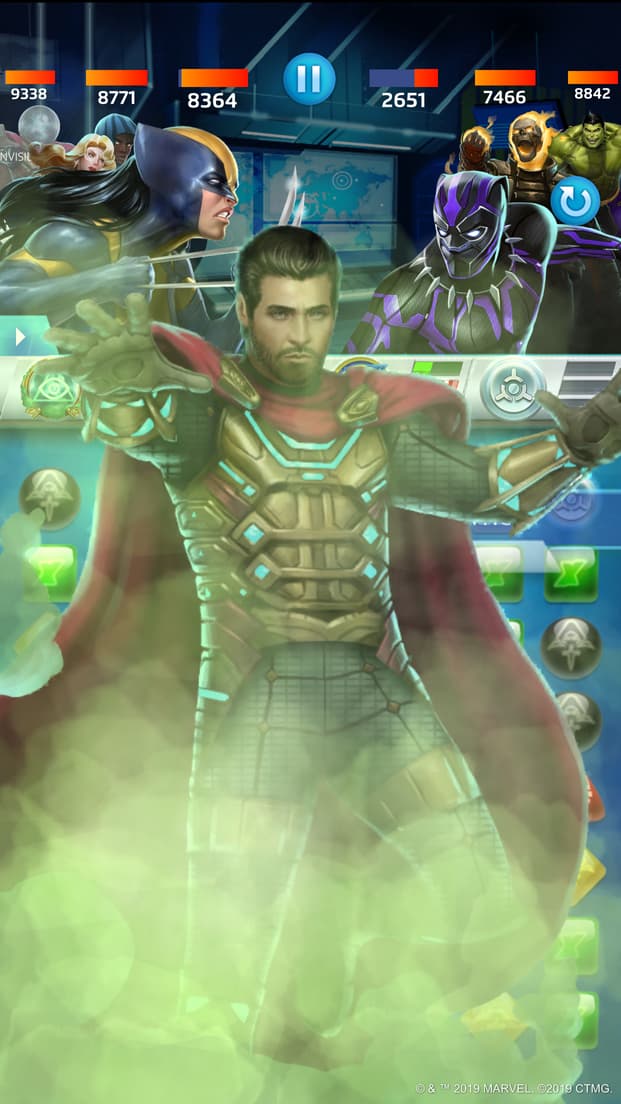 Out of the mist, Mysterio appears, making The Pledge, a mid-cost Yellow power! Here to save you from danger, right on time. Mysterio places a 4-turn Countdown tile. While this tile is on the board, making a Yellow match generates Purple AP instead. When this Countdown goes off, Mysterio steals a burst of 361 health from a random enemy and ally.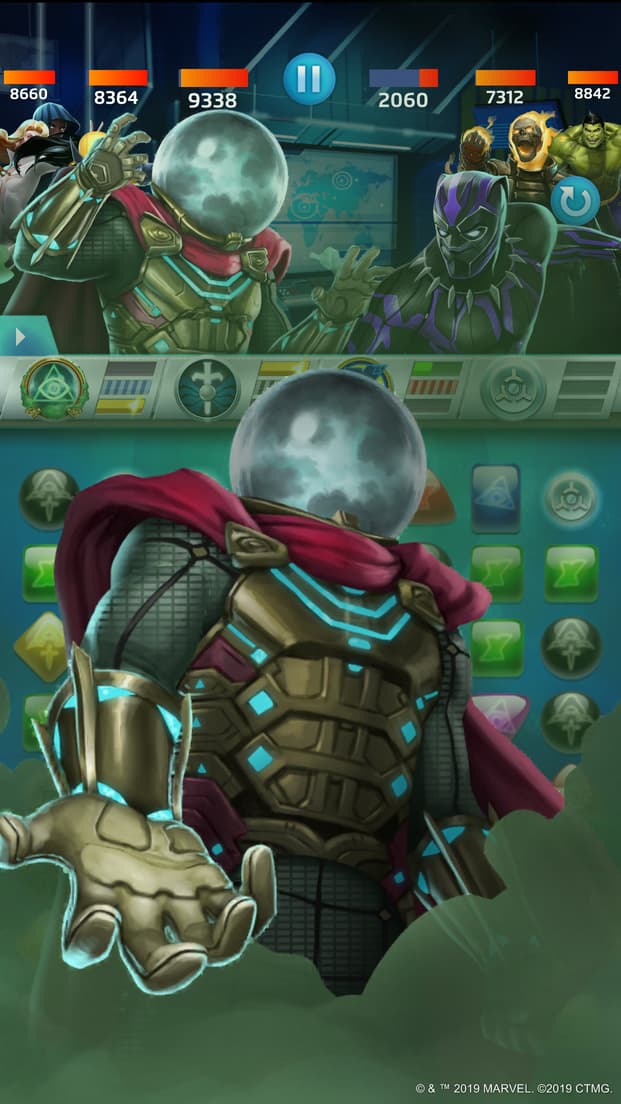 Mysterio (Quentin Beck) is available at increased odds for a special limited time. Recruit him with store offering S.H.I.E.L.D. Training on July 4 until July 11 and the Mysterio & Friends limited vault on July 7 until July 12. The S.H.I.E.L.D. Training, new character event, kicked off July 4 and ends July 11, while the Webbed Wonder story event is now running until July 12. Don't miss the Smoke and Mirrors versus tournament running until July 10!
Join forces with Spider-Man in the new BATTLE AT THE BASILICA Boss event! Team up with your Alliance to take on brand new elemental foes Hydro-Man and Molten Man in an epic fight to save the city of Venice. Can you stop their destruction and prove yourself to be the friendly neighborhood hero that Marvel Puzzle Quest needs? 
Pick up Marvel Puzzle Quest here. Stay tuned to Marvel.com for Marvel Games news and interviews and follow Marvel Games on Twitter for more!
The Hype Box
Can't-miss news and updates from across the Marvel Universe!