Games
Published October 17, 2017
Piecing Together Marvel Puzzle Quest: Nightcrawler
Everybody's favorite fuzzy elf BAMFs on the scene!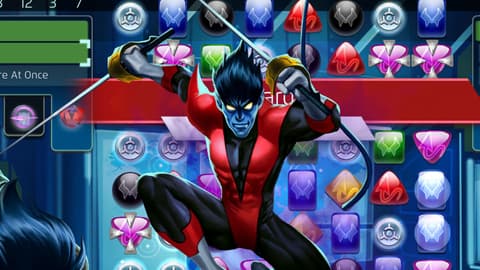 Do you smell the brimstone in the air? That can only mean one thing—the swashbucklin' Nightcrawler's on the scene!
Following on the coattails of a couple of other mighty mutants, Kurt Wagner joins the "Marvel Puzzle Quest" crew with a couple of swords in hand. We talked to D3 Go! Senior Producer Josh Austin about the bouncing blue elf and what he's all about.
Marvel.com: We got Rogue, two different Gambits, and now Nightcrawler? Please tell me the mutant mayhem's never gonna end!
Josh Austin: Nightcrawler is our latest 4-Star mutant to join the "Marvel Puzzle Quest" roster! While this much-requested character has finally found a home in "MPQ," we have a lot of plans coming, and X-Men fans will not be disappointed! We will definitely be seeing some more mutant characters in the coming months! But of course we can't just have mutants coming to the game so expect some variety and nice surprises in the coming months.
Marvel.com: Nightcrawler's signature ability is his teleportation. I can only imagine he's got some tricky stuff up his blue-furred sleeves right?
Josh Austin: That's correct, Nightcrawler is one tricky hero! A summary of how he works in "Marvel Puzzle Quest" is that he deals damage based on friendly and enemy AP and converts basic tiles based on how many colored tiles are on the board.
Marvel.com: Ok let's get into the elf's abilities. What can he do?
Josh Austin: Nightcrawler's first ability is called BAMF! And it costs 7 Purple AP. With a puff of smoke and brimstone, Nightcrawler teleports away from damage and into position to strike. This converts basic tiles to the color most present on the board. The ability also has a passive that triggers when the team would take damage causing Nightcrawler to go airborne instead of taking the damage.
His second ability is called En Garde! and it costs 9 Red AP. Time for the dual sabers and his superhuman agility! For this ability, Nightcrawler deals damage and if the player has enough AP in their strongest color based on the abilities level, then this power deals almost even more damage.
His last ability is called Everywhere At Once and it costs 12 Blue AP. For this ability, Nightcrawler leaps in and out of the shadows to confuse, to disarm and disorient his enemy. Deals damage for each point of AP the enemy has in their strongest color and destroys 4 AP in that pool.
Marvel.com: Everywhere at Once sounds like it could be crazy for Nightcrawler's opponents and that Kurt would do really well in teams that share a lot of the same color powers. That fair to say?
Josh Austin: Everywhere at Once has the ability to delay the opponent from using a power that needs the enemy's strongest AP color, which can come in handy. If the player wants to focus on raking up and damaging with this ability, using Black Panther (T'Challa) with Rage of the Panther becomes a great combo as Black Panther is giving the opponent AP in their strongest color, then Nightcrawler is dealing damage and reducing the AP amount in the strongest color.
Marvel.com: And I feel like I would want to play him with teammates who can create specific color tiles, characters like Cyclops (Uncanny X-Men), Iron Fist (Immortal Weapon), and Kamala Khan (Ms. Marvel) for extra juicy Match 5s. Anybody else he likes fighting with?
Josh Austin: Actually Nightcrawler is really great with Cloak and Dagger and generating Black and Purple AP. Overall though yes, when putting a team together having characters that create specific color tiles works well with Nightcrawler as he generates more tiles in the color most dominant on the board.
Marvel.com: And what else do we need to know about Nightcrawler?
Josh Austin: Nightcrawler will be available on October 19 and will be a part of two events with him as a placement reward including Thick As Thieves and S.H.I.E.L.D. Training event that will start on October 19. Nightcrawler's featured event is called The Hunt and starts October 22. Lastly, his Versus Tournament is called Fuzzy Elf and starts on October 22.
Stay tuned to Marvel.com for more "Marvel Puzzle Quest" news and interviews!
The Hype Box
Can't-miss news and updates from across the Marvel Universe!