Games
Published June 4, 2020
Piecing Together Marvel Puzzle Quest: Onslaught (Psionic Entity)
The world's heroes hope to contain his destructive power.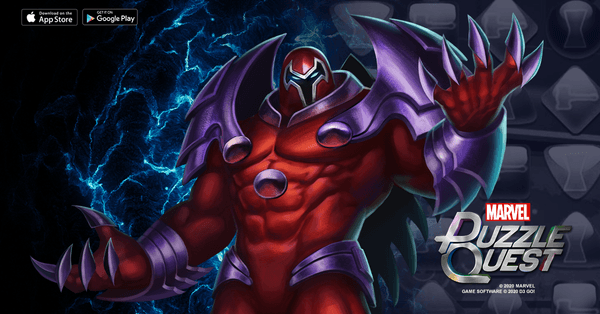 What do you get when you cross two powerful mutants? Snag Onslaught, the latest 5-Star Rarity (Epic) character in Marvel Puzzle Quest now. 
Taking Magneto's negative emotions and the repressed dark side of Professor X, the entity known as Onslaught sought to destroy the world. Only through great sacrifice could the world's heroes hope to contain Onslaught's destructive power and dissipate his psionic form.
The 5-Star Rarity (Epic), with affiliation Villains and Mutants, has a tool kit that includes Astral Projection, Know His Name, and Psychic Blast.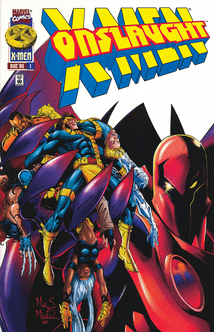 With Astral Projection, a high-cost purple power, Onslaught gathers his power on the Astral Plane before striking the material world. Grants Onslaught 1 turn of Invisibility and creates 3 Trap tiles. At the start of your turn, if at least one of these Trap tiles exists, grants Onslaught 1 additional turn of Invisibility. When one is matched by either team, remove Onslaught's Invisibility, disarm all other friendly Astral Projection Trap tiles and create 1 strength 150 Attack tile.
Once it starts, the onslaught is relentless with Know His Name, a passive green power. When you make a Match-5 or greater, destroy all Team-Up tiles on the board, dealing 208 damage for each tile destroyed. 
Using Psychic Blast, a mid-cost blue power, Onslaught manipulates the enemy's perceptions so they cannot trust anything around them. Pick a tile and, in the chosen tile's row and column, deal 710 damage for every enemy special tile and convert all tiles of the enemy's strongest color to the enemy's weakest color.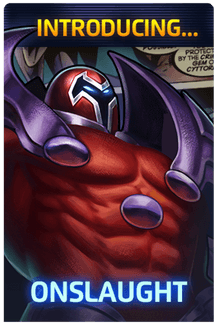 Onslaught (Psionic Entity) is available at increased odds for a special limited time. Recruit him during Introducing… Onslaught running June 4 through June 9; Great Minds running June 7 through June 10; and The Hunt running June 8 through June 12.
The Relentless Onslaught Cover Store runs June 4 through June 13 and will run for longer than usual stores to ensure that players have an opportunity to pull from the store if they wish to. The Special Legendary Store, Optimal Illusion, will run June 11 through June 15, where there is a 15% chance to get Onslaught (Psionic Entity), Professor X (Classic), and Loki (God of Mischief).
Pick up Marvel Puzzle Quest here. Stay tuned to Marvel.com for Marvel Games news and interviews and follow Marvel Games on Twitter for more!
The Hype Box
Can't-miss news and updates from across the Marvel Universe!