Games
Published January 17, 2017
Piecing Together Marvel Puzzle Quest: Riri Williams
The hero known as Ironheart makes her mobile gaming debut!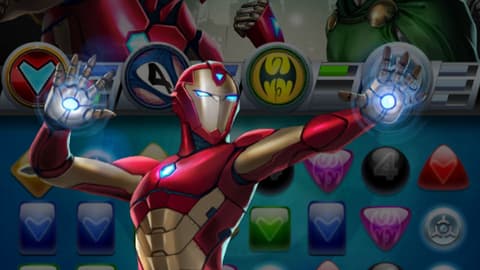 Riri Williams, the newest hero to incase herself in iron armor takes to the "Marvel Puzzle Quest" stage this week. Armed with her own improvised Iron Man suit and ready to kick bad guy butt, the hero called Ironheart will be a force to be reckoned with. D3 Go! Producer Josh Austin dropped by to chat about Riri's powers and just what she's capable of in-game.
Marvel.com: We've had a couple strong heroines enter the fray recently: Medusa, Captain Marvel (Carol Danvers), and now Riri Williams joins the fight. What was the thinking behind pulling her into "Puzzle Quest"?
Josh Austin: After adding some well-established heroines to "Marvel Puzzle Quest" with the Queen of the Inhumans and Carol Danvers, we are super excited about the new Ironheart (Riri Williams) character and the recent handoff of Iron Man to this new strong female character.
While Medusa and [Captain] Marvel are super powerful, Riri is still finding her way but already surprising Tony Stark in his new AI form with her amazing intellect. It's been great working with Marvel on a bringing this new heroine to "Marvel Puzzle Quest."
Marvel.com: Right now there are five different versions of Iron Man armor and one War Machine suit shooting people to heck and back. How did the team focus on making Riri feel unique?
Josh Austin: Riri Williams' design focuses on what we've seen so far from her in the comics: she's still learning and not as strong as Iron Man, she's more of a support character at this stage. So our version of Riri uses features [what] she knows about Iron Man but mixed with her wit to make these attacks her own.
For example, instead of just shooting fists at the enemy, she shoots them to flank the enemy and uses magnetic repulsors to bring together enemy special tiles to disarm the enemy. Her charge into battle attack sends her airborne after initial damage, also causing the enemy to go airborne, like she does in the comics currently where she runs by flying off, but it's still a great tactical move that benefits the player if they want to disable someone for a bit.
Marvel.com: And let's talk about her abilities; what can Ironheart do?
Josh Austin: Riri's first ability costs nine Blue AP and is called Magnetic Repulsors. Riri uses her magnetic repulsors in her armor's gauntlet to disarm her opponents. This power attracts enemy special tiles to the center of the board. What's great about this is if you have a character that makes a specific color special tile like Protect Tiles, it has a strong chance to match them away after they are pulled into the middle of the board!
Riri's second ability, Remote Control Gauntlets, costs 11 Red AP. Riri launches her gauntlets, maneuvering them remotely towards her opponent. The gauntlets attack from the flank dealing damage to the target opponent and also places a Four-Turn countdown tile that unlocks and removes special tiles.
Riri's final ability, Selfless Intervention, costs 8 Green AP. Riri makes a split second decision to fly into the action causing damage and her armor to react to the impact sending [her] Airborne for two turns and her target Airborne for one turn.
Marvel.com: I like her special tile manipulation moves. That definitely feels different. Selfless intervention though—it's been a while since we've seen a move that sends characters Airborne. What's the strategy behind taking both yourself and the enemy out of combat?
Josh Austin: Sending an opponent out of the fight is advantageous for the player to get one of [their adversaries] off the field for a bit. This allows the player to remove a threat for at least one turn or two at higher levels. For example, if you're playing PVE with one hero character that can manipulate the tile board, it's great to be able to send that opponent flying if you see a match four or five that you would like to utilize instead of the opponent's team!
Marvel.com: Who does she team well with? And can she team-up with other Iron Man armors or is she included in their number?
Josh Austin: Actually Riri can team up with Iron Man, she's her own entity. So a player could add Ironheart with Iron Man. As far as teaming up, Ironheart is a bit of a support character. She is good against teams that use special tiles.
Since she removes tiles effectively, she'd pair pretty well will Luke Cage (Power Man) since his red deals more damage if there aren't any opposing special tiles. The new Four-Star Captain Marvel can take advantage of the red countdown tile created by Riri's Red ability.
Marvel.com: Also, I heard "Puzzle Quest" is going to be celebrating some Jack Kirby monster madness soon. Care to give us a breakdown of the festivities?
Josh Austin: We will be swapping out some covers and promoting the Kirby Monster event in game for a limited time. Comic swaps will be for X-23 (All-New X-Men), The Hulk (Totally Awesome), Doctor Strange (Stephen Strange), Spider-Man (Classic), Devil Dino, Thor (Goddess of Thunder), Deadpool (It's Me, Deadpool!), Medusa, Vision, and Kamala Khan.
The swaps are a fun way to celebrate some of the recent Marvel news in ["Marvel Puzzle Quest"]! There are also some cool materials and offers at the Marvel Digital Comics Shop and Marvel Insider.
Marvel.com: Is there anything else players need to know?
Josh Austin: You can earn Riri in the Thick as Thieves event starting on January 19, or in the Vault for the Event Hearts of Darkness that starts on January 23. Riri's upcoming Versus Event will be called Flight Test.
Stay tuned to Marvel.com for more "Marvel Puzzle Quest" news and interviews!
The Hype Box
Can't-miss news and updates from across the Marvel Universe!