Games
Published May 2, 2017
Piecing Together Marvel Puzzle Quest: Rocket & Groot
The Guardians' dynamite duo reloads for another run!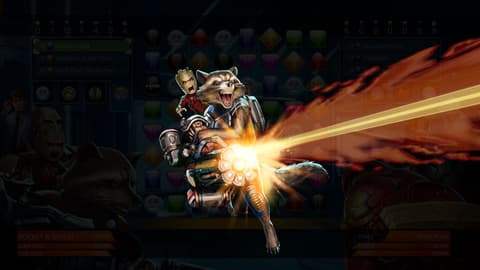 The next characters to receive a "Marvel Puzzle Quest" upgrade bring bombs, bullets, and rocket fuel to the party.
Prepare yourself for Rocket and Groot reloaded as 4-Star brawlers to celebrate the release of "Guardians of the Galaxy Vol. 2." We talked to D3 Go! Senior Producer Josh Austin about the pint-size pair and how they fit into the "Puzzle Quest" universe.
Marvel.com: Following close on the heels of Star-Lord (Awesome Mix Volume 2) we have a revamped Rocket and Groot! How do they differ from their 3-Star incarnation?
Josh Austin: The most obvious difference is the size of Groot! Other than that obvious size difference, this 4-star Rocket and Groot (Awesome Mix Volume 2) is more atomic, focusing on their last power, where an Atomic Bomb Countdown tile is created and will damage the enemy team, or if it's matched before it resolves, it will damage both the opposing team and the players team.
Marvel.com: Thinking about Rocket and Groot's dynamic as inseparable pals, what's it like creating different abilities for two characters who work as one?
Josh Austin: Actually for these two it's a lot of fun. Their characteristics from the trailer sparked the final animation sequence and power change. The "Don't Push this Button" part of the trailer was fun and found its way into the game. Since Rocket and Groot are so inseparable, it makes it fun to combine them. Though, I have heard the community would like a 5-star "baby" Groot.
Marvel.com: Let's talk a little about Rocket and Groot's kit. What kind of trouble will these two be stirring up?
Josh Austin: Rocket and Groot (Awesome Mix Volume 2)'s first power is called Rocket's Pack and it costs 12 Blue AP. For this power, Rocket zips around the battlefield with his new Aero Rig, blasting any poor schmo that gets in his way. If a Blue Countdown tile hasn't been created for this power already, this power creates one that deals damage and creates a Black Attack tile each turn.
Their second power is called Welcome to the Team and it's a Yellow Passive, which means it costs 0 AP. At the start of the battle, this creates a bunch of Strike tiles. If there is another member of the Guardians of the Galaxy on their team, this creates stronger Strike tiles instead. Welcome to the frickin' Guardians of the Galaxy.
The final power is the most involved! The last power is called Don't Push This Button and costs 10 Green AP. Rocket yells at Groot to not push that button [because] it will kill everyone! Using this ability first creates a 3-Turn Atomic Bomb countdown tile that deals damage to the enemy team. If it's matched away, it deals slightly less damage then if the bomb went off to the enemy team and about 1/4th the damage to the players team.
While the Atomic Bomb countdown tile is on screen, this power becomes "I Aaaaaaam Grooooot!" which is a Green AP Passive. At the start of each turn, Groot makes a match for you. This clears lines and creates critical tiles as normal, but no extra turns. When the Atomic Bomb Countdown tile is matched or goes off, this power becomes Don't Push This Button again.
Marvel.com: Welcome to the Team is really interesting. There aren't too many abilities in the game that change depending on your team composition. Is this something the team is looking into exploring for other characters?
Josh Austin: We hope to be adding a lot of these before the end of the year; there isn't much we can talk about yet, but we are hoping this becomes more of a thing very, very soon.
Marvel.com: And with I Aaaaaaaam Grooooooot!, does Groot make a move before, or after the player makes a move?
Josh Austin: Groot makes a move before the player does, which gives the player AP. This basically gives the player a few rounds of extra AP generation which is nice!
Marvel.com: Who fits best fighting beside the tree and space rodent? Obviously the Guardians work awesome together, anyone else?
Josh Austin: Because the Don't Push This Button power is so strong, the player may want to focus on characters that fortify the player's Countdown tiles like Green Goblin, Captain Marvel (Carol Danvers), or Hawkeye (Clint Barton). The player could also select someone that enhances or is enhanced by special tiles including Medusa, Punisher (Max), Mr. Fantastic, and Professor X.
Marvel.com: And when do we get a shot at these two troublemakers?
Josh Austin: Rocket and Groot (Awesome Mix Volume 2) are available starting on Thursday, May 4. They can be found as placement rewards in the Meet Rocket and Groot event that is running from May 4 through May 8 and features their new art. Rocket and Groot (Awesome Mix Volume 2) will be featured and available in the Vault for Thick as Thieves that runs May 7 through May 12.
Their special Guardians of the Galaxy story tie-in event is called Backup Plan, which continues the journey in the I Have a Plan event featuring Star-Lord. This event runs May 11 through May 16 and features Rocket and Groot (Awesome Mix Volume 2) and grants the player covers in mission rewards. Their Versus Tournament is called Best Buds and runs May 11 through May 15.
Pick up the new 4-Star Rocket and Groot here and stay tuned to Marvel.com for more "Marvel Puzzle Quest" news and interviews.
The Hype Box
Can't-miss news and updates from across the Marvel Universe!