Games
Published September 27, 2017
Piecing Together Marvel Puzzle Quest: Rogue
The southern belle strikes at the heart of the hit mobile game!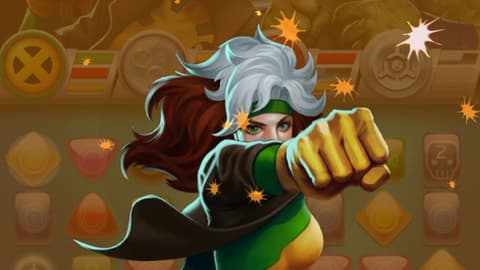 Rogue hits "Marvel Puzzle Quest" at supersonic speeds, bringing her power draining abilities, mean right hook, and boundless determination to a team near you! Want to take out bad guys and look great doing it? Well we talked to D3 Go! Senior Producer Josh Austin about the southern belle's powers, the future of mutants in "MPQ," and the game's impending anniversary. Read on!
Marvel.com: It's been a while since we've seen anyone with an X-Gene join the roster. Can you talk a little about why mutants are back on the menu?

Josh Austin: I know, right? Keeping the secret that we are bringing back the mutants was so hard! Players have been asking for a long time and Rogue is just the start. We will be releasing a few more, plus some mutant-themed events that should bring a lot of excitement to the game.
Marvel.com: Super happy to see Rogue making the cut too! Why was she the right mutant for the job?
Josh Austin: Rogue has been one of the top requested characters for so long. Every time I would send out a preview character with the community one of the top automatic responses seemed to be Rogue, so we wanted to start with her. She's a 4-star character and will be tough to beat with her power siphoning and damage reduction. Players are going to have fun using her and dread facing her. The designers did a great job translating her powers to "Marvel Puzzle Quest" and she's going to be a great addition to any roster!
Marvel.com: Rogue's been in her fair share of video games in the past. What does the team have in store for us in "Marvel Puzzle Quest"?
Josh Austin: Since we did not want to disappoint on such a highly requested character, we definitely went with her familiar power set of draining powers, flying head on into combat with a devastating punch and even leading her team in the attack, all done in "Marvel Puzzle Quest" fashion.
Marvel.com: And what can she do in "MPQ" fashion?
Josh Austin: What the above overview translates into is Rogue's first ability, Gloves Off, which costs five Green AP. This power then becomes Power Siphon. Power Siphon is a Passive ability that has Rogue absorbing enemy powers but risks damaging herself with continued exposure. What this means in terms of gameplay is enemy matches in this ability's color generates no AP and [deal] no damage while friendly matches generate double AP and deal double damage! At the start of the turn, spend 14 AP in this ability's color to deal damage to the target and deal about half that amount of damage to Rogue. This power then becomes Gloves Off again.
Rogue's Second ability is called Sugah, You're Goin' Down and costs 12 Red AP. It's a headfirst flying charge punch that sends the enemy reeling. It deals damage and destroys a block of tiles dealing damage but not generating AP.
Rogue's final ability is called Leading the Charge and it's a Yellow Passive. When Rogue is in front, enemy matches deal less damage for each teammate still in the fight. Whenever the enemy makes a Green, Red or Yellow match, Rogue is sent to the front automatically.
Marvel.com: Let's talk a little about Gloves Off. Because of the potential damage Rogue risks, is this something she needs to use sparingly or do the benefits outweigh the risks.
Josh Austin: The risk is only if the player gets the 14 AP to set off Power Siphon's damage function. The moment the player collects 14 AP in the chosen color, Rogue damages the enemy and receives damage. If you have someone that can use up the AP, so you're just doing double damage on matches, Rogue will be totally fine.
Marvel.com: How about teammates? Who does she play well with?
Josh Austin: Because of Rogue's ability to gain double AP with Power Siphon and the damage reduction with Leading the Charge, she works well with many characters and she will be a great ally or really difficult opponent! She is strong with characters that create Charged tiles like Black Bolt, Silver Surfer, The Hulk (Totally Awesome), Thor (Goddess of Thunder), Mordo, and Lockjaw.
Marvel.com: Is there anything else we need to know?
Josh Austin: Rogue is coming to "Marvel Puzzle Quest" on September 28. She will be in placement rewards for Hearts of Darkness, which starts the same day. Players will also have a chance to get her through tokens awarded in S.H.I.E.L.D. Training. Her featured event will be Webbed Wonder that starts October 1 and players can snatch her up as a progression reward. Her Versus Tournament, Close Contact, starts on October 1.
Rogue will also be the first character released in a mini-gauntlet at the same time as her debut event, which will reward players tokens to the debut event store and a cover of Rogue. We will have more information on the details of this change in the D3 forums closer to Rogue's release!
Marvel.com: And I heard you have some other fun bits of news to tease for October?
Josh Austin: Yes! We are getting close to our four-year Anniversary of "Marvel Puzzle Quest" so players should stay tuned next week as we introduce details of what is coming to the game for the Anniversary. We are looking forward to the celebration and sharing more details about a couple of other X-Men characters coming to the game. You may have heard of them—Gambit and Nightcrawler! I can't say anything more than that but stay tuned next week for more info about their release and a special in-game X-Men themed event.
Play with Rogue's mutant powers here and stay tuned to Marvel.com and @MarvelGames on Twitter for more "Marvel Puzzle Quest" news and interviews.
The Hype Box
Can't-miss news and updates from across the Marvel Universe!