Games
Published February 21, 2018
Piecing Together Marvel Puzzle Quest: Shuri
Channel brilliant Wakandan royalty in the hit mobile game!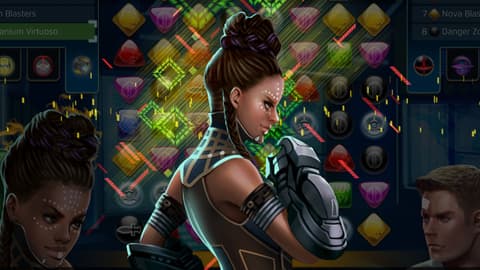 Seen Marvel Studios' "Black Panther" in theaters yet? If not, what are you waiting for? Otherwise you'll miss out on all the cool science shenanigans T'Challa's brainiac sister Shuri pulls off, and the fine folks at D3 Go! translated into "Marvel Puzzle Quest." We talked to Senior Producer Josh Austin to understand just what Shuri's capable of.
Marvel.com: There are quite a few characters the team could have chosen to translate from Black Panther comics to "Marvel Puzzle Quest." Why was Shuri the right woman for the job?
Josh Austin: Shuri is such a fun and awesome character in the "Black Panther" movie that the team really wanted to see her in Marvel Puzzle Quest. Shuri (Master Engineer) makes a great addition as the newest 4-star and because she has mastered the use of Vibranium, the team decided to make her the master of manipulating Fortified tiles in ways that we haven't seen yet!
Marvel.com: Shuri has had a few different power sets in her life, from enhanced strength and senses as the Black Panther to mystic abilities in the current storyline, to her movie. What did the team focus on for the game?
Josh Austin: Shuri (Master Engineer) was inspired by the Black Panther movie with how she creates and enhances tech that the Wakandans use to make them better. In the game, this translates to her being the master of Fortified tiles. She can lower the cost of powers for the friendly team while increasing the power cost for enemies, stun enemies and deal additional damage by using fortified tiles on the board.
Marvel.com: Ok tell us about Shuri's kit. What can she do?
Josh Austin: Her first ability is called Vibranium Tech which is a passive Blue Power. For this ability she uses the Fortified tiles on the board to increase the cost of AP for their powers while lowering the cost of friendly powers. At power level 5 level 270, this means 5 Fortified tiles on the board will cause enemy powers to cost 3 AP more, while friendly powers will cost 3 AP less to a minimum of 3.
Her next power uses the Twin Blasters seen in "Black Panther." This power costs 11 Green AP to deal damage and destroy random tiles. If the destroyed tiles contain a Fortified tile, the enemy is stunned for a few turns, destroyed tiles deal damage but do not generate AP.
Her last power is called Vibranium Virtuoso and it costs 8 Red AP. For this power, Shuri fortifies friendly special or basic tiles and removes a random enemy Fortified special tile. Whenever the player matches a Fortified tile, this power passively deals additional damage.
Marvel.com: Wow Shuri is really focused on making the most of Fortified tiles. Was that just so she'd synegize with her brother, or was the team looking to explore more Fortified tile strategies?
Josh Austin: Anyone, in addition to her brother (Black Panther – King of Wakanda) that makes Fortified tiles will be a good fit for Shuri.  This includes Green Goblin, Hawkeye (Clint Barton), Luke Cage (Power Man), and Iron Fist (Danny Rand).
Marvel.com: How would you build her? I feel like her covers might really depend on who your teammates are. Except for Vibranium Tech. That's always gotta be maxed out right?
Josh Austin: I would go for 5/3/5 to use her two support abilities.  Her blasters are really cool, but I would like to get the benefits of the lowering and raising of AP and that last power can also help with Fortified tile creation.
Marvel.com: When do we get to play her?
Josh Austin: Shuri (Master Engineer) will be released on February 22 and she will have a Shuri and Friends store that will be available between February 25 and March 2.  In her debut event, Shuri has come to the aid of her brother to defend Wakanda in the Fight for Wakanda event. The event runs between February 22 and 27 and has been tweaked a bit from the first run of the event to improve play.
She will also have a S.H.I.E.L.D. Training Event between February 22 and March 1 and will be featured in the Prodigal Sun event running between February 26 and March 2. Her Versus Tournament is called Mother of Invention and runs between February 25 and 28.
Pick up Shuri here and stay tuned to Marvel.com for more "Marvel Contest of Champions" news and interviews.
Interested in learning more about Shuri, take a look at the video below:
The Hype Box
Can't-miss news and updates from across the Marvel Universe!