Games
Published June 30, 2017
Piecing Together Marvel Puzzle Quest: Spider-Man
Get your hands on an all-new 5-star Spider-Man!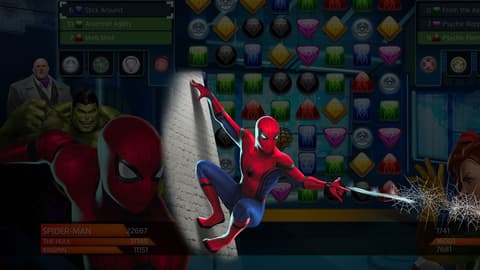 The "Spider-Man: Homecoming" hype train is pulling in to the station early thanks to "Marvel Puzzle Quest" and their all-new 5-Star Spider-Man. We talked to D3 Go! Producer Josh Austin about Spidey's new look and abilities and a new boss event the team has in the works!
Marvel.com: Peter Parker in a Spidey suit is about as classic as you can get but this time it looks like you're putting the MCU spin on our favorite wallcrawler.
Josh Austin: That's right! With the film due out next week, now seemed like the best time to have Peter Parker be our new 5-Star Spider-Man. He joins a cast of other awesome Spideys like Classic, Original and Back in Black, so we definitely couldn't miss Peter Parker in MPQ as we prep for some fun upcoming events in the coming weeks.
Marvel.com: With all the different Spidey suits already in the game, what kind of special sauce does this Spider-Man come with?
Josh Austin: For this MCU variation we added the new Tony Stark tech suit introduced in the "Spider-Man: Homecoming" film. For this Spider-Man, with the helpful direction from Marvel, we made sure to emphasize the tech of the suit to make him stand out from the previous variations.
Marvel.com: Ok let's talk about his abilities. What's going on under the mask here?
Josh Austin: Spider-Man (Peter Parker)'s first ability is called Stick Around. It costs 6 Blue AP and creates web tiles. What's great about this power is if there are enough web tiles on the board then this power will stun the entire enemy team.
Arachnid Agility is Peter's second ability, which costs 10 Green AP. Spider-Man deals damage to a random enemy, then the same amount of damage to another random enemy once for each web tile on the board for a Max of 5 web tiles (or 5 times).
Lastly, Parker's final ability called Web Shot sends out a spider drone from Spider-Man's new outfit. This ability costs 7 Red AP and deals a good amount of damage and converts web tiles to Critical tiles based on the ability level and how many are on the board. For example, at level 450 and power level 5, if there are three Web tiles it converts 1 to a Critical tile and if there are 5 or more, it converts 3 of them to Critical tiles. AND this power has a PASSIVE that creates Web tiles if there isn't any on the board helping to feed into his other powers.
Marvel.com: What do you think Spidey does best here? Looks like he has no problem webbing them up and keeping them out of the game
Josh Austin: Spider-Man (Peter Parker) deals a good amount of damage and has the ability to stun the whole team. His Blue and Red powers are relatively low cost, while his Green ability can be pretty powerful, but it is to a random enemy. So overall, he follows the more reactionary variation of his powers, relying on his spidey sense and his drone spider from his new suit!
Marvel.com: And it seems like anyone who creates web tiles would serve as an awesome teammate to the embattled Peter Parker. Am I on the mark here?
Josh Austin: That is 100% correct! The more web tiles the better! So teaming him up with Miles Morales and Spider-Gwen will help build on his Blue and Red powers. Also, anyone that can help generate Green would help with his costlier power like Star-Lord (Awesome Mix Volume 2) and The Hulk (Totally Awesome).
Marvel.com: Am I missing anything else cool about Spidey? I also hear there is a new Boss Event?
Josh Austin: For a 5-Star his abilities have a low AP cost, he has an active power that can stun the whole enemy team and his Web Shot ability has potential to create some devastating cascades with the Critical tiles it can generate. Aside from an awesome new Spider-Man 5-Star character and the recent addition of some of his well-known foes, we are adding a new Story event to Marvel Puzzle Quest called Spider-Man vs. The Sinister Six.
This Sinister Six is themed to "Marvel Puzzle Quest," and will feature Doctor Octopus, Sandman, Carnage, Venom, Green Goblin and even the new Vulture before he's released as an earnable character. Overall the event follows other Boss events, but the Boss Node will have a wave of different variations of the Sinister Six. As the players Alliance completes rounds, the boss node will get harder, but the good news is as a new boss comes in, their AP resets to 0 so the player should stand a chance against these ruthless foes.
Marvel.com: And when can we pick up Spidey?
Josh Austin: Spider-Man (Peter Parker) is available in the Legendary Cover store starting July 6. He will also be rewarded in the Spider-Man vs. The Sinister Six event that starts Thursday, July 6 as well so just in time to experience some Spider-Man fun as you get ready to see the movie.
Pick up the all-new all-awesome Spider-Man (Peter Parker) here and stay tuned to Marvel.com for more "Marvel Puzzle Quest" news and interviews.
The Hype Box
Can't-miss news and updates from across the Marvel Universe!