Games
Published April 18, 2019
Piecing Together Marvel Puzzle Quest: Thanos (Endgame)
Battle with the 4-Star villain!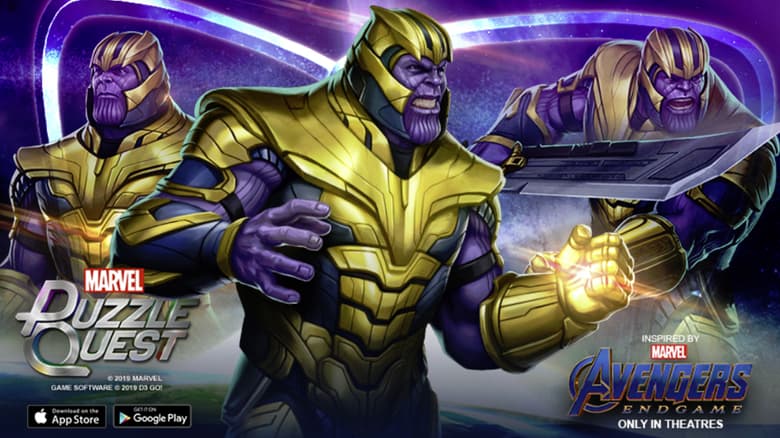 As revealed earlier today on Marvel Live, the fight of our lives has begun as Marvel Studios' "Avengers: Endgame" sweeps across Marvel games. Who, but the Mad Titan, Thanos, himself, steps into Marvel Puzzle Quest. Recruit him to your team here.
At long last, Thanos has fulfilled his destiny. He secured the six Infinity Stones, assembled the Infinity Gauntlet, and balanced the universe. Get ready to use his Infinity Gauntlet to shake up the board and make sure the tiles remain perfectly balanced.
Has he finally earned a much-needed rest, or are there still more battles to fight? Touting his sword and donning his armor from the film, the powerful 4-Star villain punishes teams that play with Heroes and Special Tiles.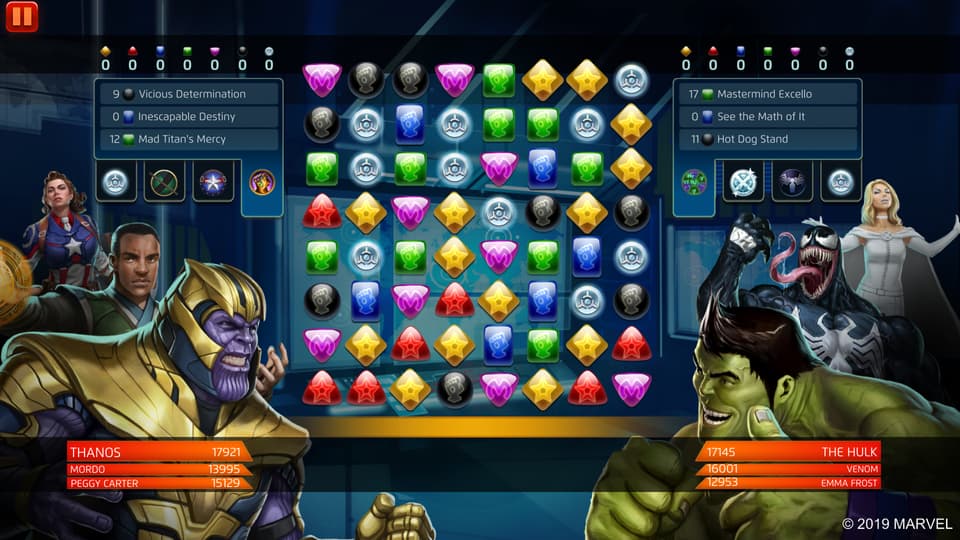 The battle-ready 4-Star rarity's S.H.I.E.L.D. training mates include Nick Fury (Director of S.H.I.E.L.D.), Moon Knight (Marc Spector) , and Carnage (Cletus Kasady). Thanos does the most damage against special tile users, but specifically, Heroes.The Mad Titan has a powerful kit, including Vicious Determination, Inescapable Destiny, and Mad Titan's Mercy. Thanos lashes out with a flash of otherworldly steel and strikes down the so-called heroes standing in his way with Vicious Determination, a mid-cost Black power. This ability deals 911 damage to the target, then deals an additional 486 to all enemy Heroes.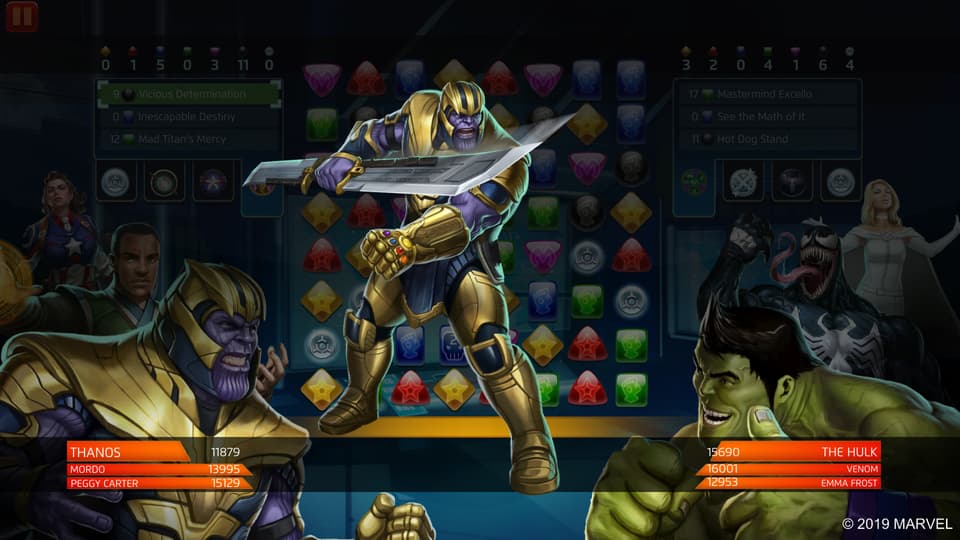 With Inescapable Destiny, a passive Blue power, Thanos watches his enemies' attacks, pitying their futile attempts to stop his plans. At the start of the turn, if there are 3 or more enemy Strike, Attack, or Protect tiles on the board, remove 1 of them and convert 3 basic tiles to Green.Lastly, with Mad Titan's Mercy, a high-cost Green power, Thanos balances the universe around him as he unleashes the power of the Infinity Gauntlet. This ability destroys 32 random tiles, dealing 1,576 damage for each special tile destroyed (up to a max of 9,448 additional damage). (Destroyed tiles do not generate AP.)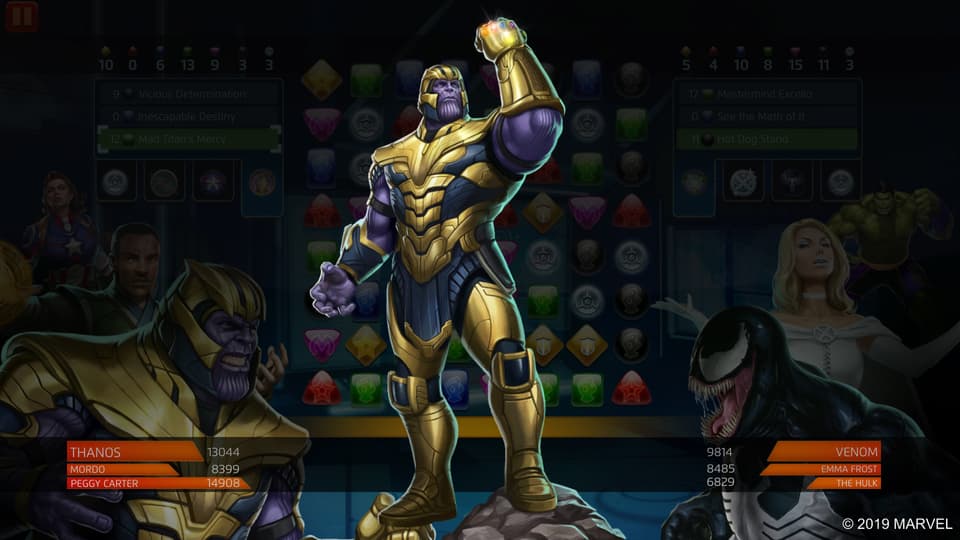 Thanos (Endgame) is available at increased odds for a special limited time. He makes his debut beginning April 18 with store offerings, S.H.I.E.L.D. Training Heroes for Hire and Thanos & Foes. Featured events "Avengers vs. Ultron" and S.H.I.E.L.D. Training both kick off on April 18, while Unstable Iso-8 and Balancing Act both kick off on April 21.
The Cinema Showdown starts on April 22. Every day, a new mission is available featuring a key fight inspired by the Marvel Studios films.
Then, on April 25, the Infinite Pursuit begins. Join forces with your favorite cast of Avengers to stop Thanos from completing the Infinity Gauntlet!
See the culmination of the last decade of the Marvel Cinematic Universe. Marvel Studios' "Avengers: Endgame" opens in theaters on April 26. Get tickets on Fandango now!
Marvel Insiders! Experience Marvel Studios' "Avengers: Endgame" in REALD 3D. Redeem your points for 25% off RealD3D tickets on Atom Tickets. Visit marvel.com/insider/rewards for more details. Terms apply.
Pick up Marvel Puzzle Quest here. Stay tuned to Marvel.com for Marvel Games news and interviews and follow Marvel Games on Twitter for more!
The Hype Box
Can't-miss news and updates from across the Marvel Universe!