Games
Published July 11, 2017
Piecing Together Marvel Puzzle Quest: Vulture
Snatch up this classic Spider-Man villain in his first 'Marvel Puzzle Quest' debut!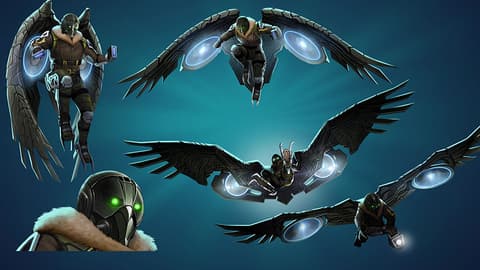 The Vulture makes his very first appearance in the "Marvel Puzzle Quest" universe after an awesomely successful opening weekend in "Spider-Man: Homecoming." To get a better idea of what the "MPQ" Vulture is all about we talked to D3 Go! Producer Josh Austin about Toomes' abilities, his playstyle, ideal teammates, and more. This isn't the sheer green tights-wearing Vulture you remember gang – this is a whole new bird of prey.
Marvel.com: The MPQ Sinister Six is complete now that the Vulture's joined the squad. All the game's Spider-Men and Women really need to watch the skies now huh?
Josh Austin: That's right, as players saw in the Spider-Man vs the Sinister Six event, 4-Star Vulture (Adrian Toomes) can go airborne to generate Green, Blue, Black and Red AP and deal devastating attacks. If Vulture is airborne and the team has 10 Blue AP, he will use his Hybrid Tech Slicer to destroy enemy Strike, Protect, Attack and even Invisible and Countdown tiles! Vulture (Adrian Toomes) is another formidable villain added to the "MPQ" roster!
Also, while you got to play against him in the Spider-Man vs the Sinister Six event, there is going to be a second run of the event and Vulture (Adrian Toomes) will get the new MPQ character boost for the rerun of the event between July 24 and July 27.
Marvel.com: How much inspiration did the team take from the film version of the Vulture when designing his abilities? Did any of his comic appearances help round out his kit?
Josh Austin: It's inspired by the comic book version, but with the movie coming out, we worked with Marvel to get the character close to the movie version.
Marvel.com: Speaking of his kit, what can Mr. Toomes do exactly?
Josh Austin: His first ability is called Circling Prey and it costs 6 Black AP. This ability sends Vulture Airborne for 2 turns with a (PASSIVE) that gains Green, Blue, Black and Red AP.
His second ability is called One Fell Swoop and it costs 9 Green AP. For this ability, the Vulture swoops from the sky to rend his enemies with sharp talons, which in game translates to creating a Countdown tile that deals damage when it expires. There is also a (PASSIVE) with this ability that if the Vultures returns from being Airborne while the countdown tile is on the board, it removes the tile from the board and deals damage to the enemy team instead of just the opponent in front.
The third ability is called Hybrid Tech Slicer and it costs 10 Blue AP. For this ability, Vulture uses that cool energy weapon he has in the movie in a type of fly-by that deals damage and destroys up to 4 enemy Strike, Protect or Attack tiles.
Marvel.com: Ok Vulture sounds really different than a lot of the characters in "MPQ" because he WANTS to be airborne. Most of the time being airborne is like being stunned, but is it fair to say Toomes is built around being untargetable and then flashing in for damage and then escaping to the skies?
Josh Austin: That is correct! He's unique in how he gets AP for going Airborne which helps him use his abilities while Airborne, which is new to "MPQ"! And remember, Toomes isn't targetable while Airborne and he has an ability that speeds up if he returns from Airborne while the special tile is on the board. Put all this together and you've got a kit that can really ruin a do-gooder's day!
Marvel.com: Who helps him keep to the thermals and supports his hit and run style?
Josh Austin: Vulture is strong with characters that help him get Airborne including Gwenpool and Colossus and characters that use Green or Blue AP including Iceman, The Hulk (Totally Awesome), The Punisher (MAX), Quake, War Machine or Rocket & Groot (Awesome Mix Volume 2). He's even great against opponents that send him Airborne like Nova and Riri (Iron Heart).
Marvel.com: And when can we take him under our wing?
Josh Austin: Vulture is available on Thursday, July 13 and will be available as placement rewards in Venom Bomb that starts that same day and runs until July 18. He will also be featured in The Hulk event which runs between July 17 and July 25. His versus tournament is called Junkyard Wars and runs from July 20 and July 24. I also would like to note that "Marvel Puzzle Quest" will be at the D23 Expo this weekend in Anaheim, CA. Come by the Marvel booth and check out the new Vulture, Spider-Man and other characters with us. Any one that has the game downloaded on their device, will get a free in-game gift so that is a nice incentive to come by and say hello!
Snatch up Vulture (Adrian Toomes) here and stay tuned to Marvel.com for more "Marvel Puzzle Quest" news and interviews.
The Hype Box
Can't-miss news and updates from across the Marvel Universe!