Games
Published June 5, 2017
See the First Trailer for Marvel's Guardians of the Galaxy: The Telltale Series Episode Two: 'Under Pressure'
Get a glimpse into Rocket Raccoon's origins in Episode Two 'Under Pressure' starting June 6!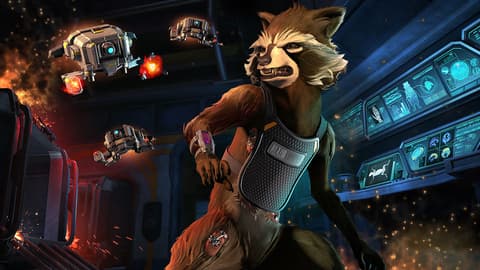 It's time to get to know your favorite trash panda! We just dropped the first trailer for 'Under Pressure,' the second of five Marvel's Guardians of the Galaxy: The Telltale Series episodes, which will be available starting June 6. Watch it above!
The Guardians just can't seem to outrun the past (or their tab), but if they figure out how to control the untold power of their mysterious new relic, they might not have to. With help from dubious old friends and unwilling new allies, Star-Lord and company scour the galaxy for answers. But how long can they elude the genocidal maniac hunting them? And will simmering tensions finally tear the team apart?
Download 'Under Pressure' for $4.99 USD or equivalent. Individual episodes, and the series as a whole, can be downloaded on PlayStation®4 computer entertainment system, Xbox One®, Windows PC, and Mac, as well as the App Store® and Google Play™. The series is also available as a special 'Season Pass Disc' at retailers across North America for an MSRP of $29.99 USD, and at retailers elsewhere across the globe. The special 'Season Pass Disc' includes episode one 'Tangled Up in Blue' and grants access to download the subsequent four episodes via online updates as they are released in the coming months of 2017. Additional platforms for release are yet to be announced.
For all upcoming news on the series, sign on for updates on the official website, like 'Marvel's Guardians of the Galaxy: The Telltale Series' page on Facebook, and follow Telltale Games on Twitter @TelltaleGames.
The Hype Box
Can't-miss news and updates from across the Marvel Universe!