Games
Published August 17, 2017
The Defenders Return to Battle The Hand in 'Marvel Avengers Academy'
Get ready to defend!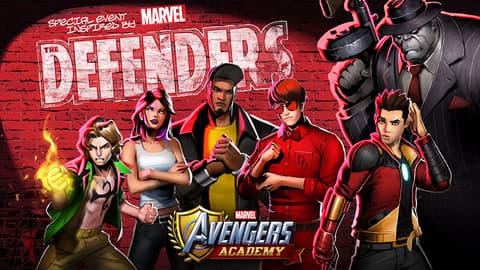 The Guardians flew back down, Spidey swung through again, and now the Defenders of Hell's Kitchen return to Avengers Academy to battle a new threat in their neighborhood. Kingpin's been imprisoned for nearly a year, and in that time Madame Gao stepped in to fill the power vacuum left in the criminal underworld of Hell's Kitchen. The Defenders and the rest of the Academy students – with the help of a few new friends – need to dispatch Madame Gao and take back the neighborhood once more.
We grabbed a few minutes with Allen Warner, Lead Narrative Designer at TinyCo, to see what The Hand has in store for us at the "Marvel Avengers Academy".
Marvel.com: The Defenders are making their way back to Avengers Academy! What's bringing the team to campus once more?
Allen Warner: With the Kingpin imprisoned, Madame Gao has seized control of the Hand, and conquered Hell's Kitchen.  The Defenders held her off as long as they could, but she countered by kidnapping some of their closest friends and allies, forcing them to regroup and call in reinforcements.  With a firm hold on Hell's Kitchen, and the combined resources of both the Hand and Kingpin's entire operation, Madame Gao sets her sights on retrieving a powerful artifact that Director Fury has locked away in one of his secret vaults, launching a full-scale assault on Avengers Academy.
Marvel.com: Will players be returning to Hell's Kitchen with the new event district?
Allen Warner: Yes, we'll be revisiting Hell's Kitchen and all of its iconic locales like Alias Investigations, Josie's, and the law offices of Nelson and Murdock.  We'll also be bringing back the Academy Courthouse from our Daredevil event, and giving some new recruits fun courtroom animations.
Marvel.com: How will the Avengers battle Madame Gao and her Hand minions?
Allen Warner: The Defenders and Avengers will team up to battle Madame Gao and her special henchmen on campus, as well as traveling away from the school to stop the Hand ninjas from attempting to take over the world.
Marvel.com: As with the Guardians and Spidey events before this, will players once again be able to recruit Defenders heroes from the previous event?
Allen Warner: Yes, this is a similar structure where players will be given another opportunity to get characters from the original Daredevil event, as well as some other characters who weren't part of that event, but make sense to be involved with the Defenders.  Players will have a chance to get Iron Fist, Daredevil, Hellcat, Elektra, Misty Knight, Punisher, Luke Cage, and Jessica Jones.  They may also have an opportunity to get some characters who you wouldn't associate with the Defenders TV show, but who have been part of various Defenders teams in the comics.  We'll also be resurfacing all of the outfits from the Daredevil event, including what might be my personal favorite Avengers Academy outfit of all time, Lawyer Loki.  We learned in the original Daredevil event that Loki has a gift for lawyering, and a fondness for lawyers and the profession, and that will continue in this event with some fun results.
Marvel.com: While those who missed out will be excited to try for all those returning favorites, what new faces join the mix?
Allen Warner: A cool and diverse group of characters who are often thought of as supporting players, but who will take center stage and show their heroic sides during this event: Foggy Nelson, Colleen Wing, Stick, and Claire Temple.  They each bring a really unique and fresh perspective to not only the events at hand, but the Avengers heroes and Avengers Academy traditions.  Our awesome art team did some really great and brand-new things with their various visual levels, and their animations are really fun, and play to their unique occupations, personalities, and talents.  I'm really excited about this group from a narrative perspective because there is so much unexplored territory.  These characters typically only interact with the characters in their respective spheres, so there's a ton of opportunity to do things that no one has ever seen before.  Foggy will form relationships and go on adventures with Loki and Captain America.  Claire Temple will go on an intergalactic rescue mission with Cosmo the Spacedog.  Stick will butt heads with J. Jonah Jameson.  Madame Gao will match wits with Mephisto, and so on.  One of my favorite things about the world we've built in this game is having the opportunity to reimagine and expand upon existing characters and Marvel lore, and this event and this group of recruits provided an awesome opportunity to do a lot of things that have never been done before.
Marvel.com: What new ways will our heroes suit up to dispatch the Hand threat?
Allen Warner: In addition to the resurfaced outfits from the previous Daredevil event, there will be new outfits and stories for Hulk, Punisher, Elektra, Iron Fist, and Misty Knight.  We love coming up with new looks for our characters that are unique to the world of Avengers Academy, but we decided to take a different approach this time around and only include outfits that have appeared in the comics.  Some are very recent looks that fans may not even be aware of, while others are iconic looks that have been around for decades.  They all look incredible, are completely different from the characters' usual outfits, and add a new angle to their personalities and powers that make for some really fun animations and stories.
Marvel.com: As excited as we are to dive back into Hell's Kitchen and dispatch Madame Gao, there's always one eye on the horizon. Can you tease anything coming down the line for the Academy and its heroes?
Allen Warner: One of our frequently teased schools will finally have to come out of hiding, and they'll be bringing more recruitable characters with them than ever before.
For all the latest on "Marvel Avengers Academy," stay tuned to Marvel.com and @MarvelGames on Twitter!
The Hype Box
Can't-miss news and updates from across the Marvel Universe!