Games
Published July 27, 2018
This Week in Marvel Games: Find An Unlikely Ally in Marvel Puzzle Quest with Emma Frost
Everything you need to know about Marvel Games, this week!
True Believers, every week, make your way over to Marvel.com for a rundown of all this week's Marvel Games news, from console game releases to character drops to mobile event updates, and more!
Entering the fray this week is 4-star Emma Frost (Astonishing X-Men). Pick her up in the hit mobile game starting this Thursday here!
Emma Frost spent her charmed youth honing her mutant gifts to become of the world's most powerful psychics. Coupled with her creative flare for manipulation, Emma's powers carried her swiftly up the ranks of the powerful and villainous Hellfire Club.
After a devastating attack wiped out her school, Emma joined forces with the X-Men. Despite their antagonistic history, Emma's dedication to educating mutant youth has made her into an unlikely ally.
Emma Frost can enter a Diamond State that increases her match damage but prevents her from activating powers. In addition, the mutant can create Repeater tiles that destroy enemy Special tiles or AP and create and improve friendly Special tiles. She's strong with characters that fortifies tiles like Luke Cage (Power Man), Hawkeye (Clint Barton), Green Goblin (Norman Osborn), and Shuri (Master Engineer).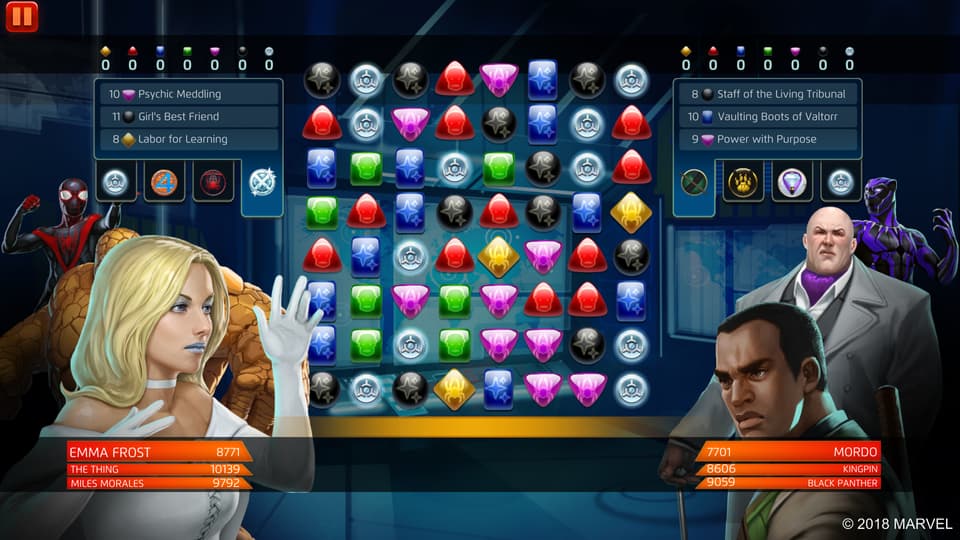 Channeling Psychic Meddling, a medium-cost Purple power, Emma weaves her way through the enemy's mind, further destabilizing their psyche at every turn. Creates a 2-turn Purple Repeater tile that destroys 4 enemy Strike, Protect, or Attack tiles. If none exist, the Repeater tile destroys 2 AP in the enemy's strongest color instead. (Does not generate AP.)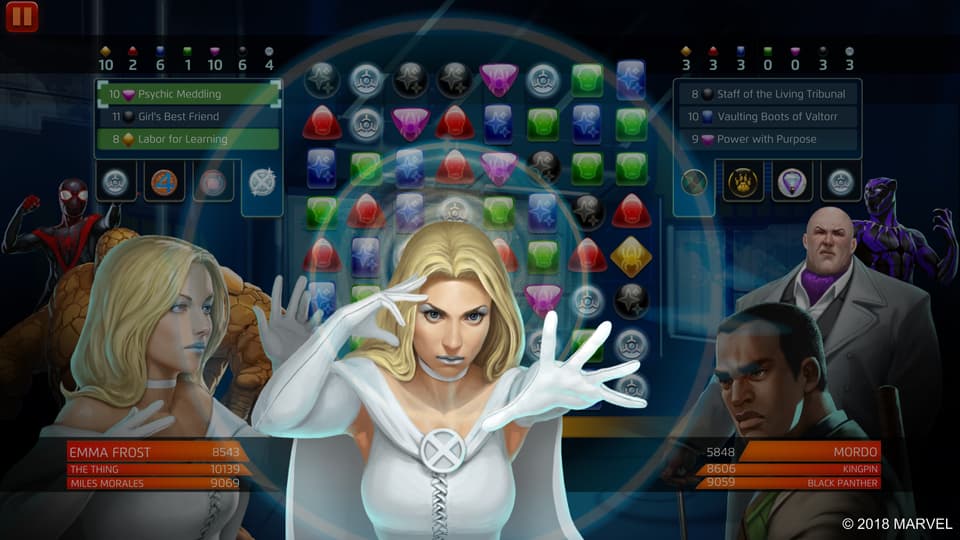 With Girl's Best Friend, a medium-cost Black power, Emma transforms into her powerful diamond form. Fortifies up to 6 friendly Special tiles and turns this power into Diamond Skin.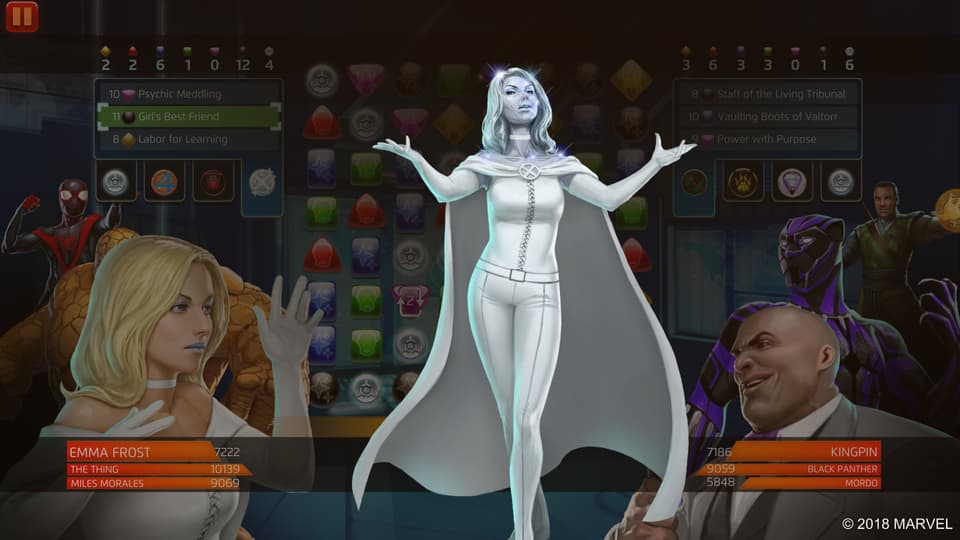 With Diamond Skin, a passive Black power, Emma is granted super-strength, but at the cost of limiting her psychic powers. Emma's match damage is increased by 325%, but she cannot fire powers. When there are no Fortified friendly Special tiles on the board, this power becomes Girl's Best Friend.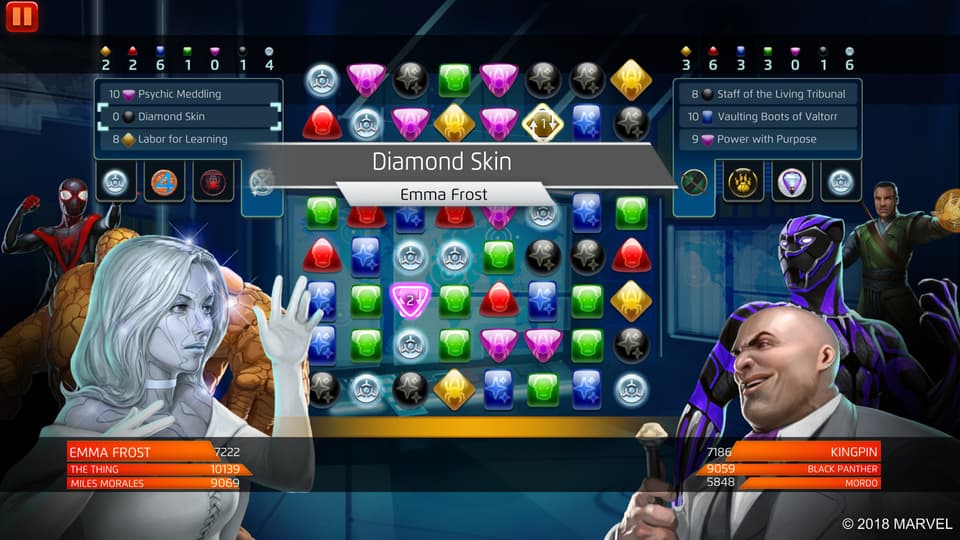 Lastly, Emma makes sure her team is fully-trained, battle-ready, and appreciative of the merits of lifelong education with Labor for Learning, a medium-cost Yellow power. Creates a 2-turn Yellow Repeater tile that places 2 strength 90 Strike tiles and improves up to 3 existing friendly Strike tiles by 58.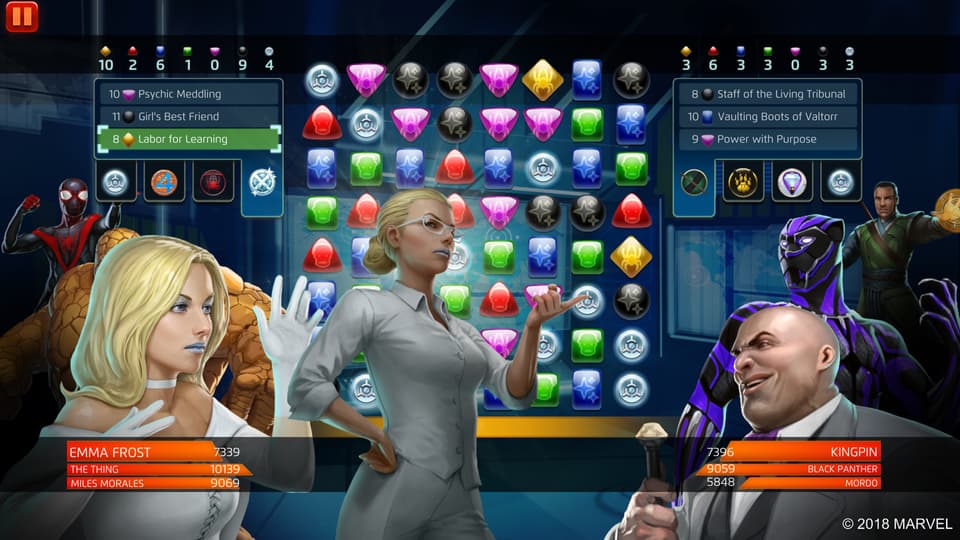 Emma Frost is available at increased odds for a special limited time. She makes her debut during S.H.I.E.L.D. Training Heroes for Hire and The Hunt, both starting today, and Emma & Friends, beginning Saturday, July 29. The featured event Hearts of Darkness kicks off Saturday, July 29, where you can snag Emma as a progression reward. Don't miss out on the Mind Like A Diamond versus tournament as well on Saturday, July 29!
Stay tuned to Marvel.com for more Marvel Games news and interviews.
The Hype Box
Can't-miss news and updates from across the Marvel Universe!