Games
Published May 30, 2018
This Week in Marvel Games: Iron Spider Makes His Way into Marvel Puzzle Quest As Infinity War Continues to Ravage Marvel Future Fight
Everything you need to know about Marvel Games, this week!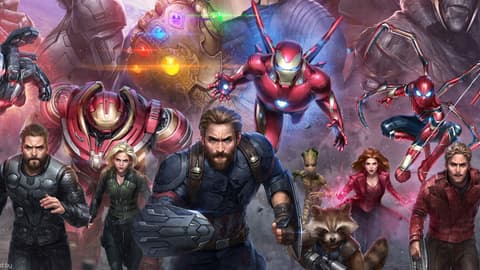 True Believers, every week, make your way over to Marvel.com for a rundown of all this week's Marvel Games news, from console game releases to character drops to mobile event updates, and more!
Spider-Man (Infinity War) arrives in the hit mobile game Marvel Puzzle Quest this week with the fresh Stark Iron Spider suit inspired by Marvel Studios' Avengers: Infinity War! Recruit him onto your team this Thursday!
Our friendly neighborhood Spider-Man will have to use his wit, strength, and Spidey sense to help our other heroes stop Thanos from collecting all the Infinity Stones and enacting his master plan to wipe out half of all existence! The 4-Star Spider-Man (Infinity War) sees tons of new upgrades courtesy of. Tony Stark. Spidey can create web tiles to prevent damage to himself, hinder opponents, strengthen allies and deal additional damage to the enemy. Team up Spidey with other characters that can create web tiles like Miles Morales and Spider-Gwen!
The passive blue power Quick Reflexes activates his Spidey-sense letting Spider-Man anticipate danger and react accordingly. Whenever Spidey makes a match, create 2 web tiles. Enemy powers deal 12% less damage to Spider-Man for each web tile on the board. Whenever Spider-Man takes damage from an enemy power, remove half of all web tiles.
With Thwip, Thwip, Pow!, a green power, Spider-Man swings through the air lobbing a quick burst of web-shots into battle. His webs hit 4 random colored tiles, locking any enemy tiles, fortifying any friendly tiles and converting the rest to web tiles.
Proportional Punch, a red power, allows Spidey to grab his enemy with his cybernetic spider legs to deliver a blow with the proportional strength of a spider! It deals 333 damage plus 134 damage for every Blue, Green, or Red web tile on the board, and 67 damage for every other web tile.
Recruit Spider-Man (Infinity War) during S.H.I.E.L.D. Training – Heroes for Hire or Spider-Man & Friends. Don't miss the following events as well – Spider-Man vs Sinister Six and S.H.I.E.L.D. Training both kick off this Thursday, May 31, while the Deadpool vs MPQ kicks off this Sunday, June 3! The Made Up Name tournament also kicks off this Sunday where you can snag Spider-Man (Infinity War) as a progression reward!
This week, we see the 2nd update inspired by Marvel Studios' Avengers: Infinity War make its way across Marvel Future Fight this week! This update includes new uniforms inspired by the blockbuster hit for characters such as Scarlet Witch, Doctor Strange, Hulkbuster 2.0, War Machine, Star-Lord, Rocket Raccoon, Ebony Maw, and Cull Obsidian!
The path to receiving a Tier-3 update is a long but rewarding journey and new ascensions to Tier-3 awaits Iron Man and Spider-Man, which their new growth factors would further amplify their abilities. In order to reach Tier-3, face Corvus Glaive and Cull Obsidian in the World Boss: Ultimate stages!
Clear the Ultimate mode with Corvus Glaive and gain the critical growth ingredients needed for Tier-3 as well as Titan's Record: Speed, while clearing the Ultimate mode with Cull Obsidian will secure you Titan's Record: Blast!
Read more on the 4.1 Marvel Future Fight update here!
Stay tuned to Marvel.com for more Marvel Games news and interviews.
The Hype Box
Can't-miss news and updates from across the Marvel Universe!