Games
Published May 3, 2018
This Week in Marvel Games: Marvel Future Fight's 3 Year Anniversary, Peggy Carter, and more Avengers: Infinity War
Everything you need to know about Marvel Games, this week!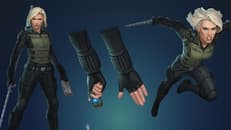 True Believers, every week, make your way over to Marvel.com for a rundown of all this week's Marvel Games news, from console game releases to character drops to mobile event updates, and more! 
Marvelites, we know you can't get enough of Marvel Studios' Avengers: Infinity War, now in theaters! Our month-long Marvel Games tie-in continues this week!
Do you know what makes this week EXTRA special? Marvel Games and NetMarble are celebrating the third anniversary of Marvel Future Fight!
We know you're loving the previously revealed Avengers: Infinity War tie-in event. Once you've tackled that, Marvel.com had a great chat with Marvel Games executive creative director Bill Rosemann and senior producer Danny Koo about their favorite memories, and what's to come. Check out an excerpt below, but head over here to read the full interview!
Marvel.com: What about your favorite content update?

Bill Rosemann: The Marvel Games team loves the X-Men, so it was an honor and privilege to help unleash – and continue to usher through subsequent updates – the mighty mutants into Marvel Future Fight.

Danny Koo: Every update, I am excited about the growth of the character roster and new features that players can enjoy. Shadowland is perhaps my favorite update, because you can take a simple idea of a ladder and make it a challenge that is thematically appropriate.
Also, when heading to your local comic shop this week, be sure to grab this Marvel Future Fight variant cover of RISE OF THE BLACK PANTHER #5, on sale this week, featuring a cover by Netmarble Games' art director Jee-Hyung Lee! (You can also pick up the digital copy here.)
Are you ready to earn the rare title of "Infinity Warrior"? Chadwick Boseman and Tom Holland's Champion Challenge continues to May 17, to get you trained for the Contest's upcoming Infinity War event!
Kicking off this week is a brand new quest!
INFINITY NIGHTMARE (May 2 – June 6)
Thanos has won. His Infinity Gauntlet complete, and with it, he wields supreme power. Sitting atop the Battlerealm, he issues his first decree: "NO MORE GAMES. THE CONTEST OF CHAMPIONS IS OVER."Everything grinds to a halt. His children hunt the heroes, who have taken refuge in the Astral Plane. It's up to an uneasy alliance between M.O.D.O.K., Mephisto, and an army of free Champions, led by Captain America and Iron Man to stop Thanos, or die trying. Help them defeat Thanos now!
Entering the fray this week, we have one of the world's greatest spies, the legendary 4-Star Black Widow (Infinity War)! Pick her up in the game starting today here!
Black Widow controls the enemy by Stunning the enemy and destroying their AP and Special tiles. She assists her allies by healing them and reducing the cost of her teammates powers. Pair Natasha's powers with other characters that can stun enemies (Doctor Strange, Gamora, Ice-Man, Miles Morales, and Spider-Gwen).
Lights Out allows Widow to use covert weaponry to ensure no one gets past her stunning blows for three turns and deal 1,461 damage.
Defilade lets Nat hack the enemy's surveillance system to keep herself out of sight and the line of fire, creating 4 invisibility tiles
While Black Widow has Invisibility tiles on the board, the power becomes Enfilade, allowing Black Widow to emerge from the shadows and strike out with her batons, surprising her enemy with a tactical strike. This destroys her Invisibility tiles and destroys 4 enemy Special tiles, dealing damage and gaining AP
Lastly, Brush Pass allows Nat to pass key intel to her teammate, giving them the upper hand, healing a chosen ally wth 7,159 Burst Health
The Web of Spies versus tournament starts this Sunday, May 6 and runs to Wednesday, May 9!
Meanwhile, in Marvel Puzzle Quest, there's another badass woman to be on the lookout for — Peggy Carter Captain America!
Peggy Carter Captain America first appeared in Marvel Puzzle Quest during Captain America's 75th birthday celebrations in July 2016. In this reality, Steve Rogers is killed and Peggy took the super-soldier serum in his place.
You can grab the special Peggy Carter Captain America special Marvel Puzzle Quest design cover for EXILES #3 at your local comic shop next Wednesday, May 9, or grab the digital version here!
The Hype Box
Can't-miss news and updates from across the Marvel Universe!