Games
Published July 6, 2018
This Week in Marvel Games: Masacre Makes His Way Across the Battlerealm Joining Mercs for Money
Everything you need to know about Marvel Games, this week!
True Believers, every week, make your way over to Marvel.com for a rundown of all this week's Marvel Games news, from console game releases to character drops to mobile event updates, and more!
Making his way across the Battlerealm in the hit mobile game "Marvel Contest of Champions" is the man known as the Mexican Deadpool, Masacre!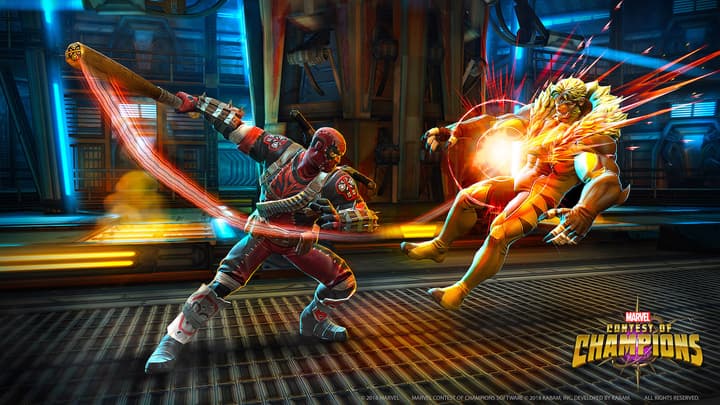 Masacre wasn't always a crazed mercenary. He was once a priest, whose life. Was filled with dedication to his religion, and his parishioners. That was until he took confession from a strange man in a red suit named Deadpool. This confession turned his world on its head, convincing the priest that the world needed to be punished. He took the name Masacre, fashioned an outfit and some "tools," and set about "fixing" Mexico, one body at a time. Extracting information from the reluctant Inspector Jamie Gordon, Masacre tracks down and takes out the crime lord Calavera de Jade. The very next day, Masacre rides off to New York joining Deadpool's Mercs for Money. Get a glimpse of Masacre in action below!
Masacre's basic abilities include Enthusiastic Punishment (which he feels very strongly about what he's doing!), Flammable, Incinerate, Bleed and Disorient. Special attacks include Fuel for Fire where Masacre gives his opponent a face full of ground chilies before aggressively applying his machetes while they're distracted. Machete hits have a 100% chance to cause the target to Bleed for 1768.5 Direct Damage over 12 seconds. Sawed Off Thunder reveals Masacre opening fire with his powerful if sometimes unreliable shotguns, and if all else fails, they're heavy. While the Special Sauce incinerates the enemy as he self serves a bottle of his own special recipe, line driving it into his opponent to explosive effect.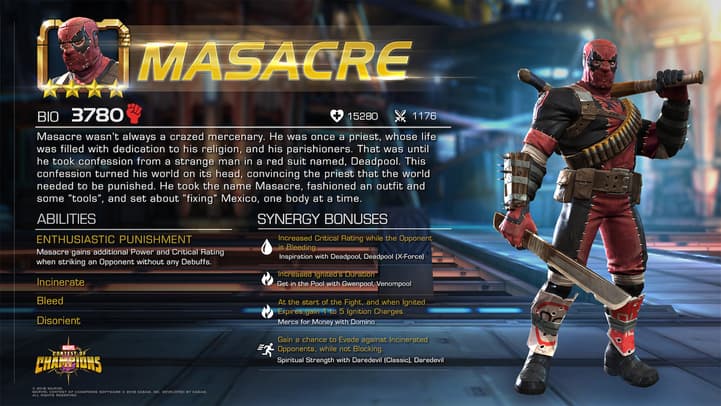 His synergy bonuses include Inspiration with Deadpool, Deadpool (X-Force), and Goldpool sees an increased Critical Rating while the opponent is bleeding. Get in the Pool with Gwenpool or Venompool increases Ignited's Duration by 25%. Mercs for Money grants grains between 1-5 Ignition Charges when at the start of the fight and when Ignited expires. Spiritual Strength allows Masacre to gain a chance to Evade against an Incinerated opponent while not Blocking. Lastly, Playing with Fire blocks a contact attack while Ignited places an Incinerate on the opponent as if they had been Struck by Masacre's bat.
Collect Masacre when he joins The Contest this Thursday, June 21!
Stay tuned to Marvel.com for Marvel Games news and interviews and follow Marvel Games on Twitter for more!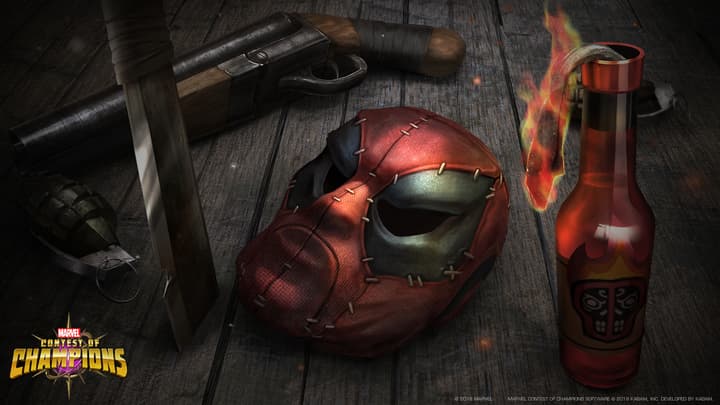 The Hype Box
Can't-miss news and updates from across the Marvel Universe!