Games
Published August 23, 2018
This Week in Marvel Games: Nebula Takes Over Marvel Puzzle Quest While Hydra Crashes Avengers Academy
Everything you need to know about Marvel Games, this week!
True Believers, every week, make your way over to Marvel.com for a rundown of all this week's Marvel Games news, from console game releases to character drops to mobile event updates, and more!
Entering the fray this week is 4-star Nebula (Infinity War). Recruit her to your team in the hit mobile game starting this Thursday here!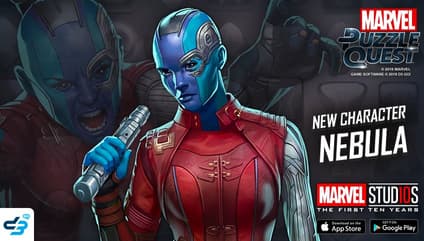 Stolen as a child by Thanos, Nebula was raised as an implement of destruction. Thanos repeatedly pit Nebula against her sister Gamora, replacing a piece of her body with cybernetic weaponry each time she lost. Now, reconciled with Gamora and free of her father's control, Nebula seeks out Thanos, planning revenge with the tools the Titan himself gave her.
The 4-star rarity waits for the advantage to strike her opponent; not only that, she creates special tiles while she strikes. Pair Nebula with other characters that can Strike, Protect, and Attack tiles.
Nebula repairs her body using her terrible and fantastic cybernetics, readying herself for battle. Warped Enhancements, a medium cost blue power, creates a 3-turn Repeater tile (2-turn at power level 4) that heals Nebula and creates a Black Strike tile.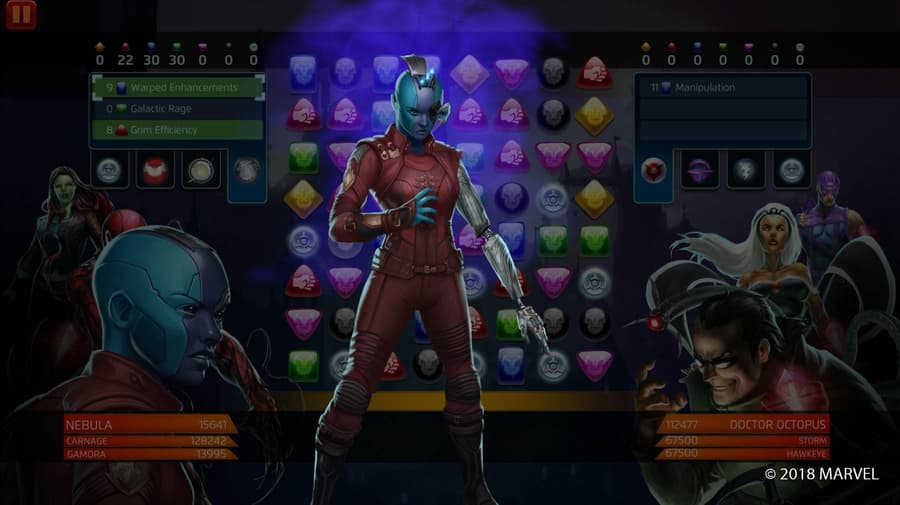 The daughter of Thanos unleashes her fury, charging towards her enemies in a whirlwind of attacks with Galactic Rage, a medium cost Green power, leaving destruction in her wake. Deal 634 damage to the enemy team for each Strike, Protect, or Attack tile on the board (to a max of 10).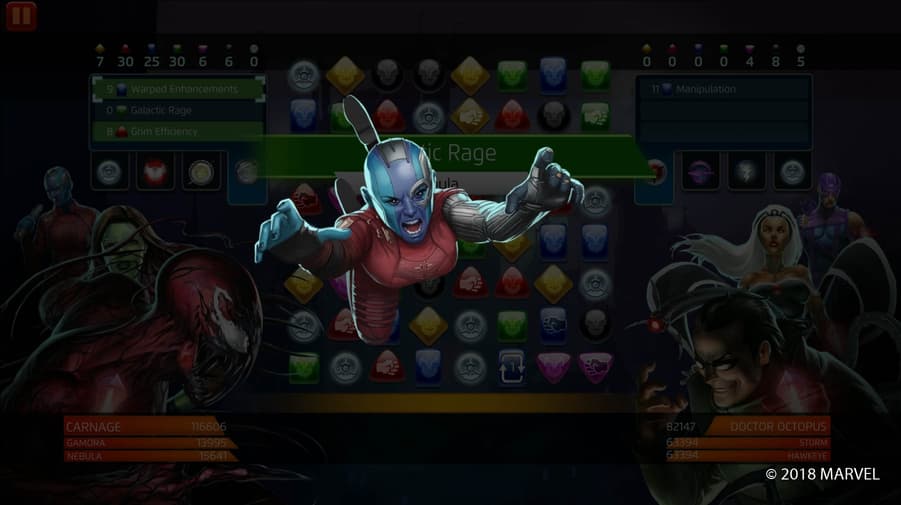 Lastly, Nebula lashes out with her dual blades with Grim Efficiency, a medium cost Red power, attacking her enemies' weak points. This move deals 2,272 damage and creates 2 strength 180 Red Attack tiles for every 3 Green AP her team has.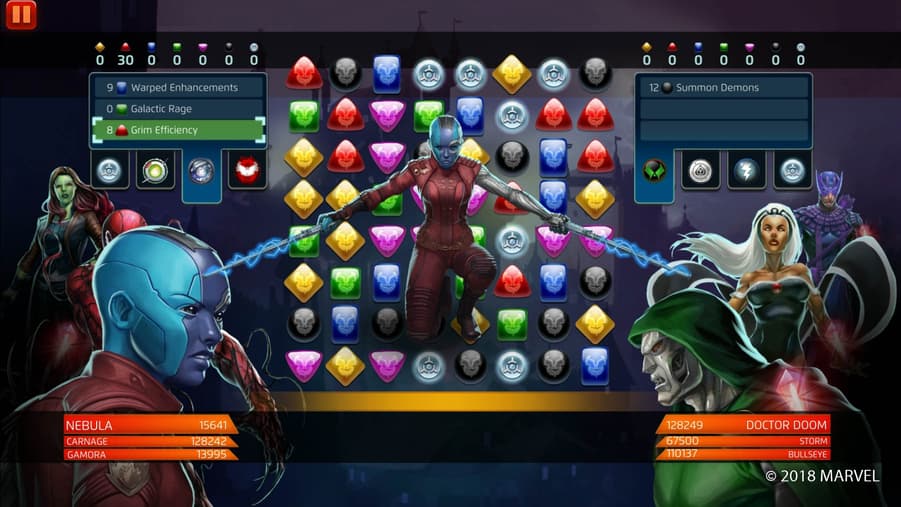 Nebula (Infinity War) is available at increased odds for a special limited time. Recruit Nebula starting this Thursday during S.H.I.E.L.D. Training – Heroes for Hire or this Sunday during Nebula & Friends. During the story event Strange Sights starting Thursday, Nebula (Infinity War) is in Placement Rewards, and a Progression Reward during The Hunt story event kicking off Sunday where you can also secure rewards tokens to the Nebula & Friends vault. Lastly, don't miss the Piece by Piece versus tournament starting this Sunday!
Also kicking off this Thursday is a special Marvel Avengers Academy event! Baron Von Strucker and his Hydra forces are seeking to obtain cosmic power resulting in targeted attacks against S.H.I.E.L.D. forces all over the world. Nick Fury calls upon his best agents to defeat Hydra. Welcome Agents Melinda May, Leopold Fitz and Jemma Simmons to the Academy!
Stay tuned to Marvel.com for Marvel Games news and interviews and follow Marvel Games on Twitter for more!
The Hype Box
Can't-miss news and updates from across the Marvel Universe!