Games
Published May 8, 2018
This Week in Marvel Games: Peggy Carter Captain America, Infinity War Cap, and More
Everything you need to know about Marvel Games, this week!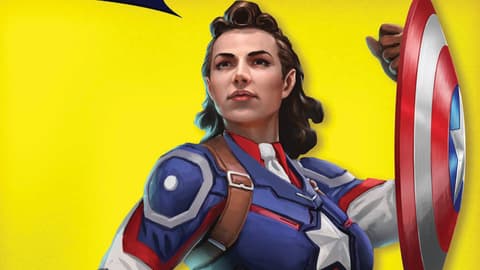 True Believers, every week, make your way over to Marvel.com for a rundown of all this week's Marvel Games news, from console game releases to character drops to mobile event updates, and more!
The fan-favorite Captain America – Peggy Carter of Marvel Puzzle Quest, of course – has tons of in-game activities to support the release of EXILES #3 from Saladin Ahmed and Javier Rodriguez, available in stores and digitally, tomorrow, May 9!
In EXILES #3, Peggy Carter Cap faces off against an apocalyptically armed Red Skull! And the Exiles are just in time to join the fight – 'cuz they've been kicked off their mission! There's a new team of Watchers in town, and they're cracking down on the Exiles' interference in the timestream – even if it means the death of everything. Can the Exiles salvage Peggy Carter's world, fix the Tallus and get back to saving reality before the Time-Eater tracks them down again?
Meanwhile, in-game, the Peggy Carter Bundle started this week, and kicking off today, we've got a Peggy Carter Versus Event as well as an Exiles Limited Vault, where everyone will receive a free Vault token.
Going day and date with the release of EXILES #3, Peggy Carter (Captain America) Champion Rewards are updated to include Captain America (First Avengers) and update Valkyrie to use EXILES #1 (Design Variant).
What exactly does Peggy Carter Captain America have up her sleeves? Her first ability is Ultimate Soldier, a red ability that costs 9 AP. When Captain America has a mission, no one gets in her way. Peggy lands a well-placed blow, ignoring any Protect tiles and dealing damage to the target.
Her second ability, Legendary Presence, is a Yellow Passive, which does not cost AP and is constantly active. When she enters the battle, her enemies panic and falter. While Peggy's health is above 50%, all enemy abilities cost more AP to execute.
Lastly, Do As Peggy Says costs 11 Blue AP. When Peggy lands a direct hit with her shield, she disables the enemy team and helps her allies get the drop on their target.
Peggy Carter Captain America is earnable in the Unstable ISO-8 Event, this Thursday, May 10, and for an added bonus, this event is double Red Iso-8! Be sure to round out your roster with Peggy Carter in Marvel Puzzle Quest!
For three and a half years, Marvel Contest of Champions has been setting up its own Infinity War storyline. The Mad Titan has been operating in the shadows, collecting the stones, since 2014. It's been leading to this – a devastatingly epic final boss fight!
We need all the heroes we can get, and this Thursday, May 10, Captain America (Infinity War), complete with his Wakandan vambrace shields, enters the fray as he makes his way into the Contest! If you can't get enough of Marvel Studios' Avengers: Infinity War, pick up this 4-star Steve Rogers whose designs are inspired by the box office hit.
Since opposing the Sokovia Accords, the super-soldier has lost his shield and been forced underground. But with the help of friends new and old, he's managed to re-equip and remain under the radar, all the while continuing to do what he believes is right – saving the world one clandestine mission at a time.
Cap's basic abilities including Bleed, Stun, Fury and Kinetic Potential. His vibranium vambraces allows the Captain to store up to 5 Kinetic Potential charges. Summon up several of Cap's special attacks like My Ally's Claws, which inflicts Bleed and reduces his opponent's defensive ability accuracy by 100%; activate Kinetic Discharge by smashing together his vambraces, unleashing a wave of kinetic energy, stunning your opponent; Lead from the Front, which sends his enemy crashing to the mat; and Leadership, where Cap learns from his teammates gaining a unique effect with Kinetically Charge for each class represented on his team, excluding himself.
We recommend mastering: Inequity, with his Signature Ability and the right teammates, Cap is capable of putting a lot of Debuffs on his opponent, allowing him to make greate use of this; Despair, with his natural ability to place Petrify Debuffs on his opponents, this can make for a powerful combination; and Petrify, where Cap can do a lot of Stunning, both through Well Timed Blocks, and through his Special 2 Attack, allowing him to keep the Petrify effect active for much of the fight.
See our fearless leader in action below and be sure to grab him this Thursday!
IN CASE YOU MISSED IT
Wakanda Forever! Marvel Studios' Black Panther is now available on 4K UHD as of today! That's not all, Marvel Studios partnered with Xbox for 5 lucky fans to win a custom Black Panther Xbox One X console and a 4K copy of the film! It may or may not be made of Vibranium. Test your luck and enter here.
The Hype Box
Can't-miss news and updates from across the Marvel Universe!