Games
Published May 16, 2018
This Week in Marvel Games: The Merc With A Mouth Deadpool and Warrior General Okoye Go Mobile
Everything you need to know about Marvel Games, this week!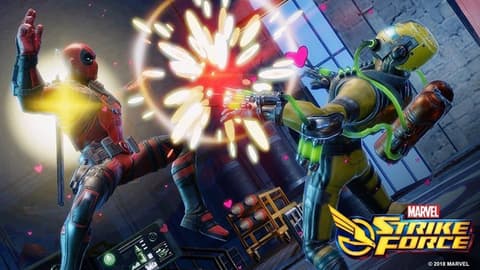 True Believers, every week, make your way over to Marvel.com for a rundown of all this week's Marvel Games news, from console game releases to character drops to mobile event updates, and more!
Wakanda Forever! Okoye (Warrior General), head of the Dora Milaje, joins the Avengers: Infinity War-fray as she brings her physical prowess to the hit mobile game this Thursday, May 17.
A fiercely loyal protector of Wakanda, Okoye would defend her king and her country with her life. The 5-Star Okoye (Warrior General) is as formidable with her spear as she is with her tongue. Her character utilizes Team-Up titles to increase the damage of friendly powers and heals herself. She also can deal damage by destroying rows of tiles. The good-all-around character is best in teams where she has the highest match damage, and pairs well with 5-Star Black Panther.
Wakanda Forever!, a passive black tile power, allows Okoye to fight to protect Wakanda at all costs. Damage from friendly powers is increased by 323 for each Team-Up AP you have. Okoye's base Team-Up match damage is increased by 40%. At the start of the turn, if Okoye is not in the front, lose 1 friendly Team-Up AP.
With her Indomitable Spirit, a low cost yellow power, she dutifully protects her allies with stoic conviction, not letting anything break her composure. With true healing, the power restores 413 health for each Team-Up tile on the board, then converts 2 random basic titles to Team-Up tiles.
Lastly, Okoye can deal a Piercing Throw, a high cost red power, hurling her spear at the enemy, striking them at their weak point. The move deals 2583 damage and destroys a chosen row. The move will deal additional damage for each tile destroyed in the enemy's chosen color.
Okoye (Warrior General) is available for a special limited time–Thursday, May 17, to Sunday, May 20. During the special legendary store, Don't Freeze, Thursday, May 17 to Monday, May 21, you have a 15% chance to get Okoye (Warrior General), Black Panther (Civil War), and Spider-Man (Peter Parker).
In addition, we have a bunch of new Supports coming your way in Marvel Puzzle Quest, starting Tuesday, May 5! Don't miss out on Vibranium Ore (Wakandan Secret), The Dora Milaje (Protectors of the Throne), Shuri's Lab (Maker Space), Kimoyo Beads (Vibranium Communicator), and Ancestral Plane (Home of Panthers).
Get ready! The regenerating degenerate himself, Deadpool, is making his way into the role-playing mobile game from FoxNext, available on iOS and Android, starting today through June 10. Take a look at the hilarious trailer above!
Starting today, S.T.R.I.K.E. agents can work to unlock and battle against the immortal antihero in brand-new Deadpool Raids and Blitzes. As an ally of your Strike Force, utilize Deadpool's eclectic arsenal of weapons and kick-ass moves to battle it out against the enemies of S.H.I.E.L.D and earn "chimichanga" premium mOrbs for special Deadpool gear. Based on your level in the game, Deadpool could also be your enemy in battle, so be prepared to fend off piñatas full of tricks and surprises.
Want Deadpool? You'll need to acquire some Deadpool Orb Fragments playing through the Merc with a Mouth event in-game. Our assassin won't be lonely for too long as a certain time-hopping mutant will be joining the merc with a mouth starting next week in the game.
Stay tuned to Marvel.com for more Marvel Games news and interviews.
The Hype Box
Can't-miss news and updates from across the Marvel Universe!