Games
Published March 29, 2018
Venom Inc. Wreaks Havoc Across 'Spider-Man Unlimited'
The wallcrawling adventure from Gameloft unleashes a symbiote update!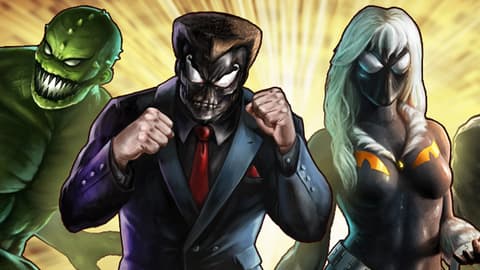 All-new characters swing their way into Marvel's "Spider-Man Unlimited" from the symbiote-loaded "Venom Inc." comic event. Players will get a crack at Agent Anti-Venom, Maniac, and more, along with an event and some new items. We talked to Gameloft Product Marketing Manager Sergii Gotsman to get the lowdown on everything coming to "Spider-Man Unlimited."
Marvel.com: When have more symbiotes ever been a good thing for Spider-Man? I have a feeling things are going to get tricky for our heroes with this many baddies on parade.
Sergii Gotsman: It's definitely worrisome, but as we've already seen in the comics (for example in "Venomverse," "Poison-X" or "Maximum Carnage"), when faced with a greater threat, symbiotes can find a bit of common ground with the good guys and work with them. And with all the interdimensional menaces that threaten the Spider-Verse in "Spider-Man Unlimited," I'm sure the Spideys and symbiotes can put their rivalry aside—at least for a moment.
Marvel.com: What can players expect from this update? We've got some new characters, some new items—and did I hear something about a new event?
Sergii Gotsman: Yes, we're bringing in nine new characters, two new collectables and new limited-time events. Most, but not all, of this is tied to the recently concluded VENOM INC. comic books. You'll be able to play as Agent Anti-Venom, Maniac (Lee Price), and Inkling versions of Black Cat, Hammerhead, and Mac Gargan, and take part in new Venom Inc.-themed events.
But it's not only about "Venom Inc."— we're also bringing some other heroes from the Spider-Verse into the fray, like Alistair Smythe, Ezekiel, Venom Angelo Fortunato, and Venom Zombie.
Marvel.com: The team is releasing nine new characters with the event? Holy moly, that's a lot! Do you have a favorite? Anyone you want to take running?
Sergii Gotsman: In terms of my personal preferences, I really like Agent Anti-Venom—his 3D model looks really awesome and I like the idea that Eugene "Flash" Thompson is the new Anti-Venom of Earth-616. But I'm betting that Venom Zombie will become the community favorite from this update—Marvel Zombies has a pretty huge fan base and our players have asked about this character for a while.
Marvel.com: Can you tell us a little more about the items and event coming down the pipe?
Sergii Gotsman: As I mentioned, story-wise it's tied to Venom Inc. In addition to running, fighting and web-swinging, players will have to collect Symbiote Samples and Astrobiological Serums—which are drawn from an important plot device in the original Venom Inc. story. You see, when Lee Price absorbed Mania's symbiote and became Maniac, he developed a new ability—the power to infect people with pieces of the symbiote, giving him control over them. That's where Astrobiological Serums come in handy—in small doses, they regulates the hormonal output of the symbiote and may help to get rid of Maniac's influence.
The Venom Inc. events are scheduled to run until the end of April, and those who will have managed to collect all the new characters from them will also be rewarded with Rank Up cards and vials.
Marvel.com: What are you all most excited for players to get their hands on with this update?
Sergii Gotsman: I really like that we're able to offer events tied to a recent Spider-Man story. I mean, we've just read VENOM INC. and now we get to enjoy it a bit more in the game. The whole "Spider-Man Unlimited" team is eager to see how the community will react to it.
Marvel.com: Anything else that we need to know?
Sergii Gotsman: Be sure to keep up with all the latest news about the game on Facebook and YouTube—we're constantly sharing art and videos from the game with our community there. And stay tuned, the next update—which we're currently working on—will feature some crazy, titanic-sized stuff!
Pick up "Spider Man Unlimited" on Google Play and iTunes and stay tuned to Marvel.com for more news and interviews.
The Hype Box
Can't-miss news and updates from across the Marvel Universe!