Gear
Published April 24, 2018
Cap Gets Tactical in Sideshow Collectibles' New Captain America Premium Format Figure
Sideshow discusses designing a one-man army with their new version of Cap.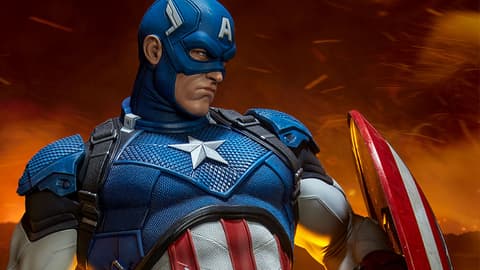 Sideshow recently unveiled an all-new take on one of pop culture's most beloved heroes, Captain America. This new Premium Format™ Figure depicts an updated, tactical interpretation of the star-spangled soldier, while retaining many of the iconic costume design elements that make him such a stand-out character in comics.
Marvel.com spoke to Sideshow Art Director David Igo and digital designer and sculptor Daniel Bel to learn a little more about this impressive new statue, and about bringing the iconic Avenger to life…
Marvel.com: Tell us a little more about how you chose the team for the Captain America Premium Format™ Figure, and a little about each of the people involved.
David Igo: It's totally awesome figuring out who's the best fit for each project. There are a lot of unique factors that go into the team building, and no one project is the same as any other, really…
Assembling the team isn't solely my decision. There are a lot of other people involved as we build the project, but I do work closely with the design and the sculpt teams to figure out who's going to work on what project. For CaptatMartin Canale & Guillermo Barbiero, had translated that material into a rough 3D pose study to make it more heroic and Captain America feeling. From there, we had enough reference material to convey to Daniel an idea of what we had in mind, and how to go about the project – and off he went!
Throughout the sculpting process, we make sure the sculptors are supported with the right Project Manager and Art Director, and that duo will make sure the sculptor has every everything they need. It's a real collaborative effort, designed to support the sculptor every step of the way, and let them do what they do best.
Marvel.com: Daniel, were you excited to explore a new version of Captain America? How does the process of designing this character begin?
Daniel Bel: Yes, totally. There are already many classic versions of Captain America on the market, so the idea of creating a new, modern comic book-inspired interpretation really caught my attention.
It was a huge challenge for the whole team to design this character from scratch, and it was very gratifying to have the chance to put my own style into every part of this piece. As with any other project, the team gets together to brainstorm ideas. Then, with all the opinions on the table, we begin to narrow down the scope to make decisions on the details that work best for the piece.
In order to achieve the best representation possible, we always do a deep exploration of the story and the main features of the character. Collectors love those details!
Marvel.com: This piece in particular is very interesting because, although it's incredibly dynamic with lots of movement, it also has a very classical feel. The pose in particular is almost like a Greek statue. Was that a deliberate aim going in to this project?
Daniel Bel: Of course! We all love classic sculptures and this kind of pose in particular is named "contrapposto", a pose very commonly used by the Greeks and Romans in their pieces to convey the feeling of movement and dynamism. It's also very helpful to break the symmetry of the body too. In this post-battle scene of Captain America versus the Ultron sentries, he looks victorious and heroic, so I think we managed to get all that we wanted in just one pose.
David Igo: I couldn't have said it any better! The pose was also an homage to the heroic stature of our very first Captain America Premium Format™ Figure that we did YEARS ago… We were trying to recapture that same "Ultimate Hero" feel, but with a unique pose and story to the piece, as well as a more modern twist to his look.
Marvel.com: What was the decision process regarding the evolution of Cap's armor? It's very modern and tactical, with lots of layers and different materials, but there are also lots of nods to the classic costume.
Daniel Bel: This was the most difficult part of the whole process, because we know collectors love the classic version of the suit. Taking that into account, we decided to re-design the suit while paying homage to the classic design, but giving it a much more tactical and modern look.
We used a variety of textures and shadings to give the feeling that he is very well-protected and the same time still agile. We tried to convey the look of very strong materials, like high density carbon fiber for the shoulder pads, helmet, gloves, and the upper torso. Then, to give him freedom of movement, we chose more flexible materials such as kevlar fabrics for the abdomen, arms, and pants.
We then designed some semi-rigid components for the boots, knee pads, and elbows pads. There are lots of little details, and if you take a closer look you can see that his shield has a magnetic device that allows him to throw and catch it with more precision.
David Igo: To add to what Daniel said, we also thought to ourselves, "Captain America is not indestructible- he's still human, even though he is SUPER human…"
His classic suit might have worked great fighting in World War II, or against other villains and superhuman threats, but with technology evolving, weapons getting more powerful, unstoppable robots, space aliens, gods, etc… even Cap might need additional protection so he can go into battle and hold up against those kinds of foes in hand-to-hand combat.
I mean, if I had a friend like Tony Stark, I'd probably hit him up for an upgrade every once in a while! Ha ha ha!
Marvel.com: Can you tell us more about the design choices? Anything you'd like to call out or draw attention to?
Daniel Bel: I would like to highlight his face. One of the main questions from the team was what kind of facial expression we wanted. This is a very important thing, because in a statue everything is connected, and the wrong expression may not flow with the body, posture, gesture, and so on.
So instead of doing a shouting or a grimacing expression, we decided to play with the position of his eyes and with his lips to suggest a stern look and aggressive attitude, and get the feeling across that he is ready to keep fighting.
Marvel.com: The Exclusive edition for this particular figure is a swap-out hand holding an Ultron Sentry head. Tell us more about the genesis of this idea…
Daniel Bel: We decided to go for an Ultron Sentry head because they are one of the most well-known enemies of the Avengers, and of course they fit perfectly with Black Widow too, which, with a similar background scene, is the perfect companion to be displayed next to Cap.
David Igo: Honestly, sometimes the most difficult part of the design process for me is figuring out the base. You don't want it to be too big, or too small, and you still want enough context to tell a story without distracting from the figure itself. So when we added the Ultron Sentry to the base, we just knew that Cap holding a torn-off head in his hand would be super awesome and could tie the whole thing together.
Marvel.com: The Captain America Premium Format™ Figure was also unveiled shortly after a new Black Widow Figure. Are they part of the same series?
David Igo: We always want to make sure our statues are strong standalone pieces first and foremost. But, if we have other pieces planned that could work as a "set" or a "series", making those gel together is a great bonus. Cap and Black Widow look fantastic together, but they also look awesome as standalone statues.
Marvel.com: There's also a Premium Art Print depicting the two characters together. What can you say about that?
David Igo: Ian MacDonald and Alex Pascenko are both amazing designers and print artists who have worked for Sideshow for years. They both worked with us on the early designs of the two statues, and they totally nailed the art print for us too!
Naturally, pieces evolve from the initial 2D design to a 3D design and final 3D sculpt, then a final painted prototype, so even though Ian and Alex helped design the statues, we waited until both statues were fully completed before starting on the print.
Ian and Alex worked together to make a single illustration of the two characters, with some additional context – the Helicarrier, the Quinjet, and some added effects that are hard to make work in 3D… Smoke, fiery embers. So basically, we were able to expand on the story of the 3D statues for collectors, and that's always really rewarding to do.
It's a great complimentary element for a collection that features one or both of the statues, as well as a great piece of art in its own right!
The limited Sideshow Exclusive Edition of the Captain America Premium Format™ Figure is priced at $585 and is currently on pre-order at http://sideshow.com/capt
The Hype Box
Can't-miss news and updates from across the Marvel Universe!