Gear
Published March 17, 2021
Celebrate 80 Years of Captain America with Marvel Legend Roy Thomas
The Folio Society presents ten classic Steve Rogers comics in one spectacular hardback collection!
Available exclusively from The Folio Society, Captain America collects ten of the finest Sentinel of Liberty stories in one glorious hardback edition.
Selected by former Marvel Comics Editor in Chief Roy Thomas, this collection of key comics presents the definitive look at the legendary history of Steve Rogers, from early wartime tales to modern classics. Get a glimpse inside the book right here!
The first in a new Marvel series with The Folio Society, Captain America celebrates the 80th anniversary of the hero, featuring work from luminaries including Jack Kirby, Joe Simon, Stan Lee, Ed Brubaker, Frank Miller, Gene Colan, and more. With an introduction by Thomas, Captain America offers an unrivaled view of one of the most enduring characters in American comics.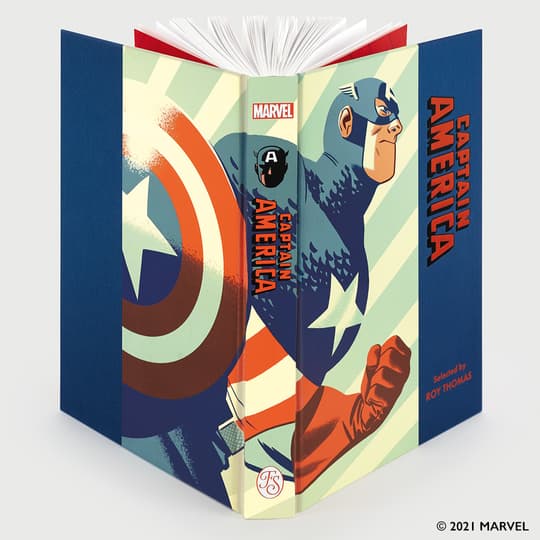 Shining with art by Modern Marvel Master Michael Cho, this stunning collection features a sapphire slipcase design stamped with the Super Hero's iconic shield emblem. It also includes a perfect 64-page replica issue of 1941's CAPTAIN AMERICA COMICS #1; this iconic piece of comic book history has been reproduced in its entirety as the meticulous replica issue included with this edition. Every page has been painstakingly scanned from an authentic copy, including all original promos and vintage ads.
Flip through the gallery for a closer look at Captain America below, then head over to The Folio Society to learn more! 
The Hype Box
Can't-miss news and updates from across the Marvel Universe!