Gear
Published March 31, 2021
Celebrate Deadpool's Nerdy 30 Birthday In Style
This birthday packs a punch.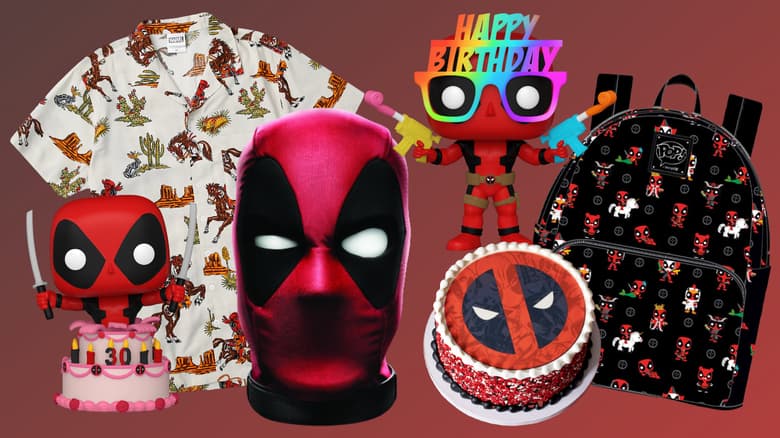 Someone's turning the big 3-0, and it's time to party! In honor of Deadpool's 30th anniversary, we're throwing with a huge birthday bash celebrating everyone's favorite merc with a mouth. We're going wall-to-wall Deadpool with new Funkos, figures, accessories, apparel, and is that a Deadpool cake? 
As previously seen — in conjunction with one of Deadpool's favorite holidays, Valentine's Day — there's a brand new collection of Funko Pops arriving in stores soon, and many of which are available now! If you've ever wanted to add Deadpool as a construction worker, a barista, a ballerina, or even a dinosaur to your collection those designs are rolling out. Plus, who wants to celebrate Deadpool's birthday and not have Deadpool jump out of his own cake? 
If you're hunting for Deadpool apparel, rest assured that he has plastered his face all over many, many, t-shirts, sweatshirts, and other things you can wear, including new Loungefly backpacks, coming soon! 
Looking to actually do something for Deadpool's birthday? Get up and get moving (and running and jumping) with Tough Mudder and the current Deadpool Challenge. Test yourself against activities like: "This is What 30 Looks Like," "When Dr. Emrys Killebrew comes to town…," "Glutes of Steel," and "Wade Wilson Workout." Sign up now! 
Take a peek at all the new and exciting Deadpool items in the gallery below, and stay tuned for more birthday festivities! 
Want to stay on top of everything in the Marvel Universe? Follow Marvel on social media—Twitter, Facebook, and Instagram—and keep watching Marvel.com for more news!
The Hype Box
Can't-miss news and updates from across the Marvel Universe!