Gear
Published November 17, 2016
Get Your First Look Inside The New Marvel Loot Crate
Find out what the scientists behind the Mystics crate have been cooking up!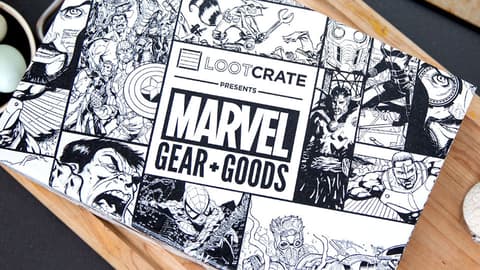 For those of you still floating around your house, office or local supermarket in your Marvel Gear and Goods Cloak of Levitation, take a seat because Loot Crate has whipped up their next Marvel crate! "We're going to be serving up some of the smartest folks in the Marvel Universe, so I think there is a lot of fun coming for fans and I hope they enjoy it as much as we do," says Helena Mills, Director of Brand Creative for Loot Crate. Mills and Scott Wilger, the product designer for the Marvel crates, have been working alongside their team to create products that Marvel fans can utilize in their everyday lives. "We're looking at this as outfitting your home. Each crate for the coming year is like a room and each crate is a collection for that. So it's a uniform color palate, it's uniform materials and every piece in the crate compliments one another" says Mills.
The first crate designed for Marvel fans took a look at the Mystics, so for this crate the creators wanted to showcase the mirror of the Mystics… Super Science! That's right, the second crate will bring you some of Marvel's brainiest heroes and villains like Black Panther, Hulk, Iron Man, Ant-Man, Spider-Man and M.O.D.O.K. And if you haven't already guessed it from the very subtle puns sprinkled throughout this post, this crate will focus on outfitting your personal laboratory – your kitchen! "Marvel stories are full of twists and turns so we want to pay homage to that in our crates," says Wilger. "I think to do the unexpected and to surprise people has been a serious goal for us when curating these crates." And while we can't spoil every surprise item in this crate, we can tell you that inside each crate will be a Black Panther apron that may or may not have you feeling like a king of the kitchen.

Now Mills and Wilger do have their own personal favorites coming up in future crates, but they say there will be plenty of new items for fans to fall in love with just like they have. "People should get excited because it is ramping up. We are getting better and better things in our crates. And there is just so much more we have, so many more ideas," says Wilger. "We want it to feel like there is a continuity to this, we want it to feel like we're building a world," he continues, giving us a hint to look at the pins when searching for those over arching continuity lines. "I think each crate is getting better and better. I love our Doctor Strange crate and I am over the moon with items in the Super Science crate and I cannot wait to get my hands on every single item in the third crate, and every single item in the fourth crate," says Mills.
So what does the team want you to take away from each crate other than a bunch of cool Marvel Gear and Goods items? They want you to understand that these crates are coming from fans who are just as excited about the items as you are, and they hope you genuinely enjoy what they create for you. So go ahead and geek out with the Marvel Gear and Goods team and be sure to sign up to receive your Super Science crate when it pops out of the oven soon.
Order yours here.
The Hype Box
Can't-miss news and updates from across the Marvel Universe!