Gear
Published September 25, 2020
Hasbro Unveils New Life-Size Stormbreaker Battle Ax
You don't even have to go to Nidavellir to get it!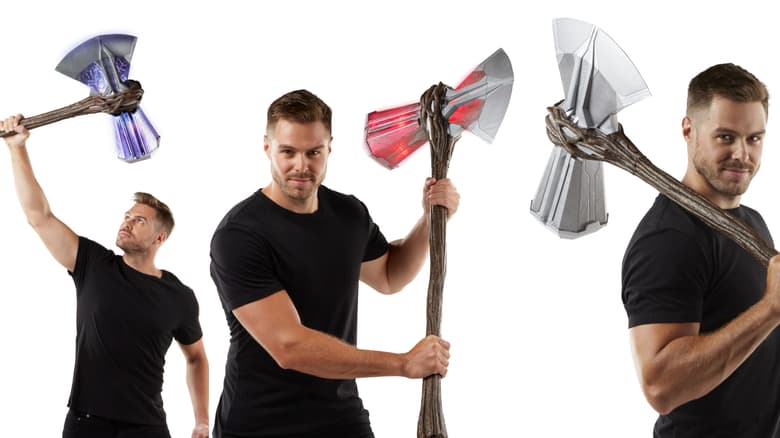 If owning a life-size Stormbreaker that makes battle sounds and lights up has always been a dream of yours, then it's about to come true. During Hasbro's virtual PulseCon, the latest addition to the Marvel Legends series was announced, and it's none other than a life-size Stormbreaker — perfect for any battle you might be heading into, or simply just to carry around the house! 
After Mjölnir is destroyed in Marvel Studios' Thor: Ragnarok, Thor finds himself on a journey to Nidavellir to forge a new weapon in Marvel Studios' Avengers: Infinity War. What he ends up with is Stormbreaker, which he uses in the Battle of Wakanda to try and defeat Thanos, and picks up again in Marvel Studios' Avengers: Endgame (and don't forget, Captain America picks it up, too). 
Now you can relive all these moments yourself with the electronic roleplay gear from Hasbro. Inspired by the movies, fans and collectors alike can imagine charging into battle with the power of thunder rumbling in the palms of their hands with the Stormbreaker Axe with sound FX, which is activated with the push of a button. If only defeating Thanos were that easy in real life.
Find more images of Stormbreaker in the gallery below, and the item is now available for preorder. Just don't go wielding this power in the wrong places! 
Want to stay on top of everything in the Marvel Universe? Follow Marvel on social media—Twitter, Facebook, and Instagram—and keep watching Marvel.com for more news!
The Hype Box
Can't-miss news and updates from across the Marvel Universe!