Gear
Published December 21, 2017
Holiday Headquarters Highlight: The Marvel Library
Lose yourself in the Marvel library this holiday season!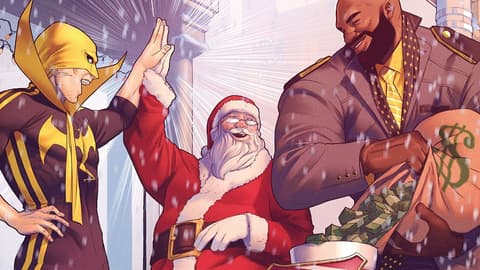 written by Maggie Klimentova
As the winter chill sets in, we all just want to stay home and curl up by the fire with a cup of hot chocolate. So instead of braving the cold, grab your favorite mug and visit Marvel's 2017 Holiday Headquarters and Gift Guide for some stories of heroism and adventure! Pick up one of these books and experience your favorite super heroes' exploits from the cozy comfort of your own couch.
Whether you like classic Marvel tales or the latest and greatest stories, these collections make the perfect addition to any comics library. We've highlighted a few below, but don't forget to head over to the Holiday Headquarters for the full selection!
Runaways: The Complete Collection Vol. 1
Heard the buzz about "Marvel's Runaways" on Hulu and want to dig into the source material? Well, here's an easy solution! Pick up RUNAWAYS: THE COMPLETE COLLECTION VOL. 1 by writer Brian K. Vaughan and artist Adrian Alphona and join in on the fun!
Thor: Ragnaroks
THOR: RAGNAROKS compiles three Asgardian tales into one, following the journey of Thor (and Beta Ray Bill!) as they try to prevent the total destruction of their home realms. This epic collection makes a worthy gift for any fan of the God of Thunder!
Star Wars: Han Solo
Not getting enough of your favorite space rogue lately? Fly with Han Solo as he goes on an undercover mission for the Rebellion. This story has it all: betrayal, space races, glory! Take the Force home with you this holiday season!
Generations Hardcover
Classic heroes and newcomers collide in this GENERATIONS collection. Discover what happens when Odinson teams up with Jane Foster, when Clint Barton fights alongside Kate Bishop, when Peter Parker joins Miles Morales, and many more. Pasts, presents, and futures unite in this collection of one-shot issues!
America Vol. 1: The Life and Times of America Chavez
Like most young adults, America Chavez goes to college, fights interdimensional monsters, and shuts down alien cults! Take part in America's thrilling adventures—pick up her series today!
To discover even more holiday gift ideas, stop by Marvel's 2017 Holiday Headquarters!
The Hype Box
Can't-miss news and updates from across the Marvel Universe!