Gear
Published December 11, 2017
Holiday Headquarters Highlight: The Whole Family
Assemble your holiday surprises with the 2017 Marvel Gift Guide!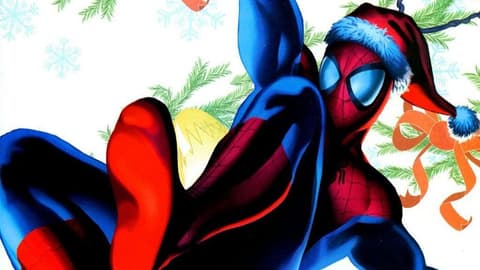 written by Maggie Klimentova
What happens when the Avengers do a gift exchange?
Tony Stark probably brings a cutting edge tech gadget. Natasha Romanoff likely picks out some super spy gear. Steve Rogers hand knits socks.
And even though Iron Man, Black Widow, and Captain America might not hang out in your home on their days off from work, Marvel's 2017 Holiday Headquarters and Gift Guide will still provide you with a collection of goodies worthy of the world's greatest super team!
We've put together a few thoughtfully chosen gift ideas for all the Marvel fans in your family, so check out the highlights below. And head to the Holiday Headquarters for more curated collections!
Guardians of the Galaxy Vol. 2: Feature Dancing Groot
Rock out with this groovy dancing Groot!
Nearly the same size as his movie counterpart, this Groot can play music himself—or even detect external tunes. When he hears a song playing, Groot starts to boogie, so put on your favorite album and join him with some dance moves of your own!
Guardians of the Galaxy Vol 2. (4K Ultra HD + Blu-ray + Digital) Marvel Cinematic Edition

To see Groot and the rest of the galaxy's most dysfunctional family in action, pick up "Guardians of the Galaxy: Volume 2" in 4K Ultra HD and Blu-ray! Gather the whole family on the couch and relive every moment from the smash hit film!
LEGO Marvel Super Heroes 2 Deluxe Edition
Band together with your family to defeat Kang the Conqueror in LEGO Marvel Super Heroes 2! This action-packed video game will have everyone begging to play for "just five more minutes!"
LEGO Black Panther Pursuit
Create and control your own adventure with this Black Panther Pursuit LEGO set. Will Black Panther capture the Winter Soldier? Will he join Captain America? Will they race? Or will they create a giant structure out of their vehicles? You decide!
Spider-Man App-Enabled Super Hero by Sphero
Make a high-flying addition to your super team by snagging a Sphero Spider-Man this holiday season! Hang out with this voice interactive Web-Head as his emotive expressions and quick wit provide you and your family with hours of fun!
To discover even more holiday gift ideas, stop by Marvel's 2017 Holiday Headquarters!
The Hype Box
Can't-miss news and updates from across the Marvel Universe!