Gear
Published April 2, 2018
Marvel Animated Minimates Series 9 Revealed, Including Symbiote Spider-Man, Star-Lord and More
With Series 8 out now, get a look at Series 9, coming to Walgreens from Diamond Select Toys.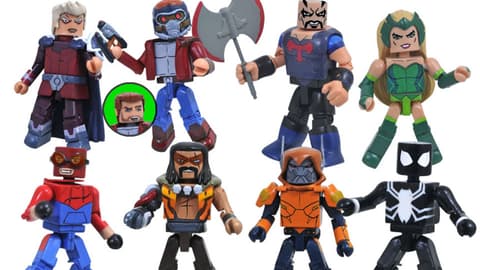 With Marvel Animated Minimates Series 8 now available at Walgreens, Marvel.com has your first look at Series 9!
Series 9 will hit Walgreens stores on or around July 1, 2018, and will include four all-new two-packs. The assortment includes:
From "Marvel's Spider-Man," Symbiote Spider-Man takes on Kraven the Hunter! The TV host who'll hunt anything and everything has targeted Spider-Man in his living black suit. Spider-Man includes a webline accessory and leaping support stand, while Kraven comes with a new rifle accessory.
Also from "Marvel's Spider-Man," Homemade Suit Spider-Man meets the Hobgoblin! Wearing his first Spider-Man suit, Peter Parker runs afoul with the mysterious villain who holds a grudge against him.  The web-slinger comes with removable goggles, a webline accessory and leaping support stand.
From "Marvel's Avengers Assemble," the Enchantress teams up with Skurge the Executioner! This Asgardian duo have menaced the Avengers many times, with their mind-control powers and mastery of all weapons, respectively. Enchantress comes with energy ball hand attachments, and Skurge comes with his axe.
Series 8 has just hit the shelves at Walgreens, in an assortment of four different sets, each containing two Minimates. Sets include Stealth Suit Spider-Man vs. Screwball, Spider-Gwen vs. Jackal, the Wasp vs. MODOK, and Black Panther vs. Madame Masque!
Each 2-inch Minimates mini-figures features fully interchangeable parts and comes with a clear display base.
Find your nearest store at Walgreens.com!
The Hype Box
Can't-miss news and updates from across the Marvel Universe!