Gear
Published December 7, 2017
New Wolverine Premium Format Figure from Sideshow
You can now pre-order this fearsome new figure of an unleashed Logan.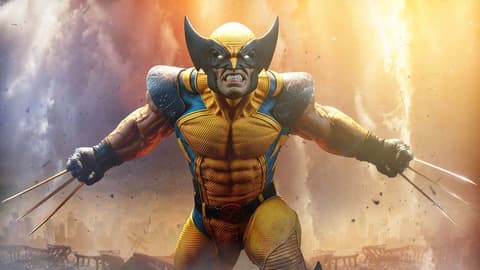 A new Wolverine Premium Format™ Figure is coming from Sideshow, featuring the iconic X-Men ready for battle. This polystone statue stands 20" tall, with Wolverine lunging forward atop a severed Sentinel hand base.
Wolverine has a savage portrait complete with a snarling expression and his iconic yellow and black mask. He is clad in a textured yellow and blue costume with a red X-Men insignia belt buckle and weathering from battles past.
Full to the brim with anger and Adamantium, Wolverine has unsheathed metal claws prepared to shred any other Sentinels that might stand in his way. His arms are sculpted with impressive musculature, bulging veins, and painted hair detail, attesting to his sheer strength and ferocity.
The Exclusive edition of the Wolverine Premium Format™ Figure includes an alternate unmasked portrait with his cowl drawn back, revealing Wolverine's furious face, sporting his iconic wild hairstyle. Check out the gallery at the top of the page to see images of the figure, including the unmasked portrait.
The Wolverine Premium Format™ Figure is now available for pre-order from Sideshow Collectibles.
The Hype Box
Can't-miss news and updates from across the Marvel Universe!