Gear
Published February 21, 2023
New 'Spider-Man: Across the Spider-Verse' Funko Pops Swing Into Stores
Available for pre-order now!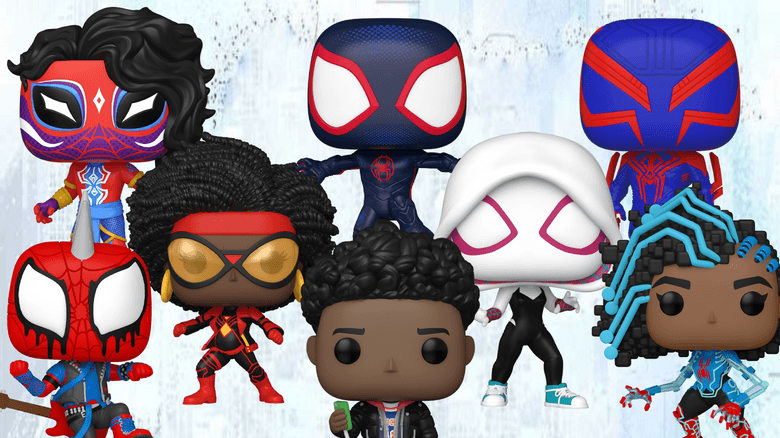 Do not adjust your screen — you really are seeing a dozen different Spideys. 
Ahead of the release of Spider-Man: Across the Spider-Verse, Funko is rolling out a new wave of all sorts of Spideys that will soon be seen in the movie. You've got your Spider-Man himself, Miles Morales (both in regular Funko Pop size and JUMBO size), along with his friend from across the Multiverse, Gwen Stacey as Spider-Gwen. But that's not all! The new Funkos also include Spider-Man 2099, Spider-Byte, Spider-Man India, Spider-Punk, Scarlet Spider, and Spider-Woman. And that's still not all. 
Swing into the image gallery below and snag some new Spideys now available for pre-order now! 
Miles Morales returns for the next chapter of the Oscar-winning Spider-Verse saga, Spider-Man: Across the Spider-Verse. After reuniting with Gwen Stacy, Brooklyn's full-time, friendly neighborhood Spider-Man is catapulted across the Multiverse, where he encounters a team of Spider-People charged with protecting its very existence. But when the heroes clash on how to handle a new threat, Miles finds himself pitted against the other Spiders and must redefine what it means to be a hero so he can save the people he loves most.
Spider-Man: Across the Spider-Verse swings into theaters (and the Multiverse) on June 2, 2023. 
The Hype Box
Can't-miss news and updates from across the Marvel Universe!