Gear
Published August 27, 2021
VeVe Welcomes Marvel's First Family in Second Series of Marvel Mightys Digital Collectibles
The Fantastic Four joins the world of digital collectibles with VeVe's newest drop!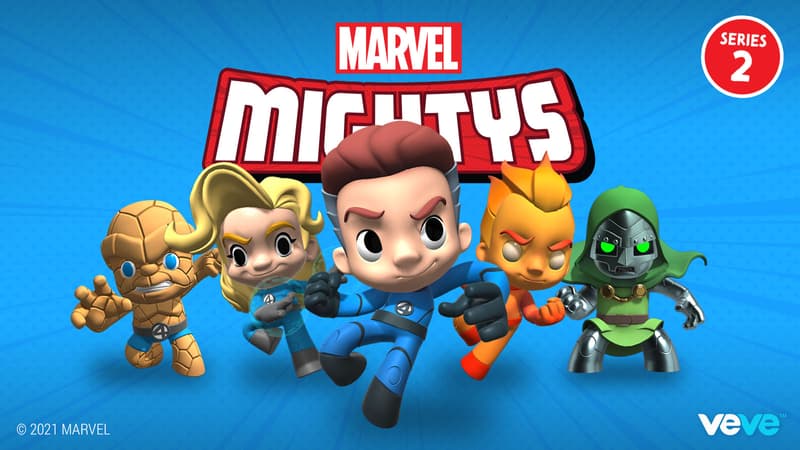 Marvel Entertainment and VeVe are back, and this time they're welcoming Marvel's First Family in the latest Marvel Mightys series!
This Saturday, August 28, at 8AM PST, the Fantastic Four along with Doctor Doom arrive on the VeVe app for Series 2 of the Marvel Mightys digital collectibles.
Become part of history with this next round of Marvel digital collectibles. Series 2 of the Marvel Mightys collectibles will be a Fantastic Four series featuring The Thing, Mister Fantastic, Invisible Woman, and the Human Torch — and their most nefarious foe, Doctor Doom. Available globally, each digital figure will have a different level of rarity, and with this Marvel Mightys drop, will only be sold in a Blind Box format for $13.00 USD.
The Marvel Mightys — Season 2 — Fantastic Four series will feature:
COMMON – The Thing
COMMON – Mister Fantastic
UNCOMMON – Invisible Woman
RARE – Human Torch
ULTRA-RARE – Doctor Doom

THE THING (COMMON)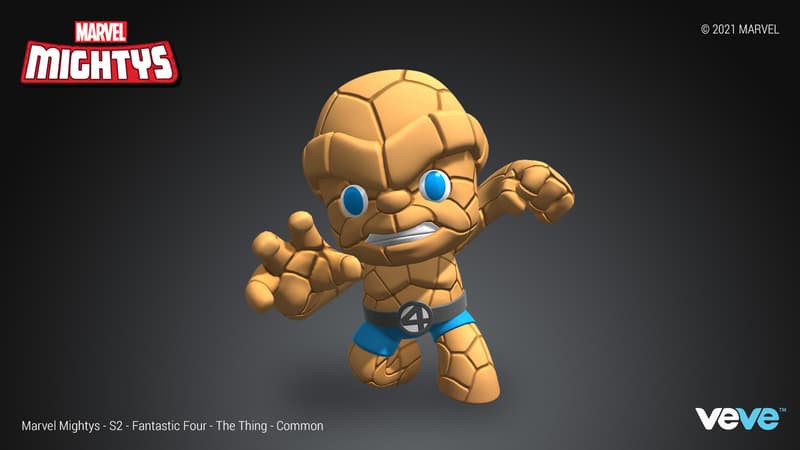 Price: $13.00
Rarity: Common
Gruff and gung-ho Ben Grimm rocks the Marvel Universe as the rocky Thing, a powerhouse with a heart of gold and the backbone of the Fantastic Four.
MISTER FANTASTIC (COMMON)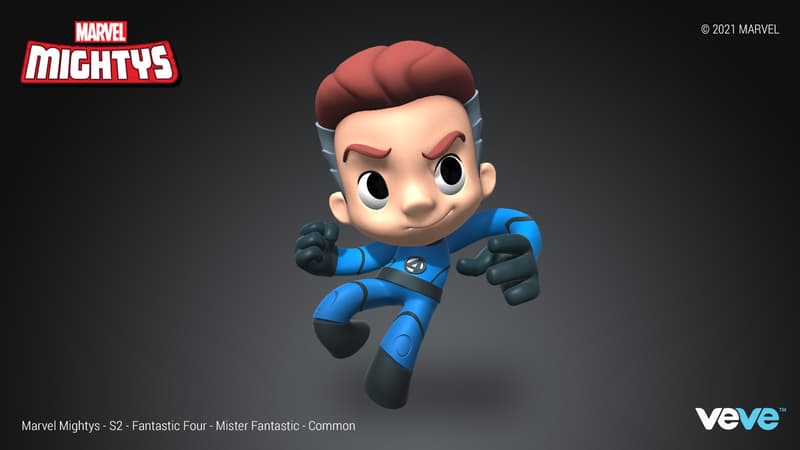 Price: $13.00
Rarity: Common
Genius Reed Richards leads the Fantastic Four as Mister Fantastic with the ability to stretch around a problem and expand upon the perfect solution.
INVISIBLE WOMAN (UNCOMMON)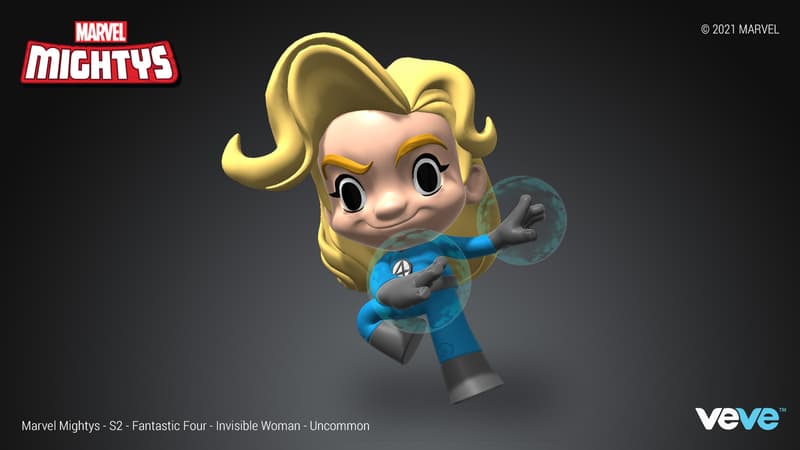 Price: $13.00
Rarity: Uncommon
The formidable heroine Invisible Woman uses her powers of invisibility to protect Earth and acts as the leading maternal figure of the Fantastic Four.
HUMAN TORCH (RARE)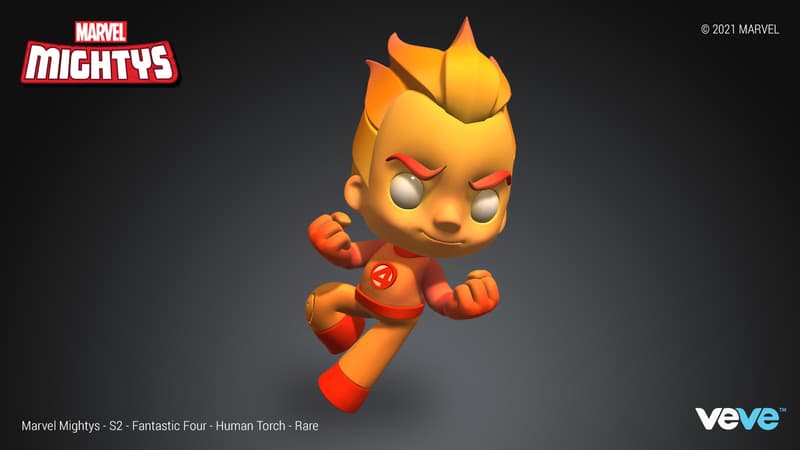 Price: $13.00
Rarity: Rare
Fiery and hotheaded, the Human Torch burns up the sky with an unquenchable love of adventure and always has the backs of his family, the Fantastic Four.
DOCTOR DOOM (ULTRA-RARE)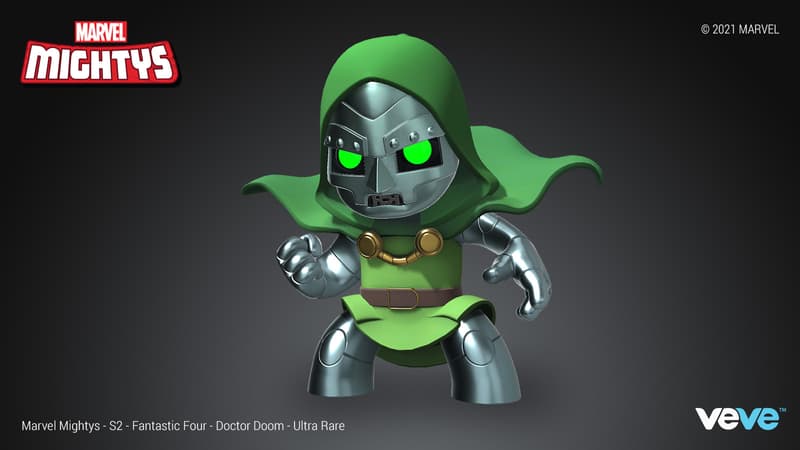 Price: $13.00
Rarity: Ultra-Rare
The egotistical and maniacal Doctor Doom uses his brilliant scientific mind to augment his own power and quest for control.
Stay tuned for more Marvel NFT digital collectibles —  all part of a larger initiative to celebrate 'Marvel Month' on the VeVe App. Collectors can look forward to the release of other Marvel digital products such as digital statues, digital comic books and other digital collectibles on the VeVe App later in August. 
The VeVe Digital Collectibles App is available on iOS and Android devices. Fans can buy and collect a variety of Marvel NFTs; trade and hunt for rare (and even secret-rare) NFT comic books and collectibles; and display their hard-earned collection through fully customizable virtual showrooms. Learn more: VeVe.me
The Hype Box
Can't-miss news and updates from across the Marvel Universe!