Published October 19, 2017
Kirby 100: The Battle of the Century
Can the combined Avengers and Fantastic Four halt a Hulk-Thing fight?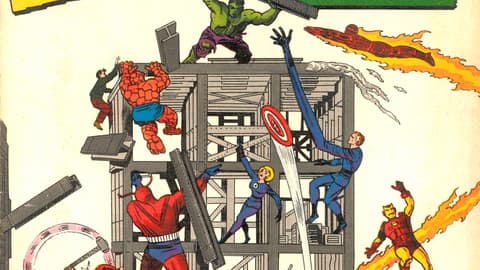 1917 to 2017: 100 years of Kirby.
Join us to celebrate Jack "King" Kirby's 100th birthday by learning about the characters and stories he created that changed comics forever. To commemorate Jack's centennial, we've sat down with the modern-day creators he influenced—and the decades of work he gifted us all.
An old philosophical question once asked, what happens when the unstoppable force meets the immovable object? Well, Stan Lee and Jack Kirby didn't answer that one, but they sure dug into what takes place when the Incredible Hulk comes to blows with the ever-lovin' blue-eyed Thing! The two titans came to blows in the pages of FANTASTIC FOUR #25 and #26 from 1964 and the very Earth shook! It all started with Thing refusing to take an accidentally discovered serum that could have cured him of his rocky visage because he didn't know if Alicia Masters would still love him as just Ben Grimm.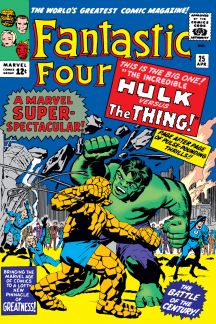 Meanwhile, The Hulk wanted peace and quiet after his fight with his old teammates in AVENGERS #3. The group quickly replaced him with Captain America, but still wanted to find their errant ally. The Jade Giant decided to get rid of every trace of Bruce Banner and smashed up his secret lab. He then saw the newspaper about Cap's return and Rick Jones palling around with him. Feeling jealous and spurned, Hulk decided to hop to New York City and "destroy the Avengers forever."
With Earth's Mightiest Heroes actually near the old lab looking for Hulk, he jumped right past them and wound up causing such a ruckus that the FF took notice and moved to stop him. With Reed Richards out of commission and both Johnny and Sue Storm quickly felled by the emerald brute, Ben Grimm took it upon himself to stop the rampage. This duo had come to blows previously in FANTASTIC FOUR #12, but this time they tore through buses, buildings, and even the street to clobber one another. Thanks to some help from the Yancy Street boys, the pair wound up fighting underwater and then on boats before moving on to the George Washington Bridge!
Moving into issue #26, Hulk continued to call for the Avengers, but Thing still stood to fight another day, or at least a few more rounds! A battered Human Torch even got back in on the action, but the Fantatsic twosome didn't stand a chance. Hulk messed them up and then went to Tony Stark's mansion to visit his old friends.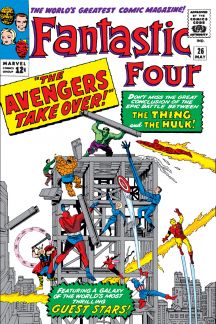 Hulk tore into the Avengers who gave as good as they got. A rejuvenated Reed Richards soon led his own team to attack Jade Jaws as well, but all those heroes together proved more calamity than anything else. After figuring out how to actually work together, both crews converged on Hulk who had perched himself on a skyscraper construction site. Though the combined might of the Avengers and Fantastic Four could barely stop the rampage, Rick Jones wound up saving the day by tossing an "emergency gamma-ray treated capsule" that Banner had supplied him with months prior.
Hulk ran off, jumping into the water and soon turned back into Bruce, floating along to his next adventure. With that, both teams pledged to work well together in the future and returned to their own lives with an unspoken promise from Kirby and Lee that, when that happened, it would be just as exciting and groundbreaking as this time!
Stay tuned to Marvel.com for more throughout Kirby Month and beyond! And join the conversation on all of our social channels with the hashtag #Kirby100.
The Hype Box
Can't-miss news and updates from across the Marvel Universe!