Live Events
Published July 3, 2023
Ultimate Marvel vs. Capcom 3 is BACK at Evo 2023
The global fighting game competition in Las Vegas from August 4-6, 2023 celebrates the legendary game!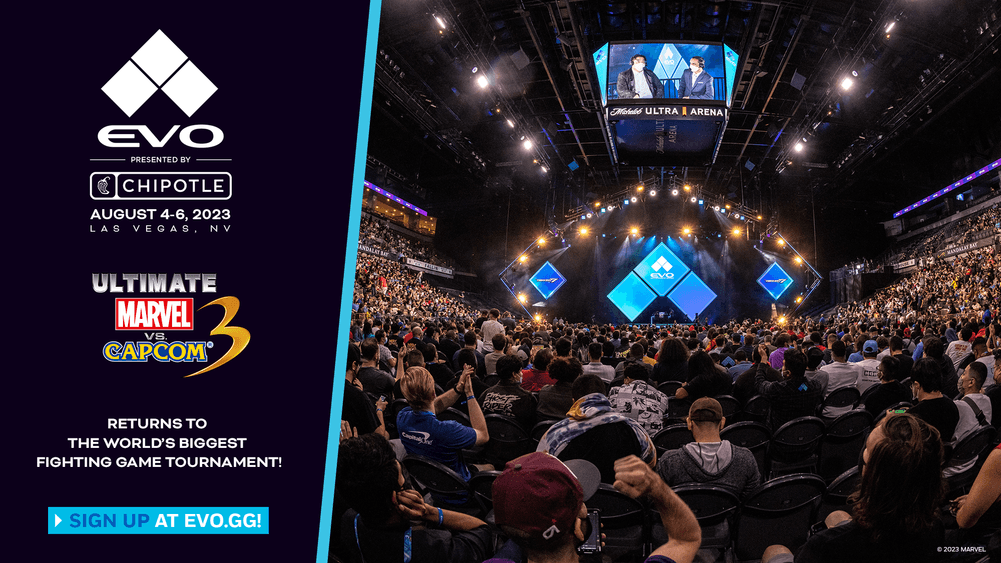 In the history of Marvel video games, there is one game that stands in the pantheon of legendary games,  Ultimate Marvel vs. Capcom 3. The unprecedented crossover between Marvel's Super Heroes and the fighting talents of Capcom's games was a moment in time, elevating the fighting game genre with over-the-top tag team gameplay. Players choose from characters like Spider-Man, Iron Man, and Wolverine alongside Street Fighter's Ryu, Devil May Cry's Dante, and DarkStalkers' Morrigan to prove who is the ultimate fighting champion.
Later this summer, players will have a chance to prove they are the best of the best at one of the series' most beloved titles, Ultimate Marvel vs. Capcom 3, at Evo 2023, a global fighting game competition in Las Vegas, Nevada, on August 4-6, 2023.
There are countless epic moments throughout Marvel vs. Capcom's history at Evo. Now Ultimate Marvel vs. Capcom 3 is back at Evo for the first time since 2017 through its new initiative, the throwback tournament. UMVC3 is the very first game throughout Evo's history to kick off this exciting endeavor. While the game might have released over a decade ago, the passionate player base has thrived, and the one-of-a-kind universe it created stands tall among the latest and greatest titles featured at Evo 2023.
Evo 2023 attendees can play eight games in the main tournaments, dozens more in community events, and even never-before-seen titles through world premiere previews. The event also has exclusive announcements like new games, playable characters, and global experiences. Attendees can check out industry panels to learn more about their favorite games from the developers and see interviews with pro players. Evo also gives indie titles their chance to shine through the Indie Fighting Game Gallery. Speaking of Evo history, there will be throwback exhibition matches between legendary players who made their mark in competitive video games.
If exclusive merch is your thing, Evo has dozens of vendors and community artists to explore with collectibles, controllers, prints, and more. If you have an arcade stick, there will be plenty of opportunities to customize it with new parts and even laser engravings. If you prefer to play games for fun over competition, no worries; Evo is home to a massive free-play arcade with games from every genre to get immersed in.
Whether you go to win, make new friends, or check out the latest fighting games, Evo 2023 has something for everyone. Players can sign up to compete in Ultimate Marvel vs. Capcom 3 and the other featured titles at evo.gg. The main event culminates during the Arena Finals on August 6, 2023. While it requires a separate ticket to spectate, the energy and excitement in the arena are unbeatable. If you'd rather not compete but still want to experience the event, you can buy 2-day or 3-day finals bundles. Register now and be a part of the epic return of Marvel vs. Capcom at Evo 2023 this summer!
Can't make it to Vegas? No worries, you can stream the event on Twitch and YouTube! Don't forget to follow Evo on Twitter for the latest updates and announcements.
The Hype Box
Can't-miss news and updates from across the Marvel Universe!