Live Events
Published October 4, 2017
Watch Marvel LIVE! from New York Comic Con 2017
Tune in and watch Marvel's livestream all four days of Comic Con!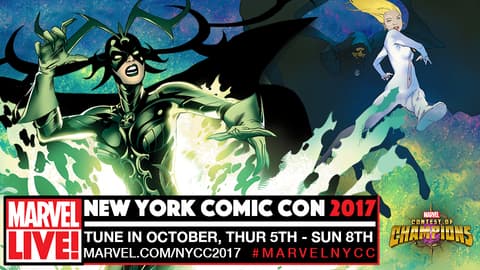 Marvel Entertainment invites you to experience the best of New York Comic Con 2017 LIVE from the heart of Manhattan! Starting Thursday, October 5, tune in to Marvel Entertainment's livestream coverage of NYCC, starting at 3:00 p.m. ET/12:00 p.m. PT and get ready to be a part of one of the biggest fan events of the year!
Hosted by TWHIP! The Big Marvel Show's Ryan Penagos and Lorraine Cink, viewers will be able to watch booth events and panels from the Javits Center, play games with their favorite Marvel comic and television talent, and learn about all the fun surprises happening on the convention floor, from exclusive merchandise to special signings.
Join in on the fun by visiting www.marvel.com/NYCC2017, Marvel's YouTube channel or Marvel's Facebook page. For the first time ever, you can watch Marvel LIVE! from all three platforms! Marvel LIVE! New York Comic Con 2017 is sponsored by Marvel Contest of Champions.
Day 1: Thursday, 10/5:
Day 2: Friday, 10/6:
Day 3: Saturday, 10/7:
Day 4: Sunday, 10/8:
This year, Marvel LIVE! is new and improved. No matter where you are—you can watch what happens live on the NYCC floor, hear behind-the-scenes secrets from your favorite Marvel celebrities, and maybe even witness a surprise or two along the way…
To find a comic shop near you, visit www.comicshoplocator.com or simply chat with some of your favorite heroes with Marvel's chatbot accessible through Twitter and Facebook.
The Hype Box
Can't-miss news and updates from across the Marvel Universe!