Movies
Published September 18, 2018
10 Standout Moments from the 'Captain Marvel' Trailer
With the first trailer revealed for Marvel Studios' next film, there's a lot to focus on!
We're guessing you've seen the trailer for Marvel Studios' "Captain Marvel" by now, but if not, you can check it out it right above! There's a ton to take in here, as we get a look at the first footage of Brie Larson as Carol Danvers/Captain Marvel in the highly anticipated film, which is coming to theaters on March 8.  Now that we've watched the trailer (and then watched it again… and again), let's take a look at some of the moments that jumped out the most!
Wow, What a Difference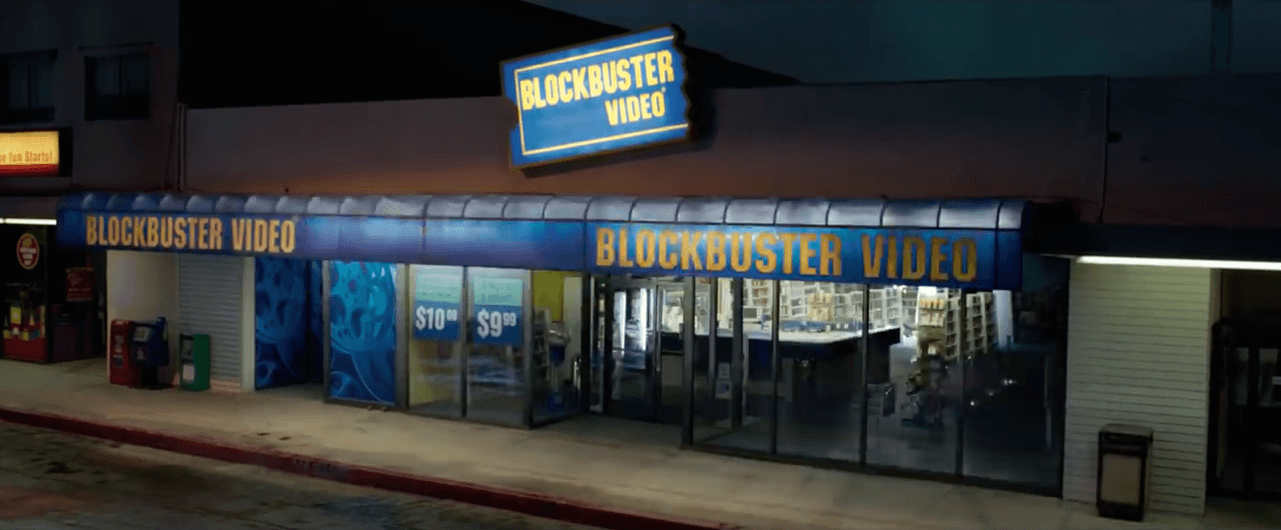 "Captain Marvel" is set in the 1990s, so what better way to introduce us back to that era than having Carol Danvers smash into a Blockbuster Video? Seeing that blue and yellow sign and those aisles of ready-to-rent VHS tapes is obviously a familiar sight to anyone who was around in those days. 
Nick of Time
Nick Fury has been an integral and ongoing aspect of the Marvel Cinematic Universe since he made his debut in the post-credit scene at the end of Marvel Studios' "Iron Man" in 2008. Not only is it intriguing to see Samuel L. Jackson portraying a younger Fury (one who still has both of his eyes) in the "Captain Marvel" trailer, but it's worth noting that we hear him stating, "Truth be told, I was ready to hang it up until I met you today" – indicting that Nick is in a very different place when we meet him here than the man we know later. 
 "Space Invasion, Big Car Chase"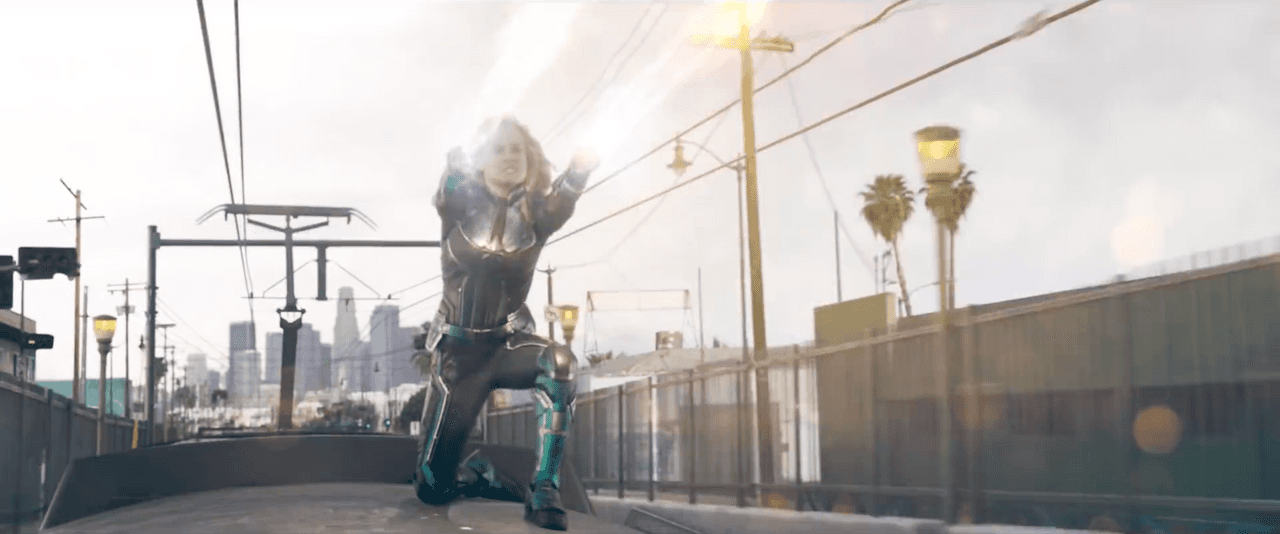 The early moments of the trailer show Carol (rocking a S.H.I.E.L.D. hat at one point!) getting a look at Earth, but then we get to see her leap onto a moving train and unleash her powers – giving us an idea of just what she's capable of. Now we just want to know who she's fighting! 
"I Keep Having These Memories"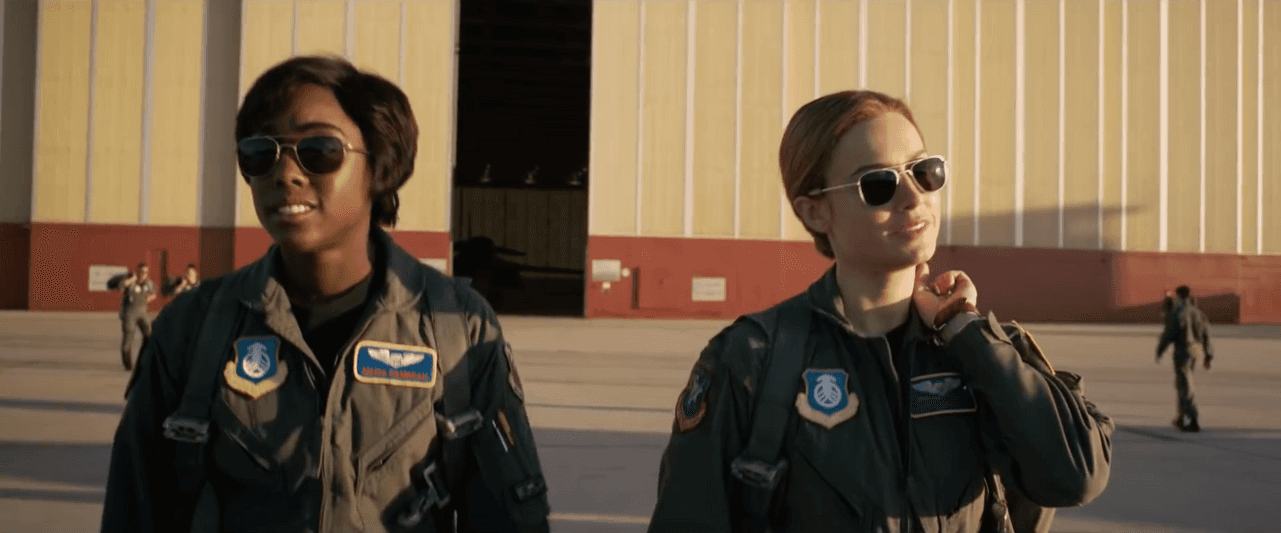 We've seen separate photos of Carol and her good friend and fellow fellow Air Force pilot, Maria "Photon" Rambeau (played by Lashana Lynch), but in the trailer we get to see them alongside each other, with the duo looking confident and ready to take to the skies. 
Kree Crew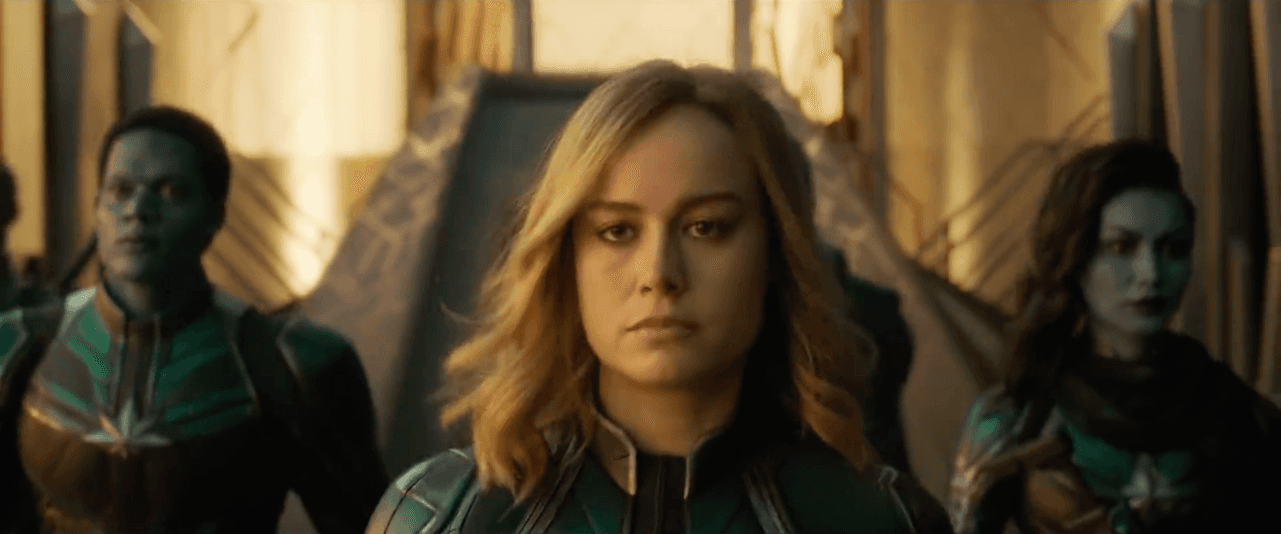 Of course, Maria isn't the only one we see Carol walking alongside, as she's also seen, wearing her green Kree uniform, with other members of the Kree military unit known as Starforce – along with a shot of Jude Law, who plays Starforce's commander. 
In Flight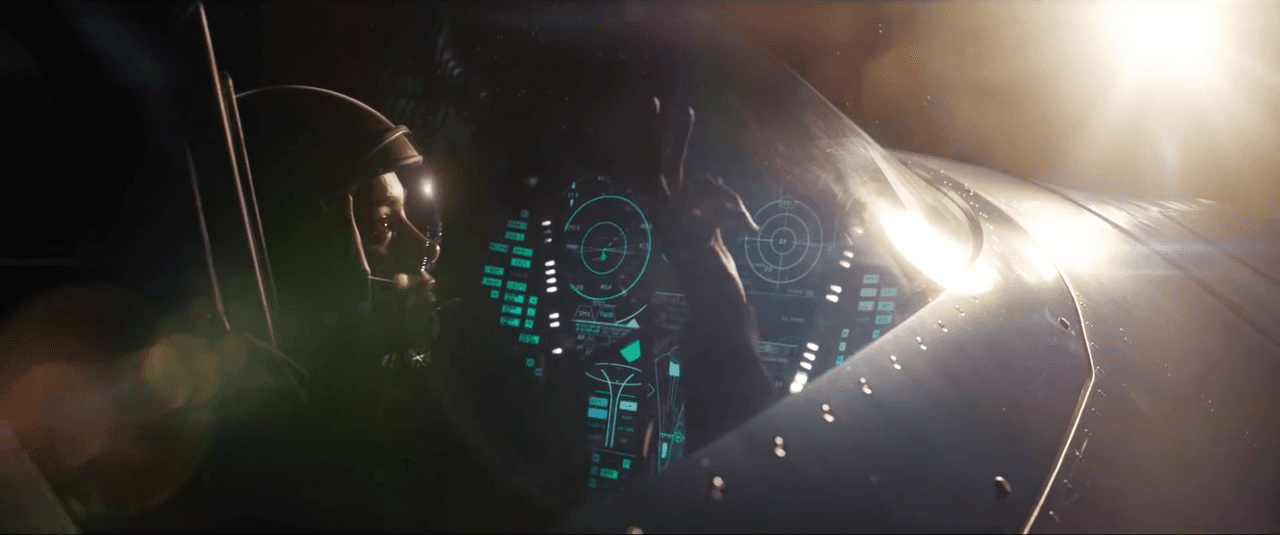 While we'll have to wait to learn what exactly is occurring in this scene, let's take a moment to admire how gorgeous this shot is of Carol sitting in a cockpit. 
"What Threats Are Out There"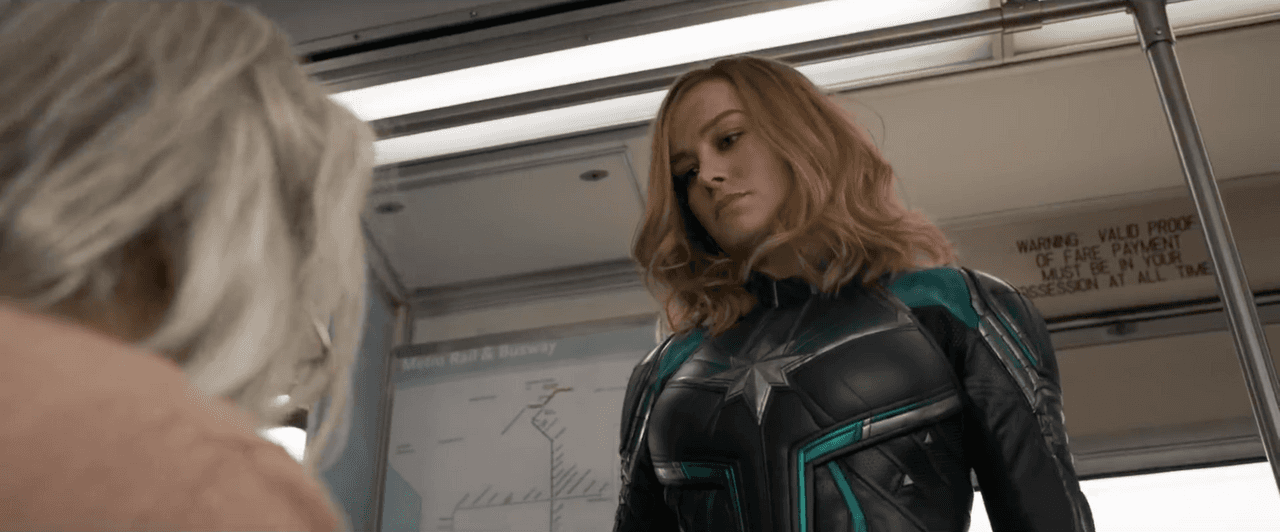 It's certainly a surprising moment in the trailer when Carol punches a seemingly sweet, smiling old woman. Of course, given what we've heard about "Captain Marvel" so far, and the threats it involves, there's plenty of speculation about why Carol would do such a thing and why there may be more going on here than what is seen at first glance. 
A Young Agent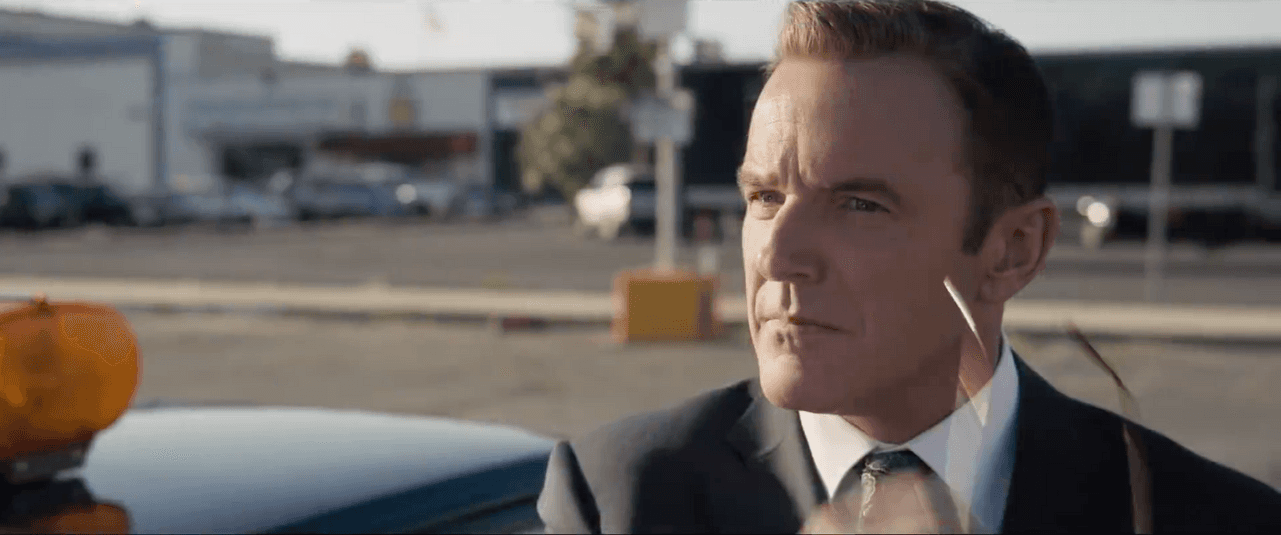 Nick Fury isn't the only recognizable face from S.H.I.E.L.D. appearing in "Captain Marvel" in their earlier days, as we'll also see the 1990s version of none other than Agent Phil Coulson, played, as always, by Clark Gregg! Coulson is seen in the trailer whipping off his sunglasses, proving some things never change. 
Helmet!!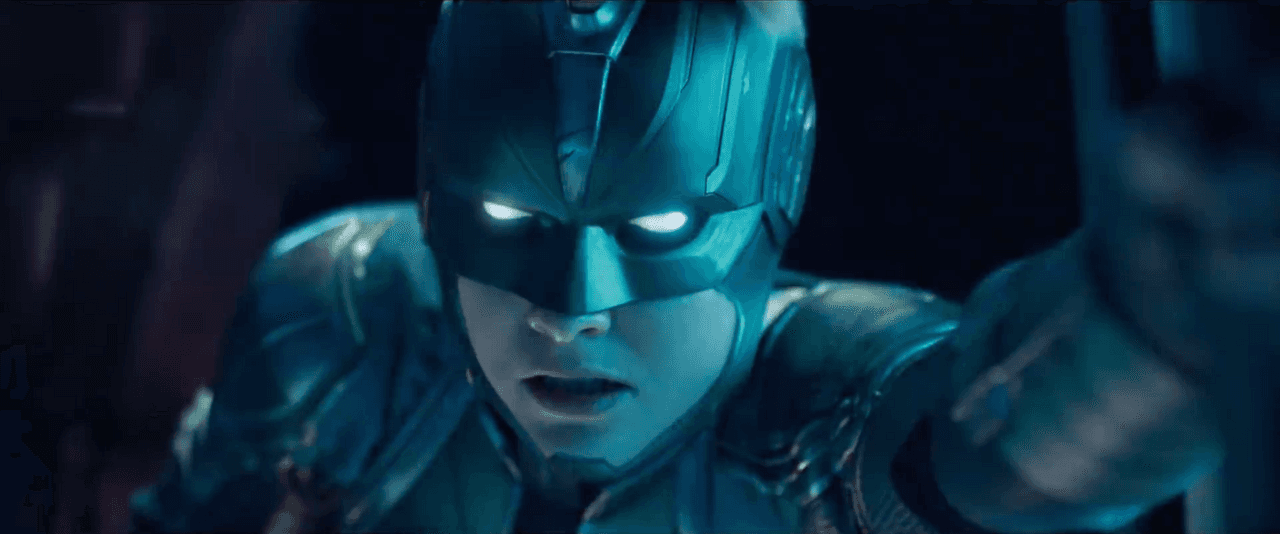 An especially cool moment for Captain Marvel fans occurs in the trailer when we get our very first look at a familiar helmet, much like the one Carol has donned in her comic book adventures. 
Carol Unleashed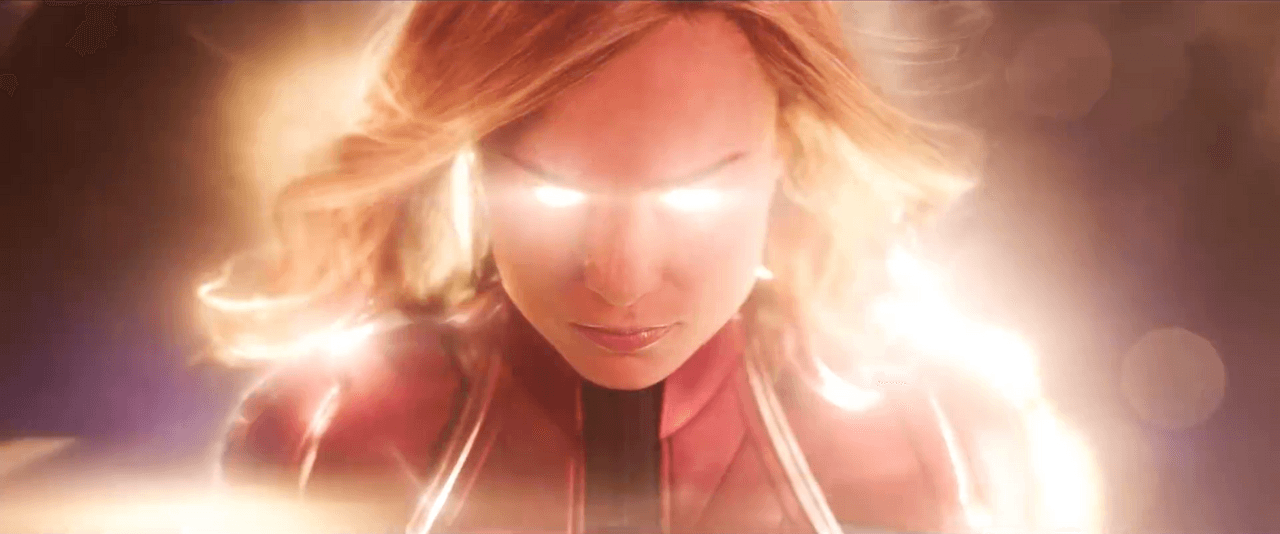 Last but not least, the trailer concludes with Carol wearing her iconic red, blue, and yellow Captain Marvel – and hinting at just how powerful she really is. Suffice to say, we can't wait to see more! 
Marvel Studios' "Captain Marvel" joins the Marvel Cinematic Universe on March 8, 2019! Stay tuned to Marvel.com, follow @CaptainMarvel on Twitter, and Like "Captain Marvel" on Facebook for the latest on "Captain Marvel" as it develops!
The Hype Box
Can't-miss news and updates from across the Marvel Universe!