Movies
Published February 14, 2017
15 Things We've Learned About 'Avengers: Infinity War'…So Far
'Avengers: Infinity War' opens in theaters May 4, 2018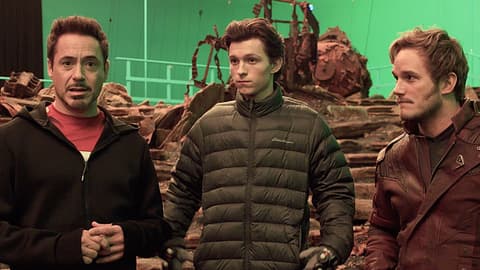 Prior to the release of the first featurette from Marvel Studios' "Avengers: Infinity War," Robert Downey Jr. (Tony Stark/Iron Man) hosted a Facebook Live, seen below, to answer fan questions.
Here's everything we learned from the live chat (and the first Avengers: Infinity War featurette) so far:
Tom Holland will be reprising his role as Peter Parker/Spider-Man
Chris Pratt's Peter Quill/Star-Lord will also be joining the fray
Robert Downey Jr. still fondly remembers the Mark 42 from "Iron Man 3"
"Avengers: Infinity War" kicks off with tension as Captain America is still on Iron Man's "S-List"
Reflecting on his appearance in the first "Iron Man" to "Avengers: Infinity War," Downey says "[Tony Stark] has matured a bit. What has changed is the universe around him."
Stark's universe now involves Peter Parker, the Guardians and Doctor Strange now
Joe and Anthony Russo have never fought on set
The three Avengers the Russo brothers would go on a family vacation with: Tony Stark, Peter Parker, and Vision
Start of production officially began last month in Pinewood Atlanta
Thanos will be "the most frightening villain the Avengers have ever faced;" he'll show us all why he's "the biggest, the best, the baddest villain that we've ever had"
The Avengers are completely unprepared to face Thanos as a result of the events of "Captain America: Civil War" leaving the Avengers a team name with no team members.
Get ready for the Guardians of the Galaxy / Avengers team-up as we see Thor fighting alongside Rocket Raccoon
The Russo brothers confirm two films will be deeply connected – "these next two Avengers films will be an event like no one has ever seen on film before"
Downey drives that point home as we've come to learn the next two Avengers will be filmed back-to-back for a "year of fun-filled lensing"
We spy with our little eyes slight variations to Iron Man's suit armor designs
Let us know what other tidbits you caught in the Facebook Live and first featurette from the set of "Avengers: Infinity War"!
"Avengers: Infinity War" opens May 4, 2018. Stay tuned to Marvel.com, follow @Avengers on Twitter, and Like "The Avengers" on Facebook for the latest on the Avengers and the rest of the Marvel Cinematic Universe as it develops!
The Hype Box
Can't-miss news and updates from across the Marvel Universe!