Movies
Published November 29, 2017
All Roads Lead to Thanos in First Official 'Avengers: Infinity War' Trailer
In theaters May 4.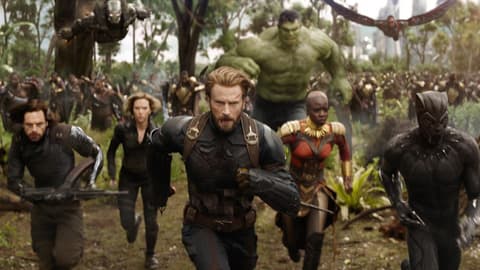 There was an idea…
The first official trailer for Marvel Studios' "Avengers: Infinity War" has finally arrived. We began our Marvel Cinematic Universe journey together back in 2008. All roads lead to Thanos next year. Get your first official look at "Avengers: Infinity War" right here on Marvel.com above.
Following the events of "Captain America: Civil War," the Avengers as we know it no longer exists. Lines were drawn; sides were chosen. The Avengers is nothing more than a team name without any team members. Can Earth's Mightiest Heroes put aside their differences and unite once more? Do they even stand a chance against the Mad Titan who delights in their failure and desperation? Can they stop his thirst for power and chaos as he begins to collect the Infinity Stones?
The trailer packs as many super heroes as it can in a mere 2 minutes and 30 seconds: Iron Man (Robert Downey Jr.), Captain America (Chris Evans), Scarlett Johansson (Black Widow), Hulk (Mark Ruffalo), Falcon (Anthony Mackie), Thor (Chris Hemsworth), the Vision (Paul Bettany), Hawkeye (Jeremy Renner), Black Panther (Chadwick Boseman), Scarlet Witch (Elizabeth Olsen), Spider-Man (Tom Holland), Doctor Strange (Benedict Cumberbatch), Loki (Tom Hiddleston), Star-Lord (Chris Pratt), and so much more.
"You can fight it. You can run from it. But destiny still arrives." We know the trailer brought a smile to your face as much as pain and suffering put one on Thanos' face. Now excuse us while we watch the trailer a thousand more times!
See the culmination of the last decade of the Marvel Cinematic Universe when "Avengers: Infinity War" opens in theaters on May 4, 2018. Stay tuned to Marvel.com, follow @Avengers on Twitter, and Like "The Avengers" on Facebook for the latest on the Avengers and the rest of the MCU as it develops!
The Hype Box
Can't-miss news and updates from across the Marvel Universe!