Movies
Published March 14, 2018
'Avengers: Infinity War' Brings the Heroes To Wakanda
Chadwick Boseman shares his thoughts on opening Wakanda to the world!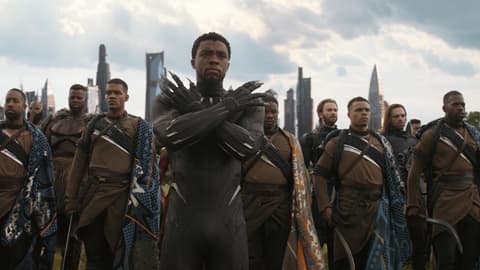 Black Panther has been busy as the newly crowned king of Wakanda — dealing with his father, King T'Chaka's death while trying to restore order in a country full of unrest. Now T'Challa will have to deal with a crisis of colossal proportions — Marvel Studios' "Avengers: Infinity War" is coming to Wakanda!
In Marvel Studios' "Black Panther," in theaters now, viewers got a peek at the mysterious, technologically-advanced world of Wakanda. Why the notoriously elusive country decided to open its door to outsiders? The King himself—Chadwick Boseman—explains that T'Challa wants to do what's best for the greater good. "You have a world problem with Thanos, a problem that affects everyone in the world. So Wakanda is on the world stage and we're obviously advanced in a way where we can help with the situation."
As for the Avengers, they'll be awakened to new experiences once they step foot into Wakanda. "They're in my world so it's interesting to have them enter our space, which is not something that happens all of the time," said Boseman.
He expanded on what it's like to have the team members come together, "I think it's important for us to give the flavor of Wakanda, and they're really adjusting to our space. That will be part of the fun of the movie. And the Guardians entering it, obviously, there is a clash, all of that is conflict. It's not conflict between us necessarily. It is an emotional, psychological, social conflict."
"Avengers: Infinity War" is the largest assembled cast of Marvel Cinematic Universe characters, which means the actors get to work with other cast members they may not have met before. "I can tell you what it feels like today. It's fun to see, especially because we have not had a lot of opportunities to work together and when you look at actors that you respect and revere and you see them doing their thing, it's not just about the characters but the cast members. It's fun to listen to people tell stories," mused Boseman.
Coming off the success of "Black Panther," Boseman can now enjoy his place among the Super Heroes. "It's a lot of pressure because I don't have time to joke when we were shooting 'Black Panther,' it's serious all the time. In this case, you don't have all the weight on your shoulders, so you have more comfort. We're sharing the weight. Which is actually what's happening with the super heroes as well, because they could not deal with Thanos alone. I think there is a lot of comfort in having people who are so good around you."
As for how the King's warriors, the Dora Milaje, feel about the new visitors? Skepticism is obviously going to be the fiercely protective faction's first assessment. "Infinity War's" own Hulk, co-star Mark Ruffalo, joked that it's very much a "there goes the neighborhood" situation.
Boseman agreed, "There goes the neighborhood, that is a good way of saying it."
"Avengers: Infinity War" opens in theaters on April 27. Stay tuned to Marvel.com, follow @Avengers #InfinityWar on Twitter, and Like "The Avengers" on Facebook for the latest on the Avengers as it develops!
The Hype Box
Can't-miss news and updates from across the Marvel Universe!