Movies
Published March 19, 2018
Danai Gurira On the Strong Female Presence In 'Avengers: Infinity War'
Okoye, leader of the Dora Milaje, isn't ready to assemble.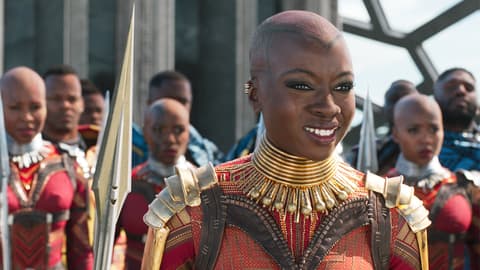 The Black Panther may reign over Wakanda, but the Dora Milaje are the true protectors of the resplendent nation. As the general of the royal armed forces, actress Danai Gurira plays the role of Okoye, the Dora Milaje's fierce and cautious leader. Speaking from the set of Marvel Studios' "Avengers: Infinity War," Gurira talked about Okoye's loyalty and the roles of strong women in the Marvel Cinematic Universe.
As seen in Marvel Studios' "Black Panther," Wakanda was isolated from the rest of the world for thousands of years. Just as they opened their doors, "Infinity War" brings the Avengers all together onto Black Panther's playing field. To have the warriors meet the super heroes was exciting for Gurira, but brought up different feelings for her character, "I'm excited for all the connections she can and might make—through what she's about to go through with these warriors and these Avengers, these super heroes. [Okoye's] more cautious about that."
Gurira continued, "She's hasn't been excited about outsiders. You'll see that in a very clear way in the movie."
As a deep traditionalist with the weight of protecting Wakanda and its King, leading the Dora Milaje, and adhering to Wakanda's traditions and structures, all responsibility lies solely on Okoye's shoulders. "The vocation of being a Dora is you're learning how to be one from quite a young age," revealed Gurira. "Her entire vocation has been to maintain this nation."
These responsibilities and traditional values are what drives her apprehension of the Avengers. "[Okoye's] always thinking about how many things can go wrong and how much she can control what could go wrong before it goes wrong," explained Gurira. "There's not a lot of control that she can have over something that's coming that's this massive. But that's where her caution is. That's where her concerns lie. It's, of course, in her gut."
The changes Wakanda faces such as the opening of the borders and revealing themselves to the world is what Gurira's character must grapple with as we enter "Infinity War." Gurira acknowledged the Dora will be tested more than ever before, "This is one of the biggest threats they've dealt with." At the end of the day, she's led by her King and goes by his decision.
Gurira was acquainted with her co-stars before the filming of "Black Panther," which lead to a comfortability on set. The sisterhood continued on the set of "Avengers: Infinity War." On her relationship with Angela Bassett, "I've always really adored Ms. Bassett and she's always been so kind and gracious to me every time I've been around her. It was really beautiful, actually." As for Gurira's sisterly relationship with Lupita Nyong'o, "Lupita and I go way back, and we just worked together on my play, 'Eclipsed.' We are very much [like] close sisters — it was very much balancing off each other and supporting each other, and our thoughts and collaborations and how we were figuring out the language and everything. We were making sure we had fun because I'm the person that needs to be encourage-minded to have fun, and she made sure I did that."
As for the King's sister Shuri, played by Letitia Wright, Gurira was familiar with her from her London play as well, "I loved her from the second I saw her…saying, 'This girl's got fire.' I loved her since then, so getting to be in this movie with her, it was amazing."
The familial feeling continued off-camera with the cast spending time together solidifying their successful on-screen chemistry. "We had a good time together," said Gurira. "Supportive, fun, lots of going out on the weekend, lots of bowling, going to [get] Nigerian food, partying. Mr. Addison [Henderson] and Chadwick made sure people always had a good time. It was actually a really awesome family of women and men. It was a great sisterhood. We took a lot of care of each other."
To be a part of a massive Marvel film with so many female characters is something that spoke to Gurira, "It's really thrilling. I'm insanely thankful to be alive at the moment I am alive, and I don't take it for granted that so many women before me have had to navigate and push for more representation, and I get to benefit from the fruits of their labor. I've seen that evolution before I started acting to now. You can feel that, the shift, and it is a really exciting thing when you see there is a lot of attention paid to the position and the contribution to the female characters."
"Avengers: Infinity War" opens in theaters on April 27. Get tickets on Fandango now! Stay tuned to Marvel.com, follow @Avengers on Twitter, and Like "The Avengers" on Facebook for the latest on the Avengers as it develops!
The Hype Box
Can't-miss news and updates from across the Marvel Universe!