Movies
Published April 29, 2022
The Latest 'Doctor Strange in the Multiverse of Madness' Featurette Spotlights Wanda Maximoff's Return
Doctor Strange and The Scarlet Witch return to theaters on May 6!
Marvel Studios' Doctor Strange in the Multiverse of Madness arrives exclusively in theaters in one week, starting May 6. Tickets are now on sale!
In the latest brand-new featurette, seen above, Marvel Studios president Kevin Feige, film stars Elizabeth Olsen, Benedict Cumberbatch, and director Sam Raimi reveal how the infinite possibilities of the Multiverse affect Wanda Maximoff / The Scarlet Witch as she returns following the events of Marvel Studios' WandaVision.
The featurette opens with Vision's poignant line from WandaVision, "What is grief, if not love persevering?"
"Part of the Madness of the Multiverse is we get to see different realities," explains Feige. "And we see different versions, primarily of Doctor Strange, but we do see other versions of Wanda Maximoff."
"WandaVision was this journey of her, for the first time, taking her own life into her own hands, and it was fun transitioning from her experience to this movie," adds Olsen.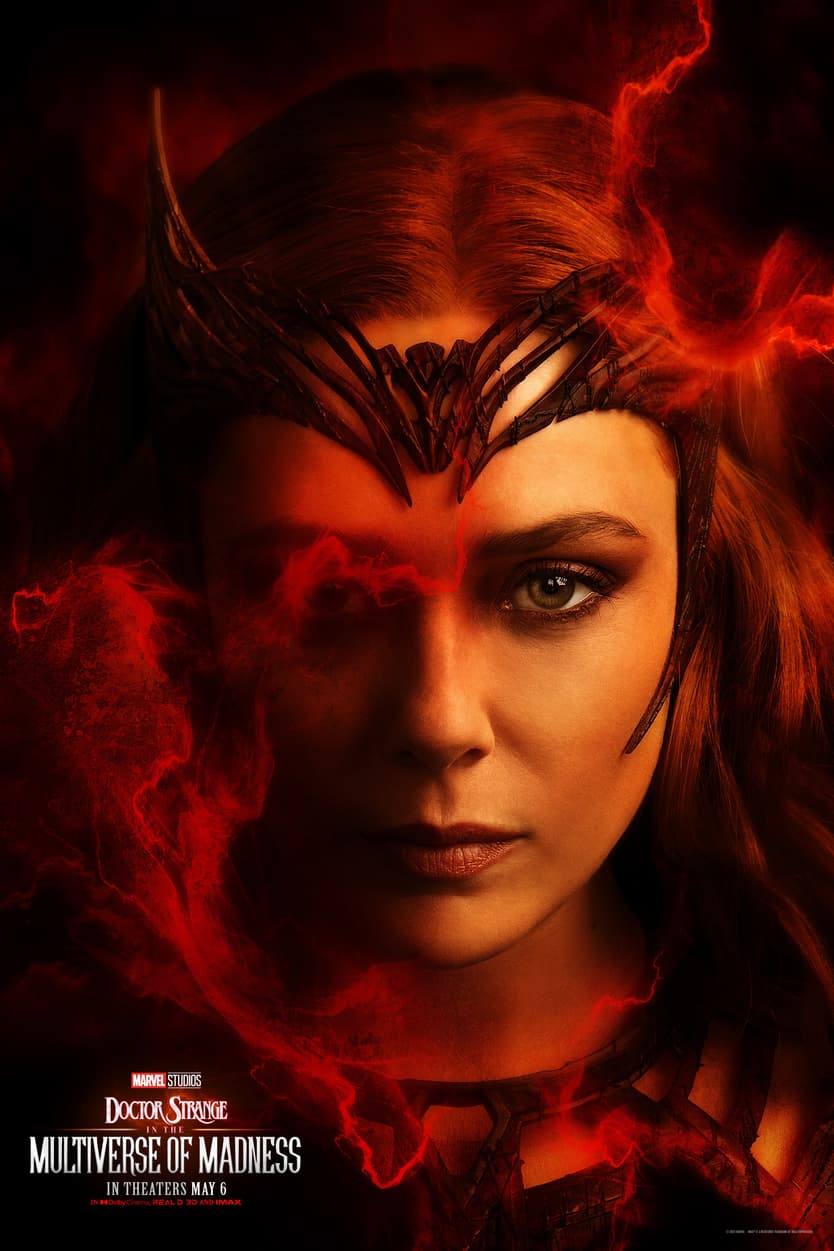 "We wanted to satisfy the WandaVision fans and take them to the next level with a character they love," reveals Raimi.
"It was fun just looking at it from a different perspective," Olsen says.
"It's magical," raves Cumberbatch. "She owns that character so well. It's a very powerful performance, with a very powerful character."
"In the Multiverse, there are alternate versions of everyone. It gives the character a unique opportunity to meet themselves, to recognize qualities that they may have been blind to," Raimi concludes. 
In Doctor Strange in the Multiverse of Madness, the MCU unlocks the Multiverse and pushes its boundaries further than ever before. Journey into the unknown with Doctor Strange, who, with the help of mystical allies both old and new, traverses the mind-bending and dangerous alternate realities of the Multiverse to confront a mysterious new adversary.
Doctor Strange in the Multiverse of Madness stars Benedict Cumberbatch, Chiwetel Ejiofor, Elizabeth Olsen, Benedict Wong, Xochitl Gomez, with Michael Stühlbarg, and Rachel McAdams. The film is directed by Sam Raimi, and Kevin Feige is the producer. Louis D'Esposito, Victoria Alonso, Eric Hauserman Carroll and Jamie Christopher serve as executive producers. The screenplay was written by Michael Waldron.
Doctor Strange in the Multiverse of Madness arrives in theaters May 6, 2022. Advanced tickets now available!
Make sure to follow @DrStrange on Twitter and @DoctorStrangeOfficial on Instagram, and like "Doctor Strange" on Facebook for all the latest news and updates.
The Hype Box
Can't-miss news and updates from across the Marvel Universe!