Movies
Published March 26, 2018
Elizabeth Olsen and Paul Bettany Believe Scarlet Witch and Vision's Relationship Is An Asset To Help Spur On The Fight In 'Avengers: Infinity War'
Olsen and Bettany detail the difference between a Russos and a Whedon 'Avengers' film.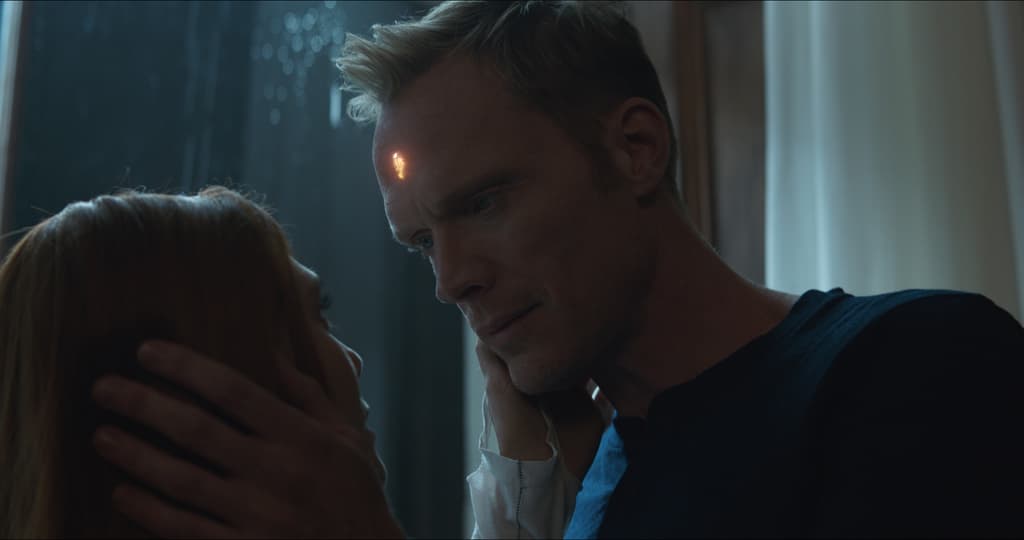 The Avengers are assembling to take on their biggest threat yet and Thanos looms large in Marvel Studios' "Avengers: Infinity War." Earth's mightiest heroes will need the entire team to take down the Mad Titan, including some of Scarlet Witch's mutant magic.
From the set of "Infinity War," Elizabeth Olsen (Scarlet Witch) and Paul Bettany (Vision) spoke about the large cast of characters, offered up their thoughts on the Mad Titan Thanos, as well as gave some interesting insight to Scarlet Witch and Vision's complicated relationship.
Thanos is a Dark Lord that reigns unparalleled according to his underlings, but he remains a perplexing, foreboding villain that needs to be taken down by the team, "We haven't really gotten to that bit in the exploration, but he's not a good guy. We don't necessarily want to be his friend. You don't want to be his friend. Yes, he sets his goals very high," quipped Olsen. Bettany agreed, "You don't want to be his friend, no, but you can admire…he has an ambitious goal."
Played by Josh Brolin, Thanos is a bad guy through and through—yet still a character that Olsen is still unsure about, "[Josh] Brolin is doing a really cool job creating an interesting villain 'cause he doesn't really come across…he seems he's defending it quite well."
Having started her journey as Scarlet Witch in Joss Whedon's "Avengers: Age of Ultron," Olsen described how "Infinity War" is different from the previous film, "The main difference is that the Russos delegate and they trust everything that they've delegated things to. Not saying Joss didn't, but that's a lot of pressure to be a director and then go home to also do rewrites for the next week. It's just as it gets bigger, things become more specific to different departments and I think it allows maybe even a freedom within the dialogue sometimes…because there's a space some of us have the ability to step out and not be on the page."
Directors Joe and Anthony Russo allowed the actors to speak freely about the portrayal of their characters. "At the beginning of filming, [the Russos] are like, 'You're in control of your character. If there are things you think we missed, please participate, please say,'" recalled Olsen.
The collaborative atmosphere was refreshing for Bettany, "They really want you to be a collaborator and it's great. There's a huge upside for that. For [the Russos], when you're dealing with so many characters and actors to have two of them, and it's brilliant because you can play one off against the other."
The openness in creativity helped Bettany have a better understanding of his character, "The success of the Marvel films comes from the fact that they're made by fans. They really love those characters. When I first came out dressed as Vision, Kevin Feige nearly cried. I didn't grow up reading comics but they make you fall in love with your character. They really do. Their love for these stories is really infectious and you become really invested, and there's a lot of invested people beyond the financials of it all." Bettany emphasized the positivity that came with the love of the comics, "They really want to do a good job, and I think fans really trust that if they bend things that they're in safe hands — that the story is in safe hands because I guarantee you it's made by geeks. This movie is made by geeks. They love them, they feel it when they're talking about it."
"Captain America: Civil War" changed everything and "Infinity War" is putting the pieces back together both in the physical team and in the emotional state of the heroes. Olsen believes Vision and Scarlet Witch have a grounded relationship that helps to spur on their fight, "I think in a different way not so much about the last movie and their own sagas, but this is definitely the most emotional arc I've done in an Avenger film, that's for sure."
"The cost and the danger that we're all facing becomes more important than certain beef that people had in the past because it's so desperate," explained Bettany. "The point of the Avengers, and by extension mankind, it's fraught with danger. Old grudges are buried and put off until next time."
Vision is constantly trying to understand the human mind and Scarlet Witch is there to show him the way. Olsen describes how the couple's dynamic makes scenes more fun, "You have something really specific to work with all the time. And that feels nice. There's like an anchor point to everything, which is what you're constantly looking for when you're doing these movies. What anchors you to a grounded reality? And you have that throughout the whole film. You have your partner, your life partner with you by your side, and that creates a different kind of stakes, as well."
"Avengers: Infinity War" opens in theaters on April 27. Get tickets on Fandango now! Stay tuned to Marvel.com, follow @Avengers on Twitter, and Like "The Avengers" on Facebook for the latest on the Avengers as it develops!
The Hype Box
Can't-miss news and updates from across the Marvel Universe!