Movies
Published April 8, 2019
Everything You Need to Know from the 'Avengers: Endgame' Press Conference
The stars and filmmakers teased out some choice tidbits about the upcoming Marvel Studios' film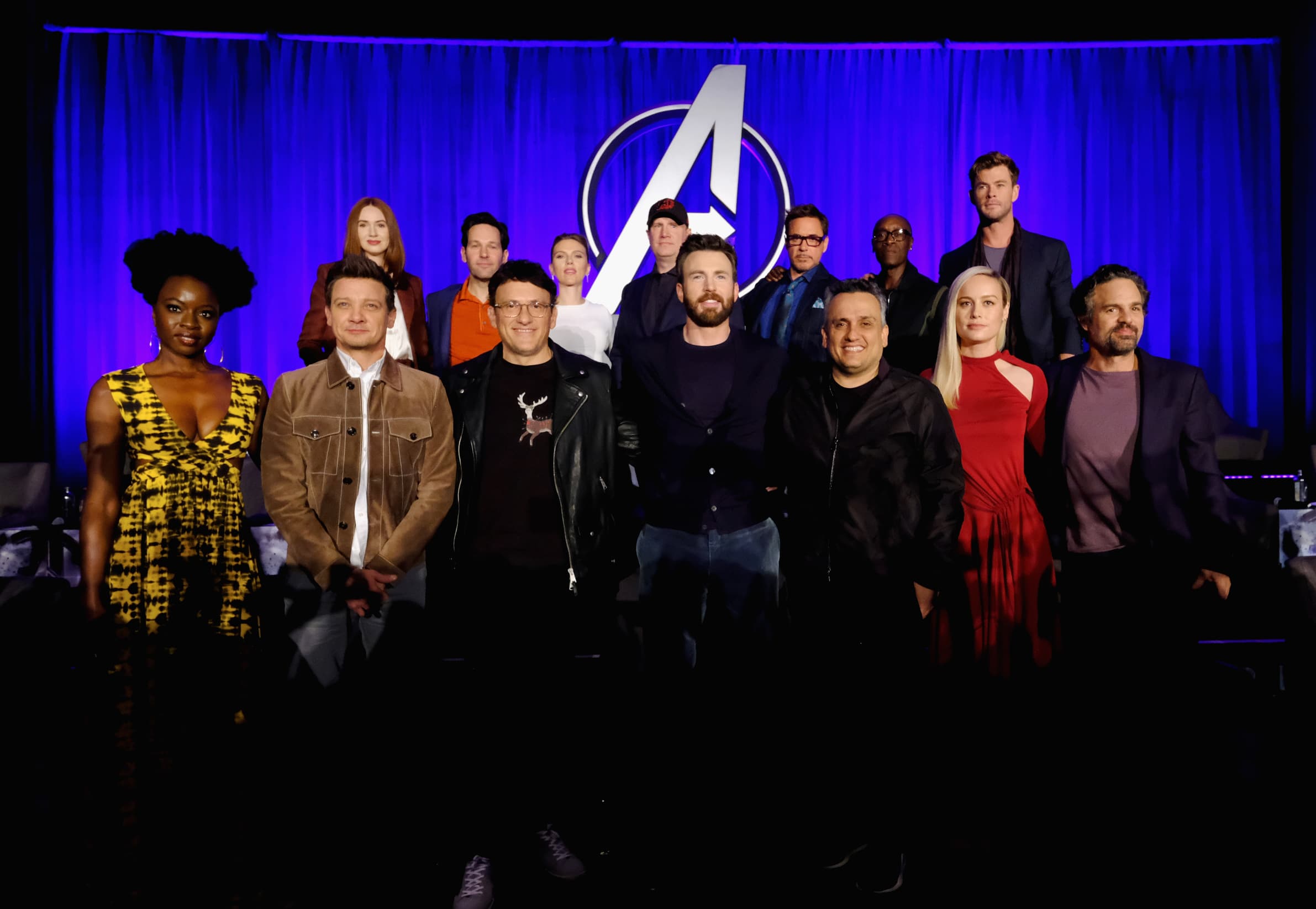 As our Avengers assemble around the globe in anticipation of the release of the upcoming Marvel Studios' "Avengers: Endgame," the stars and filmmakers of "Endgame" made a stop in Los Angeles for the global press conference yesterday. Marvel Studios' Kevin Feige and directors Anthony and Joe Russo were joined by stars Robert Downey Jr., Chris Evans, Chris Hemsworth, Scarlett Johansson, Mark Ruffalo, Don Cheadle, Jeremy Renner, Brie Larson, Paul Rudd, Danai Gurira and Karen Gillan, as well as host/moderator Jon Favreau.
To remind you of the devastation of Thanos' actions in "Avengers: Infinity War," the press conference opened with our remaining Avengers surrounded by chairs left empty to honor our fallen heroes. As Favreau put it, "Clearly things look a little different in the post-'Infinity War' Marvel Cinematic Universe."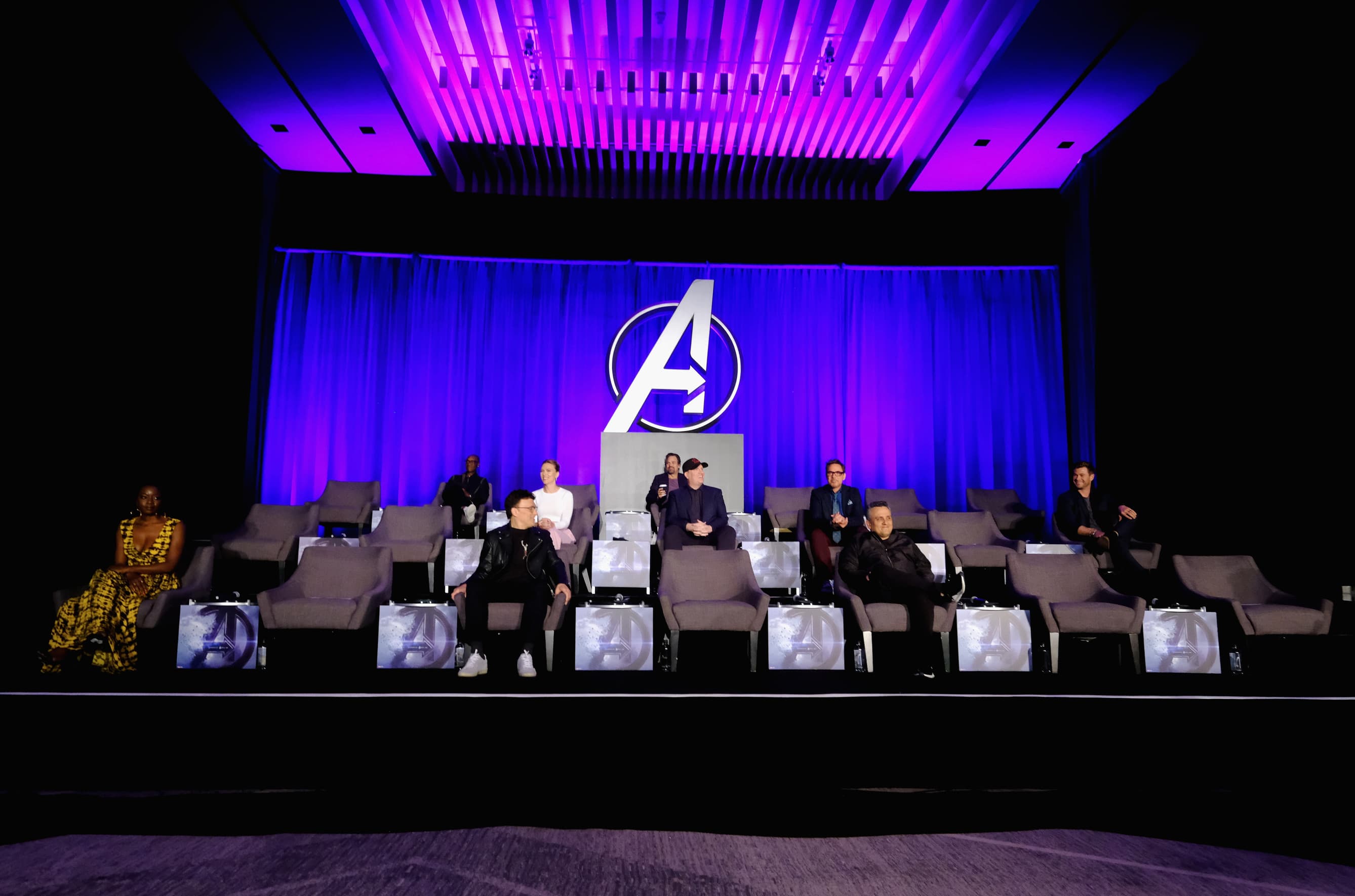 It's all downhill, or perhaps uphill, from here on out, depending on if view the universe as half-snapped, or half-survived.
We will dive more thoroughly in the days and weeks to come, but for now, here's a quick and dirty list of some of the essentials covered at yesterday's press conference!
1. "Avengers: Endgame" could also be referred to as "Avengers: Infinity War 2," "Avengers 4," or "Iron Man 22."
2. Since the beginning of the Marvel Cinematic Universe 11 years ago with 2008's "Iron Man," Kevin Feige sought to do "something that's never been done before" with the super hero genre.
3. While the Samuel L. Jackson's post-credit Nick Fury cameo scene in "Iron Man" (you know, the unforgettable "I'm here to talk to you about the Avengers Initiative") clued Marvel fans into this interconnected universe, which had never been done before in film, it was the response to that along with the opening weekend box office and the first trailer at the Hall H panel at San Diego Comic-Con that clued Feige in to how special all of this was.
4. Despite the general populace's opinion of the super hero genre and the finality of it all, the filmmakers confirmed "Endgame" is the end of the line for some of our beloved heroes. "The story is very much about how these heroes deal with loss, resounding loss, true loss, devastating loss," said Anthony Russo, with Joe adding, "We get to finish off one of the grandest experiments in movie history."
5. "Endgame" is honestly a collective of not just the Russos, but all the directors who came before such as Favreau, Joss Whedon, and every other director in the MCU.
6. To describe "Endgame" in one word, the Russos chose "cathartic."
7. Robert Downey Jr. likened the whole MCU experience to "the coolest relay race in the history of entertainment."
8. IMPORTANT: Evans refers to the other Chris as "Hemmy."
9. Our heroes are terrified and nervous of revealing too much. Evans got his response rejected by the Russos. Gillan can neither confirm nor deny if Nebula will face her tormenter, Thanos, while Rudd can confirm yes, he is in fact in the movie based on what he has seen in the trailers.
10. Brie Larson had to navigate figuring out who Carol Danvers is as "Endgame" was the first time she played Captain Marvel, and she did so without a script for "Endgame" nor a script for "Captain Marvel."
11. AVENGERS ARE SAVAGE AF: A PLAY IN FIVE ACTS.
Act 1: Hemsworth recalled watching "Iron Man" in high school and wishing he could be part of that world one day.
Act 2: Evans highlighted the meaningful friendships and family dynamic that spanned a decade, but Downey immediately called him out for missing Rudd's birthday the evening before.
Act 3: Rudd, Cheadle, and Larson are all great at Boggle, but as Evans put it, "Mark Ruffalo, you'll be lucky if he finds 'cat.'" To be fair, Ruffalo did find "asbestos" once.
Act 4: Ruffalo recalled in their line of work, you often don't get to see each other as often unless you're nominated for something and run into each other at award shows, to which Evans shouted, "What's that like? Speak for yourself," and Hemsworth joking, "Or hitting up the after party."
Act 5: Furthering the narrative of continuity and enduring friendships, Ruffalo highlighted getting the chance to see these all these individuals "grow up, have children and get married and get divorced and then get remarried." Johansson immediately cut him off because THIS IS AN ACT OF AGGRESSION!
Shots were fired. Don't mess with the Avengers, especially Hulk.
12. ALSO IMPORTANT: 6 OUT OF 11 AVENGERS PREFER BEARDED CAP OVER CLEAN-SHAVEN CAP.
Cap himself, Evans, Hemsworth, Cheadle, Johansson, and Larson chose bearded Cap. Gurira and Gillan preferred clean-shaven Cap. Rudd cheated and raised his hand for both, while Renner and Ruffalo abstained from answering. Meanwhile, Downey didn't vote because he preferred prosthetic Cap as seen in the end credits of "The Avengers."
13. Speaking on the emotional scene between Stark and Parker being dusted on Titan in "Infinity War," Downey recalled loving the lighting of that scene because he "looked so shredded" with Joe Russo adding "emotionally shredded."
See the culmination of the last decade of the Marvel Cinematic Universe. Marvel Studios' "Avengers: Endgame" opens in theaters on April 26. Get tickets on Fandango now!
Follow @Avengers on Twitter, and Like "The Avengers" on Facebook for the latest on the Avengers as it develops!