Movies
Published June 15, 2021
There's No Stopping Florence Pugh's Yelena in Marvel Studios' Black Widow
Experience Pugh's MCU debut with the release of 'Black Widow' on July 9!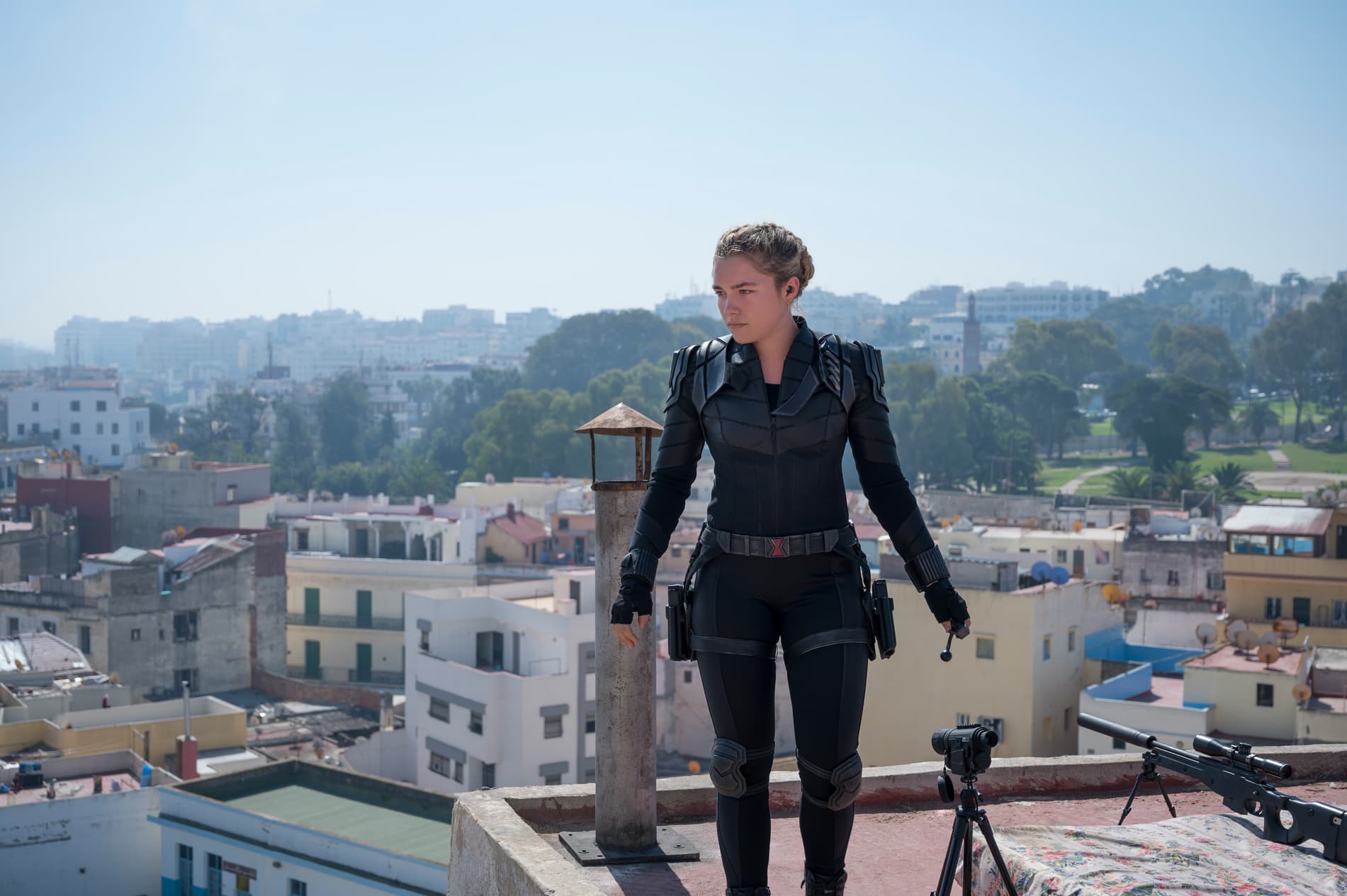 "I am now part of the Marvel Cinematic Universe," stated Florence Pugh during an intimate press discussion on the set of Marvel Studios' Black Widow.
Rising star Florence Pugh, fresh off her most recent Academy Award-nomination, makes her Marvel Cinematic Universe debut with her role as Yelena, a Widow and sister figure to Natasha Romanoff, in the July 9 action-packed spy thriller.
In Black Widow, Natasha Romanoff confronts the darker parts of her ledger when a dangerous conspiracy with ties to her past arises. Pursued by a force that will stop at nothing to bring her down, Natasha must deal with her history as a spy and the broken relationships left in her wake long before she became an Avenger. One of those broken relationships is the one between Natasha and Yelena. 
Sisterhood
The Black Widow trailers showcase the "sisterly" bond between Pugh's Yelena and Scarlett Johansson's Natasha. When asked during the set visit, Pugh described her character as "exactly what you expect a younger sister to be like."
With those traits in mind, how would she describe the relationship between Natasha and Yelena? "Confusing, bratty, and emotional," joked Pugh. But make no mistake, their "very unique and strong relationship" is what fundamentally drives the heart of the film.
Now a part of the MCU, Pugh turned to Johansson to get her bearings on this "incredibly daunting" project describing how helpful it was just "sitting there and listening to what she said about the last nine years of her career in this Marvel Cinematic Universe."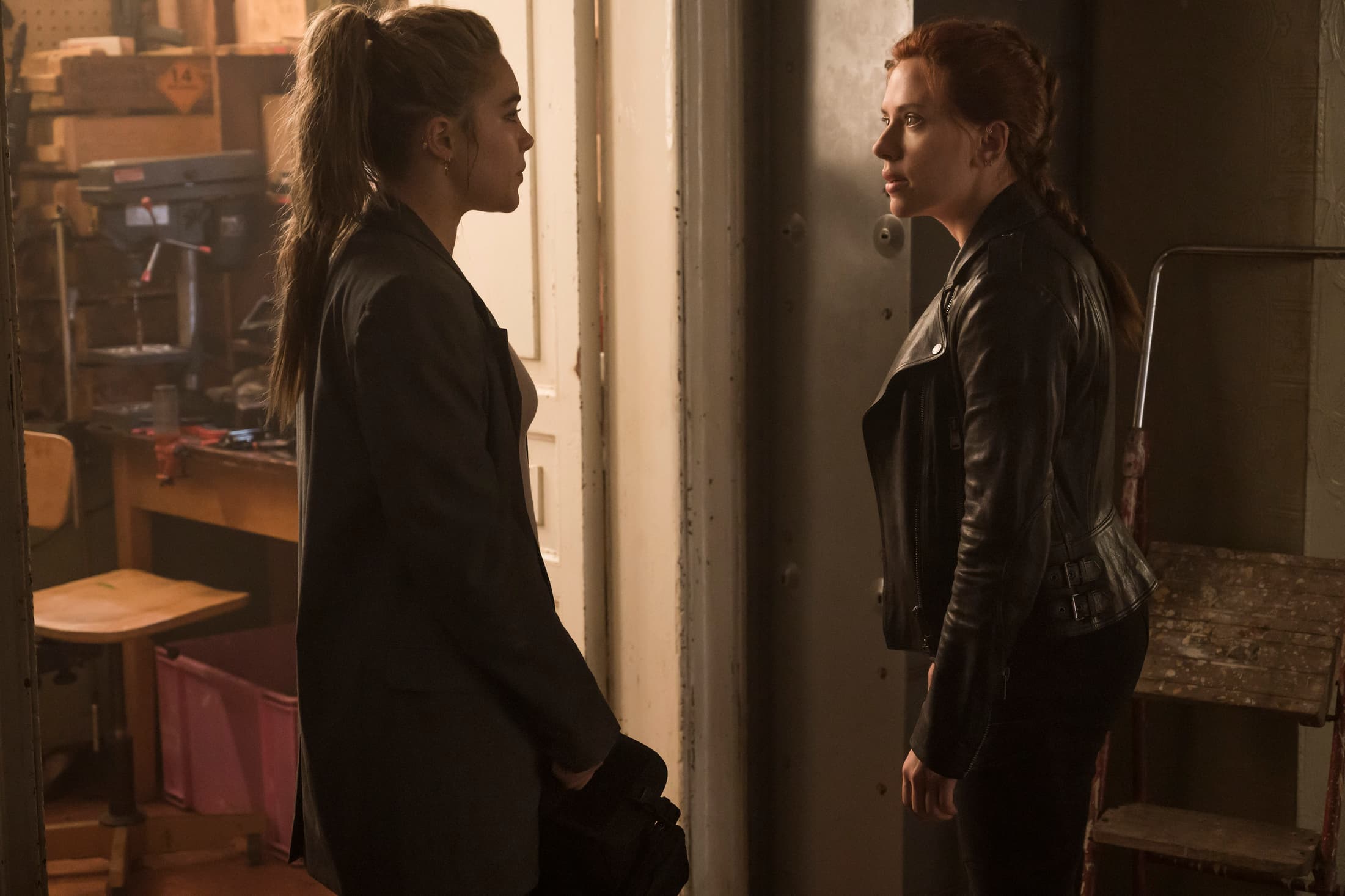 Just Your Average Spy Family
Rounding out what Pugh described as this "big, bonkers, mad and loud Russian family" are Natasha and Yelena's parental figures: Rachel Weisz's Melina and David Harbour's Alexei/The Red Guardian.
As Pugh explained to the small group of journalists on the visit, viewers meet these characters as they developed as adults away from one another, figuring out who they are in relation to themselves and each other as adults. "It's obviously tricky because they all have the same patterns as when they were kids and parents," shared Pugh, before adding, "Figuring all that out has been so much fun, especially with David and Rachel."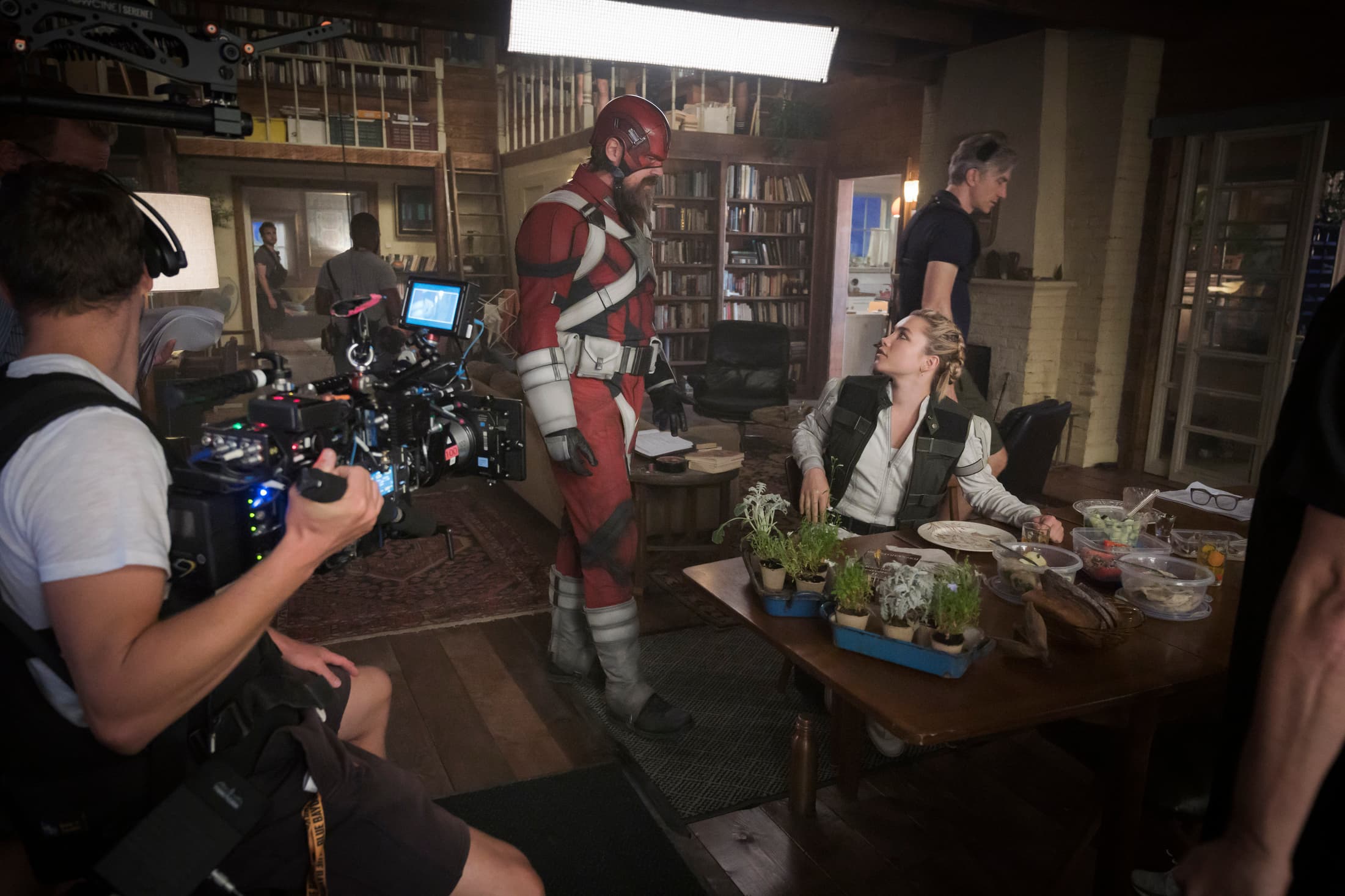 Unfinished Business
This isn't a story centered around the Avengers. In fact, "it's more about our family, where we came from, how we're broken and how we fix it," explained Pugh on what drew her to this role and story.
Despite the humor and levity shown in the trailer, the film carries weight to Pugh. When asked about her thoughts on the Red Room's Widow training program, Pugh remarked, "That's one of the heartbreaks about this film," highlighting the system these women are stuck in, the conditions they are made to endure, and how her character aims to free them.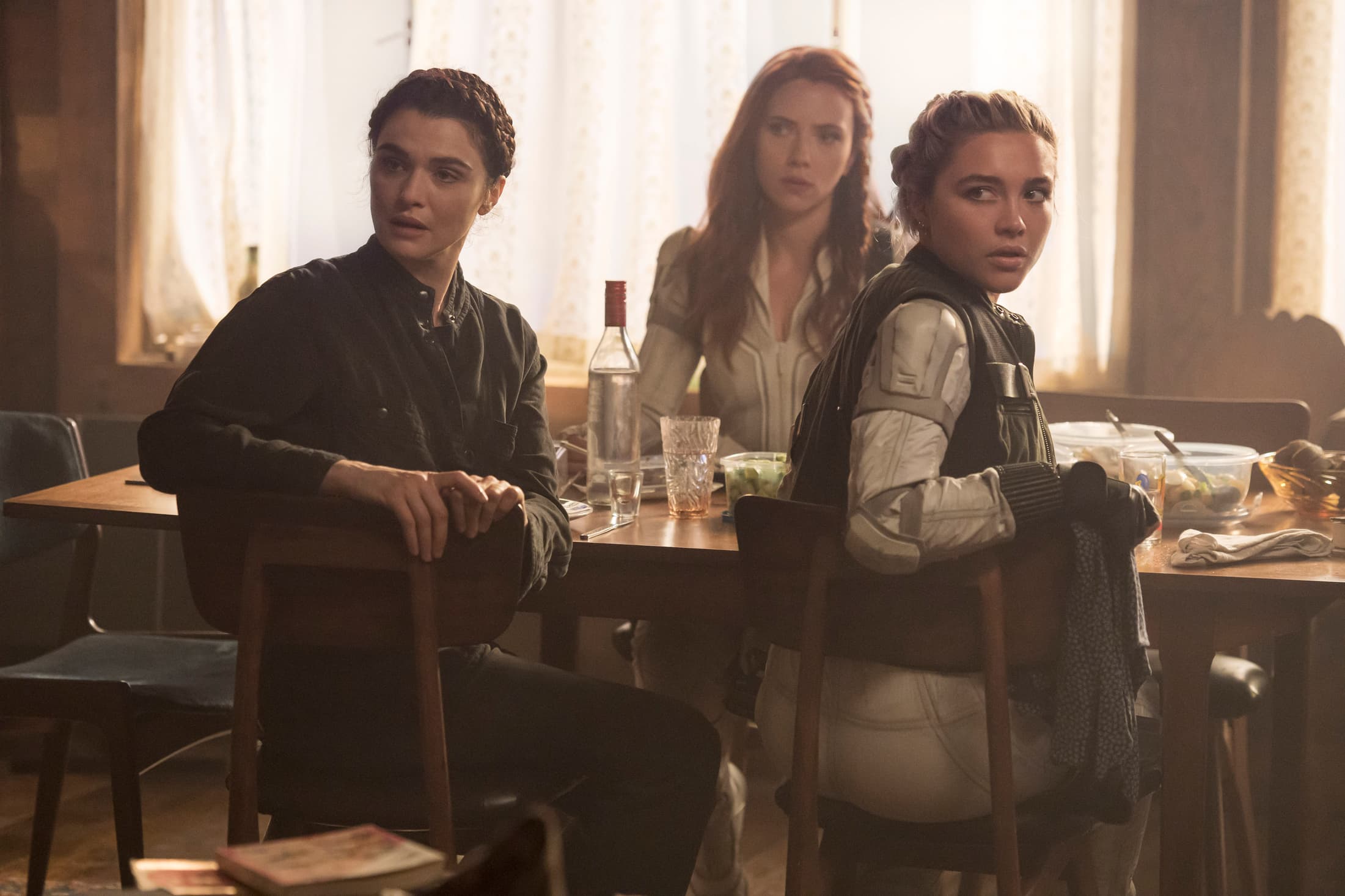 "[The Widows] have all been in some way trapped, and this film is the realization of the life that was taken from her, and that is how Natasha and Yelena start repairing," continued Pugh, "I don't think she's too happy about it. Then again, that's the only thing she's known."
There's one thing you need to remember about Yelena. "There's no bells and whistles with her," stated Pugh. "She kind of gets the job done. She's ready to fight, whether it's an argument or physical; there's no stopping her."
With her momentum only growing, there's no stopping to both Yelena and Florence Pugh.
Watch Florence Pugh make her MCU debut as Yelena alongside Scarlett Johansson's Natasha Romanoff when Marvel Studios' Black Widow hits theaters in theaters or on Disney+ with Premier Access on July 9. Additional fee required.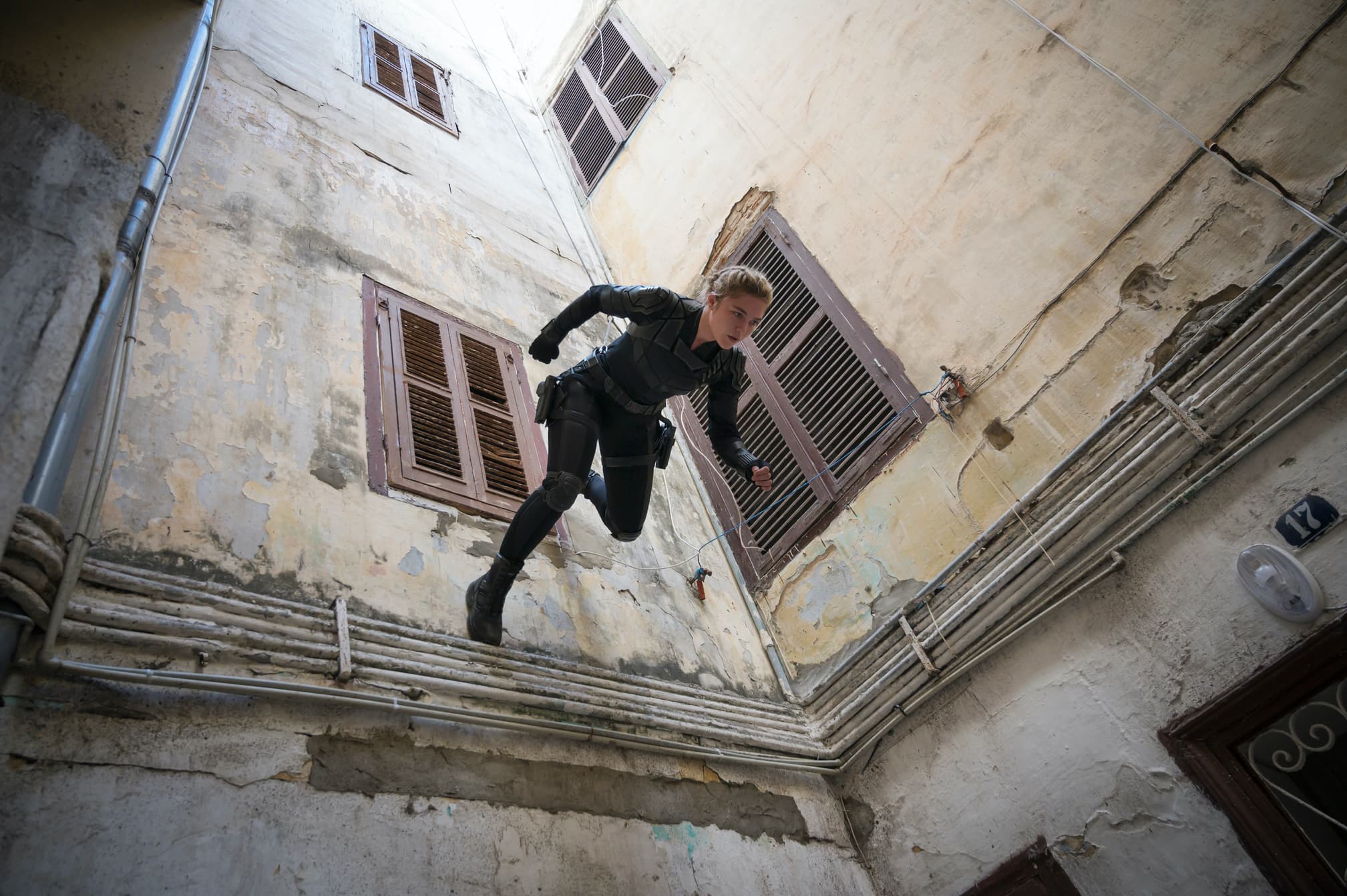 Experience Marvel Studios 'Black Widow' in theaters and on Disney+ with Premier Access on July 9. Grab tickets now!
Advanced tickets to the action-packed spy thriller are now on sale! Black Widow fans can choose how they want to see the film — in theaters or at home on Disney+ — because pre-ordering Premier Access is also now available on Disney+.
Want more Black Widow? Follow @TheBlackWidow on Twitter, @Black.Widow on Instagram, and Black Widow on Facebook for the latest on Black Widow as it develops.
Disney+ subscribers can pre-order Premier Access to "Black Widow" from June 11 – July 8 for $29.99 in the U.S. and Canada. Once subscribers get Premier Access to the movie, they can watch it as many times as they want on any platform where Disney+ is available, with an active Disney+ subscription. Pre-order Premier Access on Disney+ for $29.99 here!
Sign up for Disney+ and start streaming now! And be sure to follow Disney+ on Facebook, Twitter, and Instagram for more. 
The Hype Box
Can't-miss news and updates from across the Marvel Universe!