Movies
Published June 10, 2019
Get an Inside Look at the Visual Effects of 'Captain Marvel'
Marvel Studios' newest hero comes to home entertainment on June 11!
Marvel Studios' Captain Marvel is soaring onto Blu-ray on June 11 -- but you don't have to wait to get your copy to get a look at how the hit movie's special effects were made! Earth's Mightiest Show welcomed Visual Effects Supervisor Christopher Townsend to the show to discuss how he and his team made "the impossible possible." Here are some highlights of the conversation:
Goose the "Cat"
In order to create Goose and her "pocket universe full of tentacles," Townsend and his team went back to the comics to get a sense of what, exactly, a flerken can do to an elite Kree fighting force: "[We] actually had these characters being slammed around and moved and flipped and flopped and things. All that stuff is very carefully planned out… and we figure out exactly what the moves need to be based on what the tentacles are going to do. So, you sort of work backwards."
Here's a look at this now-famous scene before and after: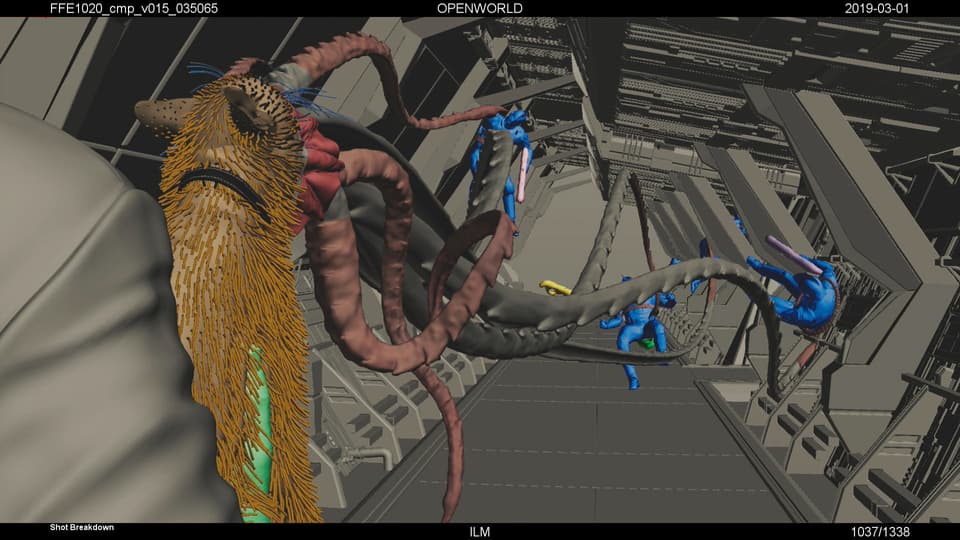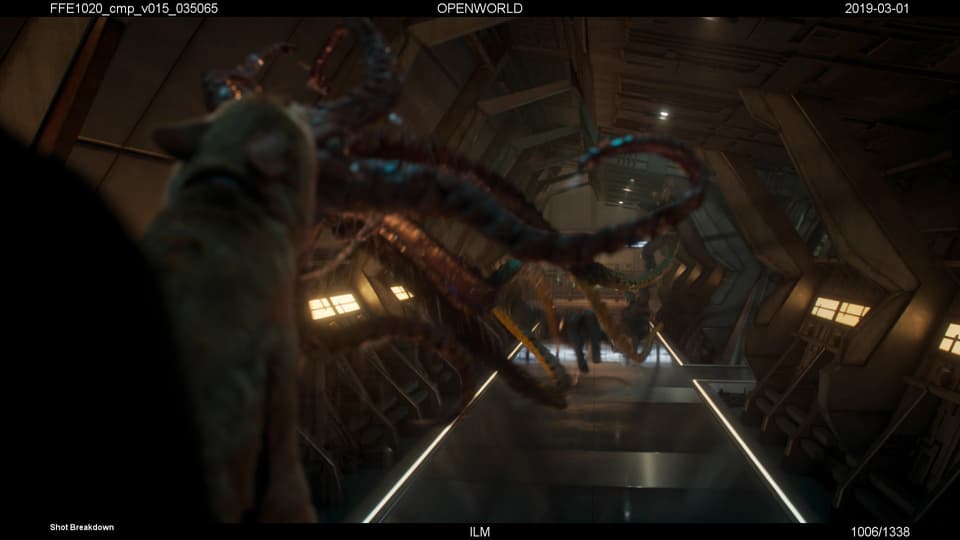 Kree-Skrull Fight
The Captain Marvel crew shot at a quarry for a couple of weeks to capture the battle scene on Torfa, but while there's a big battle going on, less actual actors were actually there. Townsend explains: "There are maybe 40 or so real actors in full makeup and prosthetic masks and helmets and costumes and everything else, running around in that sandy quarry. And then we've added, easily, just as many characters digitally. It's really a mix between the traditional stunt work and visual effects."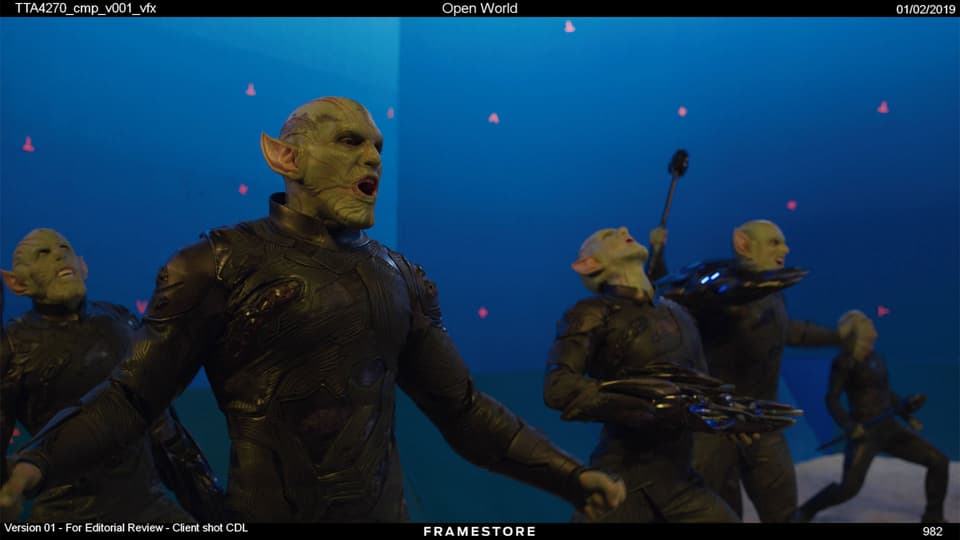 Captain Marvel's Fall to Earth
When it came to creating Carol Danvers' epic plummet to Earth, Townsend said that it was his team's mission to "make the impossible possible."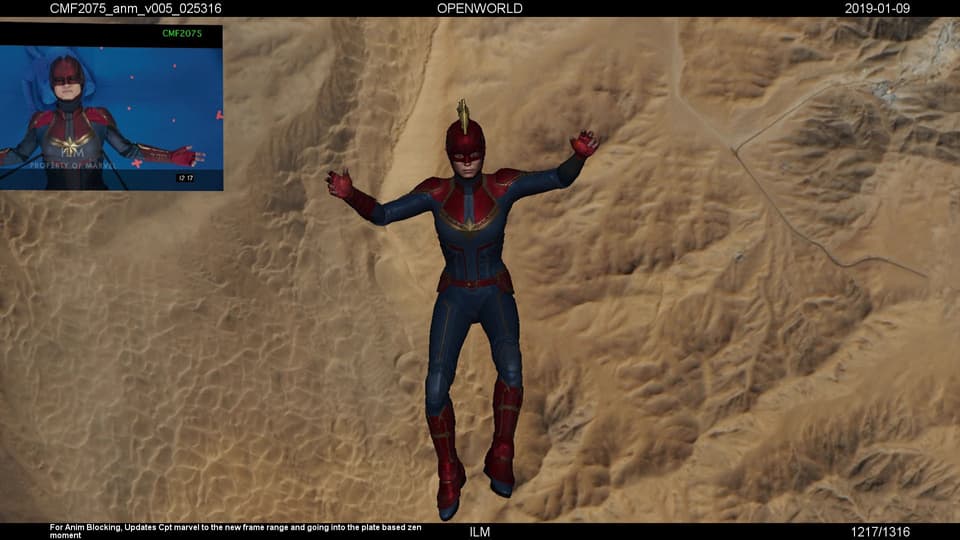 "There are many things we could have tried. We could have tried skydiving, we could have tried wind tunnels, we could have tried [Brie Larson] on wires, we could have tried all sorts of different things. One of the things we realized very quickly was that for what we needed for her in this very specific moment was just to be able to use a digital double for her, to be able to close in on her face, and really use her face and her expressions where necessary."
But making someone look like they're falling from space isn't quite as straightforward as it seems -- sometimes you need a few extra hands.
"There are people there [with Brie] who are moving her around in the blue screen suits, and they're using that to try and puppeteer her to make it feel like she's floating. Because one of the problems is, obviously when you're literally on wires, you're being supported in a cradle or you're on a backboard where you're just being supported. You need to make it feel like someone is moving around in a more naturalistic way as you would when falling."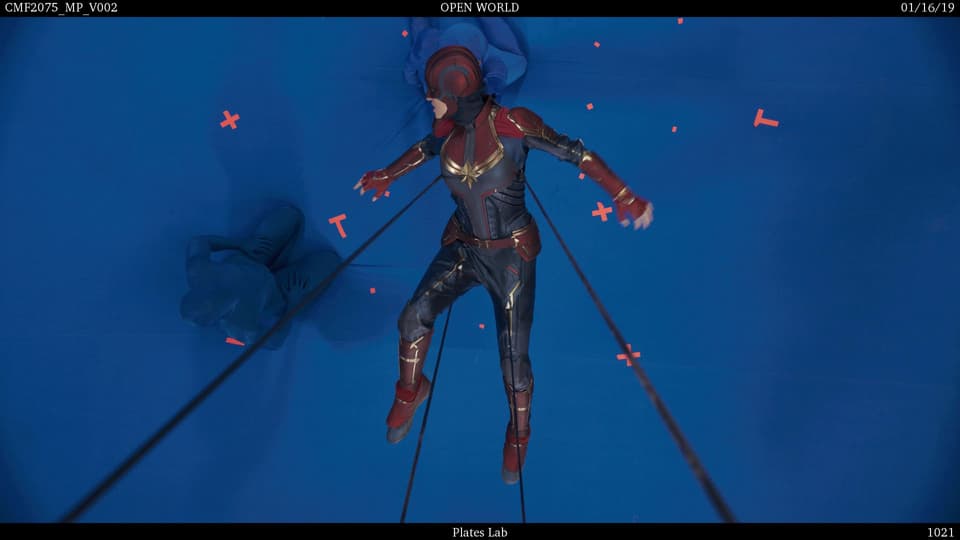 Some of this footage appears in the film, including closeups of her face, but a lot of it was just used as reference for Brie Larson's digital double. Her real face was then mapped onto the digital double for the final images.
Supreme Intelligence
On a larger, more existential scale was the realm of the Supreme Intelligence (played by Annette Bening). Townsend and the team tapped into several visual inspirations before settling on something simple and straightforward: "The idea was that the room exists in a reality. It's a virtual reality, but it should never look like virtual reality. It should always look like a very real space. But we wanted to keep it a little bit surreal, and we went through many iterations, from massive, green, hexagonal blocks to liquid worlds to almost Salvador Dali-style art. We went through all sorts of things, but eventually we ended back at this very minimalist 'white room,' and a clean room, and the idea being that you can almost… whatever you want to conjure in that room, you can make happen."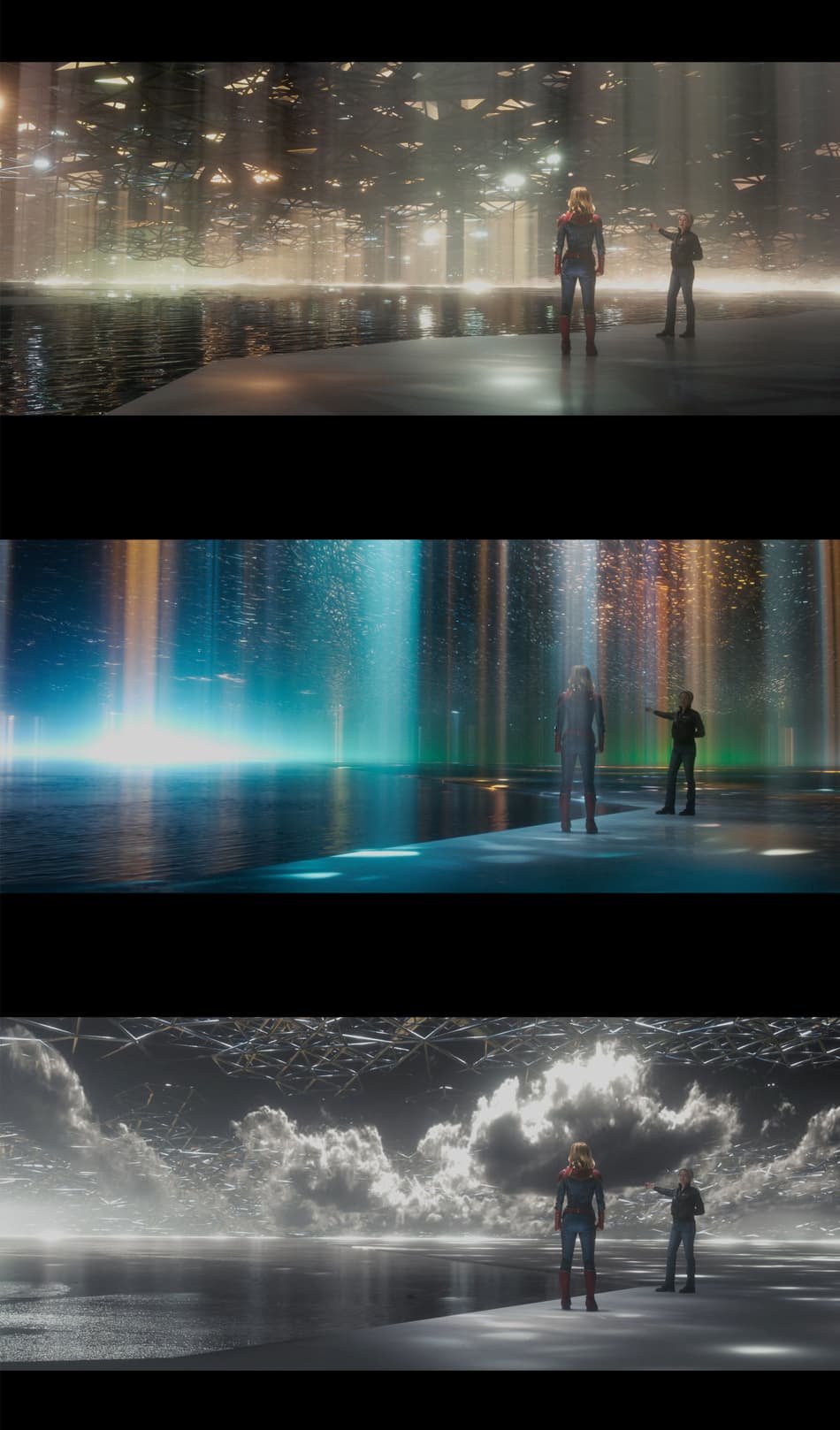 The Hype Box
Can't-miss news and updates from across the Marvel Universe!