Movies
Published May 11, 2023
'Guardians of the Galaxy Vol. 3' Welcomes Visitors to Knowhere
There was an armory, an Orloni stand, the Boot of Jemiah, it was absolutely huge, and it felt like a real place and a real environment, and it was amazing to see that built."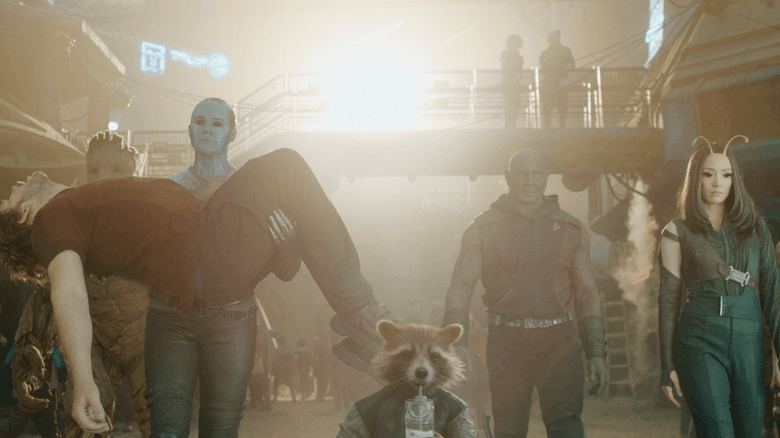 The Guardians of the Galaxy have a new home base — Knowhere.
The location has long been a part of Marvel Studios' Guardians of the Galaxy movies, with the group initially visiting in the first movie to meet The Collector, who built his collection in the severed head of a Celestial. Since then, Knowhere has seen some things (including an attack by Thanos to obtain the Reality Stone), and now the Guardians have stepped in to help rebuild it. After purchasing the place from The Collector, they now run the place turning it into their new headquarters.
Though viewers have seen Knowhere multiple times through the Marvel Cinematic Universe, with Guardians of the Galaxy Vol. 3 it was time to update the location in more ways than one. For the new movie, Beth Mickle steps in as production designer and one of the first things she did was spend weeks going through the previous designs of Knowhere, becoming familiar with the Celestial head.
"I knew that we were going to be revisiting Knowhere, which I loved from Guardians of the Galaxy Vol. 1," She explains. "It's got a little bit of a cyber punk look to it. It's an old mining town that has a lot of light and a lot of color and a lot of grit to it and I really love that aesthetic. I really enjoyed going through all the material from that and I knew we were going to be revisiting that world in a very big way."
And not just in a big way on screen, but a big way for filming, too. Returning writer and director James Gunn wanted to use practical sets for Knowhere, which meant that the entire location had to be built from scratch. Mickle cites that was one of the reasons she was hired for the film, because she comes from an independent filmmaking background and was more than ready to jump into the project and create it from the ground up.
"We don't rely on blue screen, James really cares about everything being in camera which is just incredible and from a production and set design standpoint," she continues. "That's music to our ears. We really love creating physical scenery and our Knowhere Street was an exciting prospect."
Set decorator Rosemary Brandenburg was also eager to dive into a real location for Knowhere. "Sets are quite large, they're really involved, and it just takes quite a bit to design everything and make it and have it be right around the actors. It's quite an operation. People sometimes believe that it's entirely in CGI, but we do a lot of real settings. James asked that this movie be particularly heavy on reality and real sets right around the actors and that's what we've done."
Having things built in real life only adds to the physical (and sometimes, emotional) depth for the movie. "The scope of these films is often misunderstood, and people often think that what we're doing is simply creating a little bit of an environment and then it's completely extended around the actors," she adds. "In reality we're creating a giant situation right around the actors."
But one challenge for Knowhere this time around? It needed to appear ruined. Due to the events in Avengers: Infinity War and Avengers: Endgame, Knowhere needed to look distressed and destroyed. Picking up in The Guardians of the Galaxy Holiday Special, the crew has slowly started to rebuild — but it's still going to take more time. It also meant a change in the color palate for the location, because gone are the bright, bold colors that once populated it, replaced with darker hues to show signs of wear and tear.
"We had to make it, to some extent ruined, because of the action in the Avengers films," Brandenburg continues. "There was a lot of color that we used here. We used oranges, blues and greens and our paint staff was good. We really were successful with grounding the film in these wonderful textured finishes."
"It's always the vibrant color which is so exciting but then also the grit," Mickle adds. "There's always layers and layers of grit and on top of absolutely everything, there's always layers and layers of materials so you'll always have some great metal-mesh screen and underneath of it is some pattern textile and then underneath that is some metal ribbing and so you get so much depth on every single wall, every single surface. Knowhere is such a great example of that."
Of the costumes for Knowhere, Gunn also requested a more "real" approach to what everyone was wearing.
"James wanted more 'real clothing,' that wasn't a sort of Super Hero suit at all," costume designer Judiana Makovsky explains. "We went in a whole different direction and that the whole concept of Knowhere is that they now fit into Knowhere."
And just because the costumes are grounded in the real world, they still needed to be created from scratch, and as Makovsky adds, "you have to love every piece."
"Even making Chris Pratt's Knowhere version of tee shirts and sweat pants. You can't just say oh that one's not as important as that one. It's always hard for any costume designer to say I like one thing more than the other. Cause even the simpler things are almost harder to do than the more extravagant things and make it believable in this world."
If you come away from Guardians of the Galaxy Vol. 3 wanting to visit Knowhere in real life, the creative team behind the scenes has succeeded.
"James really loves a visual, bombastic film," Mickle states. "He really loves color and saturation. He wants things to be bright and fun and wants everybody to go on this ride that they really enjoy. I just saw how explosive it was with color and how vibrant and how exciting it was. These were all worlds that you wanted to get inside of and touch and be a part of."
So, whenever you're ready to put down roots in Knowhere yourself, know that it's got it all. Executive producer Sara Smith recalls that, "It was a huge set that had many levels. There were apartments with ensuite bathrooms. There was an armory, an Orloni stand, the [hangout spot] Boot of Jemiah, it was absolutely huge, and it felt like a real place and a real environment, and it was amazing to see that built."
Save the galaxy, again. Guardians of the Galaxy Vol. 3 is now playing exclusively in theaters. Get your tickets today!
The Hype Box
Can't-miss news and updates from across the Marvel Universe!