Movies
Published May 5, 2023
'Guardians of the Galaxy Vol. 3': The Cast Reveals Their Favorite Songs in the Movie
No sleep till Awesome Mix Vol. 3.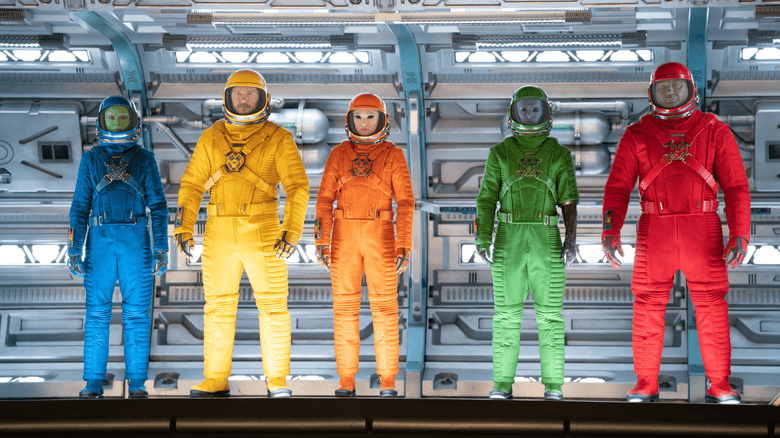 Ever since Peter Quill (aka Star-Lord) first hit PLAY on his Walkman back in the first Guardians of the Galaxy movie, music has played a huge role throughout the films. Kicking things off with Star-Lord dancing around to Redbone's "Come and Get Your Love," writer and director James Gunn has taken audiences on a harmonious adventure spanning dozens of artists, genres, and decades (and music players, too).
Now, with Marvel Studios' Guardians of the Galaxy Vol. 3 arriving in theaters, it's time to hit PLAY again on everyone's favorite song in the movie. Talking to the cast of the movie, they've all got a favorite moment (or moments) associated with the soundtrack, which was once again meticulously curated by Gunn. Volume up, here's what everyone is still grooving to:
Chris Pratt — Star-Lord / Peter Quill
"No Sleep Till Brooklyn," that fight sequence is epic. The Florence and the Machine song is beautiful. I think it feels beautiful in its finality. [SINGING] Do you realize that you have the most beautiful face? That song is special, by The Flaming Lips. Really good music this time around.
Chukwudi Iwuji — The High Evolutionary
I love the way it starts with "Creep." Maybe it's also the fact that I'm standing there, creep. Just before "Creep" sets in, you know what I mean, there's this whole thing of me in silhouette. And I go, 'that's me walking there.' How long have I dreamed as an actor of walking in a cool silhouette towards the camera? The "Creep" acoustic version of it was just gorgeous.
Karen Gillan — Nebula
I've got a new favorite song that I didn't have until I watched the film, and it is "I'm Always Chasing Rainbows" by Alice Cooper. I love that song. It's really good.
Maria Bakalova — Cosmo
All the songs that James puts together in every single project, becomes a lifetime track that you keep playing over, and over, and over again. "Dogs Days are Over." I remember all of us dancing there and enjoying it.
I'm not sure how I feel about that because I'm playing a dog. So regardless that I'm playing a dog and the song is named the "Dogs Days are Over," I loved it a lot. Everybody was feeling free, and happy, and excited, and dancing around.
Pom Klementieff — Mantis
The opening song is a song that moves me each time. I love the song "Creep" by Radiohead. I think I relate to it in real life, and I relate to it as Mantis too because everyone feels like a creep sometimes, like a weirdo that it feels lonely. And I think it's just a very, very emotional, and beautiful song about human condition, you know?
Sean Gunn — Kraglin
Oh gosh. I think, "No Sleep Till Brooklyn" is the one that will stick with me the longest. It's a perfect kind of Guardians moment. That whole sequence is cool. It's really well put together and directed and I think that's the one that I'll think about the most.
Will Poulter — Adam Warlock
I think the song that I've fly- it's hard to pick one song because the soundtracks are so strong. And I should know. I got the full soundtrack when I got the script. James sent me a playlist to listen to while I read the script. "Crazy on You," the song that is playing when I'm introduced and I'm flying. Flying in for the first time on wires while that song was playing was a very, very cool moment.
James Gunn – Writer / Director
I think that "No Sleep Till Brooklyn" is definitely my favorite moment. But I love "Creep." At the beginning, I think right away, we see that this movie is different than the first two movies. We see that the Guardians are in a different place. I think in terms of working well for the series, "Creep" is the best.
I could think of other songs that I could put in place of "No Sleep Till Brooklyn," but I cannot think of what else I would have at that opening besides that "Creep" acoustic number.
Save the galaxy, again. Guardians of the Galaxy Vol. 3 is now playing exclusively in theaters. Get tickets now! 
The Hype Box
Can't-miss news and updates from across the Marvel Universe!